To stay healthy and germ-free, you need to wash your hand a few times in a day. Hand soaps kill the germs and bacteria and make sure we stay hygienic. We can prevent a lot of illnesses and diseases, only by washing our hands.
But hand soaps contain chemicals like sulfate and paraben. It can make our skin dry and harsh. That's why switching to natural hand soap is a better option.
Parabens and sulfates are two common ingredients in the hand soaps, which are controversial. Parabens are used to extend shelf life and are effective in killing bacteria. But parabens can be harmful, as it can increase the level of estrogen in the human body.
It can increase the risk of cancer, as well. On the other hand, Sulfates are used to create soap foamier. It can irritate your eyes, organ toxicity, and other cellular changes.
Natural soaps are safer to use. You will find a lot of natural hand soaps in the market. We have picked up a few best rated natural hand soaps for you. These are safe and don't contain any harmful chemicals. These soaps are purely organic and made with natural ingredients.
Top Natural Hand Soaps in 2023 by Editors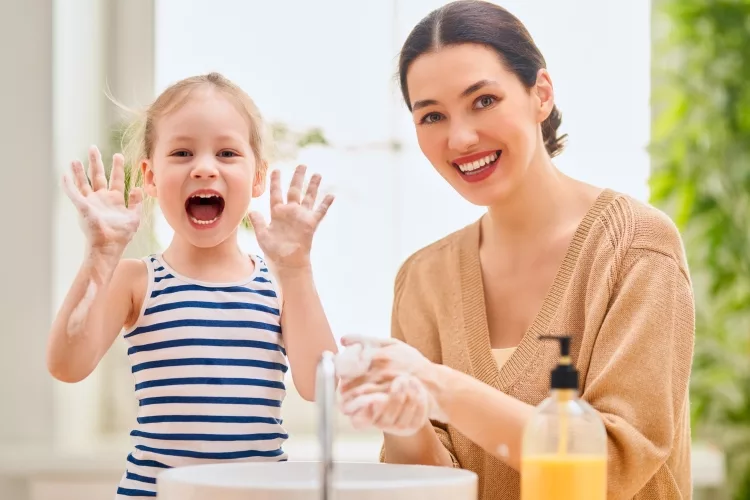 7 Best Natural Hands Soaps Reviews [2021]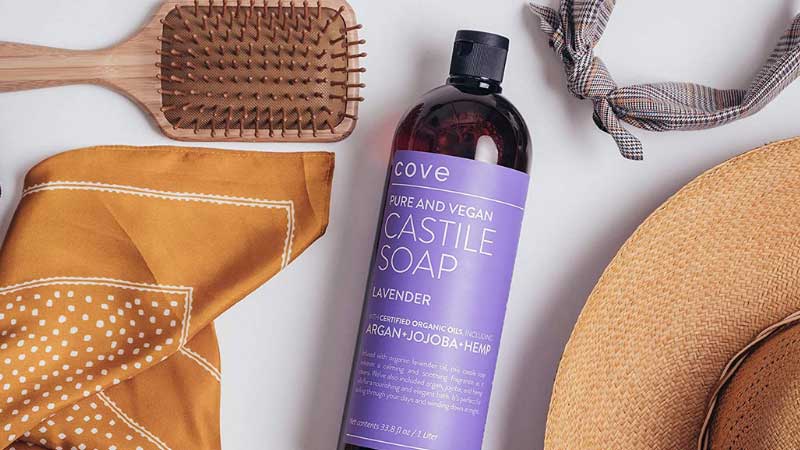 1. Everyone 3-in-1 Soap
This is another multi-purpose soap. It can be used as a hand soap, body wash, and shampoo. If you love coconut smells, then you will surely love it.
It contains mint and coconut smell. The mint gives a cooling effect, making it ideal for hot summer days.
The creamy coconut formula nourishes your skin. There is no artificial scent to this product. It contains some high-quality ingredients like; coconut extracts, Vitamin B5 and E, organic plant extracts, etc. It has an elegant and beautiful essential oil scent to it.
There is no sulfate, parabens, or harsh chemicals in it. This is a gluten-free, vegan product. This is one of the best hand soap for dry skin.
Pros
It is a multi-purpose soap.
Cruelty-free, vegan product.
It contains mint and coconut scent.
Vitamin B5 and E gives nutrient and moisture to your skin.
Mint gives a cooling effect.
Paraben-free product.
Cons
The scent is intense.
Not suitable for sensitive skin.

2. Cove Castile Soap Lavender
This is an all-purpose soap that can be used in hands, body, and hair. To use it as a hand soap, dilute the soap in some water in an empty bottle.
Then Shake the water, and you will get your hand soap. The formula is very gentle for your skin.
This organic product has a blend of natural oils like; organic lavender oil, argan oil, hemp oil, olive oil, and jojoba oil.
These are known for high moisturizing properties. This soap doesn't contain any detergent or harsh ingredients.
This effective and gentle soap has a soothing smell, that will leave your body fresh. There are no harmful chemicals or foaming agents in this soap.
Argan, Hemp and jojoba oil is full of antioxidants, minerals, and omega fatty acids. Vegetable oil and olive oil work together to repair your damaged skin.
Pros
It is a multi-purpose soap.
This has an effective yet gentle formula.
Essential and natural oils provide moisturizers to your skin.
There is no artificial scent to it.
Vegetable oil repairs your skin.
It contains antioxidants, minerals, and omega fatty acids.
Cons
It doesn't work as a shampoo.
It makes your hair feel waxy.

3. Live Clean Argan Oil Replenishing Liquid Hand Soap
This is another popular natural hand soap. This item contains high - quality ingredients like Argan oil, Vitamin E, grape seed, etc.
These are pure and organic and completely safe to use. This hand soap doesn't contain sulfate or any kind of preservatives.
The luxurious formula is of very high quality. This is a vegan product and doesn't contain any silicone.
The packaging is recyclable. Olive oil, Argan oil, and grape seed oil make your hand nourished and smooth.
This item is cruelty-free. Live clean is well-known for environment-friendly products, and this hand soap is one of their bestsellers.
Pros
Cruelty-free product.
Vegan product.
It contains natural oils like Argan oil, olive oil.
You can recycle the packaging.
It contains antibacterial properties.
Cons
No pleasant scent.
The packaging has leakage issues.

4. Dr. Bronner's - Organic Sugar Soap
Dr. Bronner's Organic sugar soap has a multi-use feature. This soap can be used as a body wash, and also it is gentler for your hands. This product contains shikakai - a pod seed widely used in south Asian countries for its conditioning feature.
Shikakai extract and grape seed oil are combined and created a rich lather that cleans all the germs, leaving your skin soft and smooth. You can use this soap not only for your hands but for your entire body.
It is as powerful to use on your body. This cruelty-free item is free from harsh detergents. The formula is gentle and sensitive skin people can also use it.
The organic essential oils and organic sugar produces a beautiful aroma. It comes in a recycled plastic bottle with a pump.
Pros
Cruelty-free product.
It doesn't contain harsh detergents.
It can be used as a body wash.
It contains a beautiful, soothing scent.
Shikakai powder cleans your body and delivers deep moisturizer
Cons
This product is high in price.

5. Avalon Organics Nourishing Lavender Glycerin Hand Soap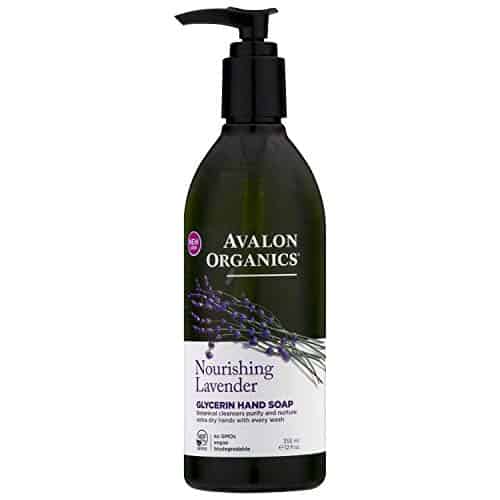 This hand soap from Avalon is specially designed for extra dry skin. Lavender works great on dry skins. This has an excellent formula of Lavender, Vitamin E, vegetable glycerin, and calendula.
These items blend in together and create a cleanser that kills any germs and also makes your hand soft. There is no synthetic color or fragrances added to this soap. Also, this soap is paraben and sulfate-free.
Many users have claimed that this soap has made their hands softer than ever. The lavender allows you to produce a rich lather that cleans your hands thoroughly and gently. Vitamin E gives extra nourishment to the skin.
Pros
Vegetable glycerin and Vitamin E works as an active ingredient to make your hand feel softer.
Lavender extracts clean your skin deeply.
Cruelty-free product.
This item doesn't contain any artificial chemicals.
Cons
Users complain about no lavender smell.
The packaging has leakage problems.

6. OM SHE Aromatherapy Moisturizing Hand Wash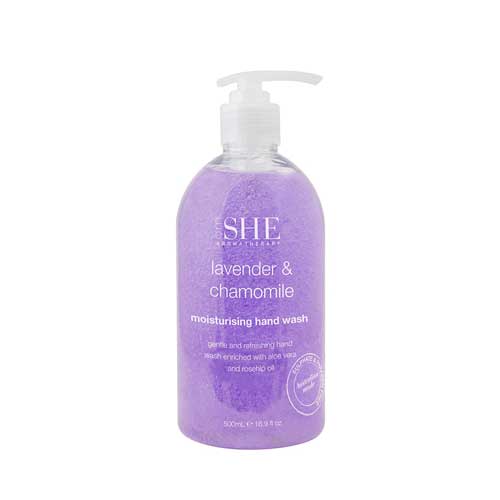 This hand soap from OM SHE is free from chemical ingredients. This soap contains organic items like rosehip oil, aloe Vera, chamomile, etc.
These items help to calm your skin and make it soft. This item is best rated for its fragrance and moisturizing benefits.
The mango and orange scent is very soothing. This non-drying formula makes your hands extra soft and smooth.
This plant-derived soap is free from paraben and sulfate. It comes in a pump dispenser packaging and safe to use.
Pros
Made with organic items.
It contains a natural smell.
Aloe Vera makes your skin extra smooth.
Cruelty-free product.
Cons
The packaging is not great.
Users complain about leakage.

7. Deep Steep Argan Oil Liquid Hand Wash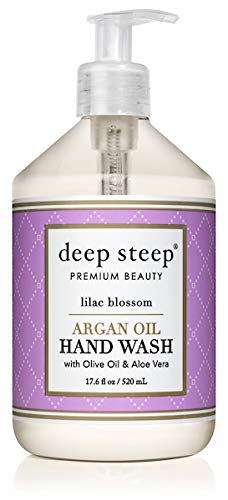 Deep steep Argan oil hand wash leaves your skin smooth and soft. This soap produces a rich and foamy lather that cleanses your hand and also makes them soft and smooth.
The formula has an effective cleansing. Your skin will feel fresh and clean.
There is no artificial fragrance in this soap. The gluten-free hand soap is best for sensitive skin too. It doesn't contain any harsh chemicals.
There are no preservatives added to this product. This soap comes in a pump dispenser packaging and looks nice.
This product is available in many fragrances like mango papaya, passion fruit guava, lemongrass jasmine. These scents are very soothing and make you feel fresh.
Pros
It comes in a compact pump bottle.
Argan oil gives moisture to your hand.
This product doesn't contain any preservatives.
It comes in exotic scents.
Cons
This product is pricey.
People complain about triggering hand eczema.

Benefits of using natural hand soaps
Hand soaps are meant to clean your hands, make them germ-free. Antibacterial soaps clean your hands, that is true, but they contain so many powerful ingredients that can cause other problems too. They can make your hands dry.
They remove the natural oils and moisturizers from your skin. It is proven that natural soaps are also as effective as the antibacterial soaps. They also kill germs and leaves your hands moisturized.
Moreover, natural soaps have ingredients that make sure your hands stay smooth and moisturizing. You will have clean hands with smoothness.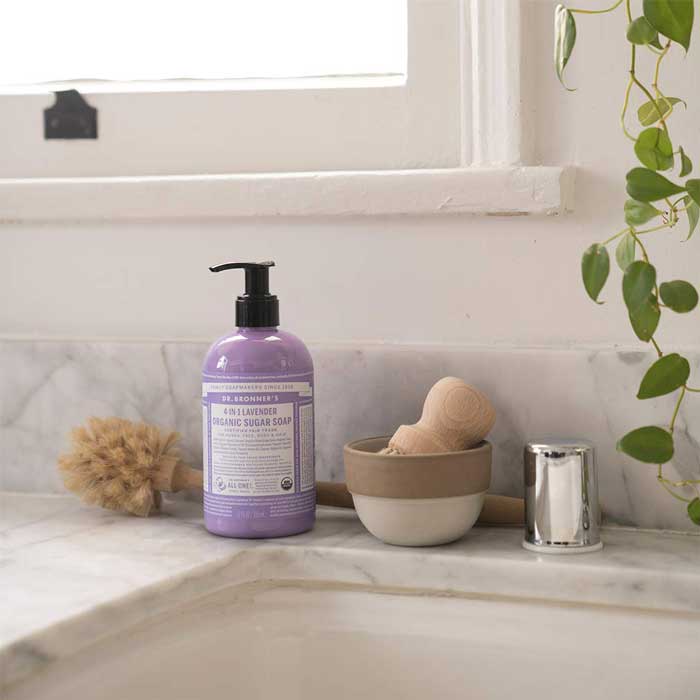 If you have sensitive and dry skin, then using these harsh chemical soaps will cause other issues. Your hands will be extra dry. For dry skin people, the dryness is always an issue, plus it is challenging to keep the hands soft.
Ordinary soaps will take out all the natural moisture from your skin, leaving it rough and dry.
On the other hand, natural soaps contain ingredients like oatmeal, aloe that helps to calm your skin, stop inflammation, etc. Also, natural soaps contain vegetable glycerin, that allows locking the moisture in your hands.
Are natural soaps safe to use?
Most of the natural soaps are available in a bar form. Some will say this form can attract more bacteria because of nature. But this is not true.
Research says, most of the soaps contain a minimum form of bacteria, bar soaps, or liquid anything.
You will be surprised to know; bar soaps are much safer to use. Plus, bar soaps contain natural oils like shea butter to provide that extra nourishment to your skin.
When you buy a natural soap, check the ingredient list and make sure the soap is certified as an organic brand. Check the ingredient list for parabens, sulfate, or other artificial fragrance.
Avoid any soaps that contain any of these items. The researcher has said that antibacterial agents like triclosan, triclocarban, and ammonium laureth sulfate are not effective against the germs.
Also, triclosan has so many harmful effects on our health. Natural ingredients like honey oil, tea trees are much more effective and safer.
It is better to select handmade soaps. Those are the pure organic ones. They are made without any preservatives. For scent, look for something that has lavender petals or citrus smell. These are natural and won't cause any irritation to your skin.
My Thoughts
All of the listed hand soaps are safe and useful quality items. You can use them without any concerns. Cleansing your hands is as important as cleaning your body.
Always keep your hands clean, as they are the primary sources of getting sick. All of these hand soaps are good. My personal favorite is Dr. Bronner's - Organic Sugar Soap.
I prefer this one because it contains shikakai powder. This herbal item is well-known for its cleansing and also conditioning properties. This item is right for your body and even your hands.
It has the perfect blend of soap that can use on hands and body together. There are no chemical or harsh detergents in this soap. Choose any of the listed hand soap and stay healthy.
Buy now at Etsy, Walmart, eBay (limited quantity)
Puracy Natural Gel Hand Wash, Vegan, Hypoallergenic, All Skin Types, Lavender & Vanilla - Walmart, Etsy, Ebay
ECOS Hand Soap, Hypoallergenic Lemongrass, 17oz Bottle (6 pack) by Earth Friendly Products - Walmart, Etsy, eBay
Everyone Hand Soap: Meyer Lemon and Mandarin, 12.75 Ounce, 3 Count - Walmart, Etsy, eBay
Soapbox Liquid Hand Soap, Citrus & Peach Rose - Gentle, Moisturizing Hand Cleanser, - Walmart, Etsy, eBay
Method Gel Hand Soap, Sweet Water, 12 oz, 6 pack, Packaging May Vary - Walmart, Etsy, eBay