Cooking, cleaning, heating, refrigeration, etc. are the things you while on the go in the comfort of your RV, thanks to a propane gas system.
But for your own SAFETY, you need to keep tabs on how much propane is flowing to each appliance in your RV. And pressure it flows with. And you can't do that without a propane regulator.
Different types of regulators serve different purposes, so you need to pay extra caution about the model you choose for your RV gas system.
Top RV Propane Regulators in 2022 by Editors
Best RV Propane Regulators: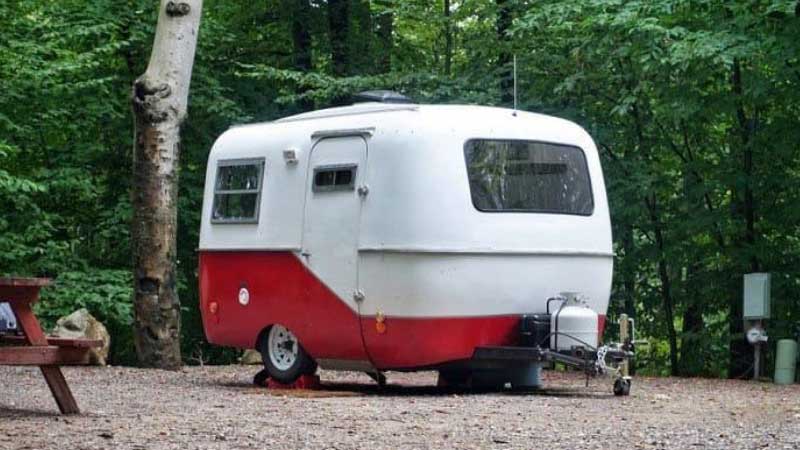 1. Flame King (KT12ACR6) 2-Stage LP Propane Gas Regulator
Do you have two propane tanks in your recreational vehicle? If yes, this 2 stage propane regulator from Flame King is a good choice for you. Its 2-stage function works behind the scenes to ensure your RV appliances get constant gas pressure, even when the demand changes.
It allows you to easily hook up 2 propane tanks. Its Auto Changeover function automatically switches over to the second tank once the first one runs out (and vice versa!).
The regulator features an indicator that changes color to alert you when your propane tank has been depleted and needs refilling. It has a 1/4″ SAE inverted flare inlet and an outlet of s a 3/8″ NPT female.
Included in the box is a pair of 12-inch pigtail hoses to facilitate quick and easy connection of this regulator to your propane supply. Unlike the older models, this newer regulator is designed to minimize the noise coming from your propane tank, ensuring you enjoy a quieter environment when out there seeking adventure.
The manufacturer of this regular designed it with durable and solid material as it's necessary for a critical device like the gas regulator. Even better, it comes with a plastic rain cover to keep it fully protected. The installation is quick and easy, and you don't even need to look at the instructions.
Highlighted Features:
Features double stage design
Automatic changeover regulator
Rated for 190,000 BTU
Features a protective rain cover
Includes 2 12-inch pigtail hoses

2. Marshall Excelsior (MEGR-295 Compact Integral Two-Stage Regulator
Made in the USA, this regulator dictates quality inside out. It features die-cast alloy construction in addition to powder coating for maximum durability.
This regulator is 100% approved for use on all portable applications, light-duty residential homes, and RV installations. Like the previous unit, this model also features a two-stage design for constant grass pressure. It prevents your appliances from getting overwhelmed with too high pressure.
The top-quality regulator is incredibly easy to install. It features an inlet connection of 1/4″ FNPT and outlet connection of 3/8″ FNPT. It boasts a universal fit, and you'll be happy to know that you'll set it up in a matter of minutes.
Keep in mind that this Marshall can deliver a maximum pressure of 250psi on the high-pressure tap. This makes it a great low-pressure regulator device for your RV's low-pressure devices.
If you want a great regulator that's well built and give you value for money, this is the ideal option for you. It will make an excellent replacement for your old regulator. It's all zinc body construction that enables it to hold up to the demanding work of propane regulators.
Highlighted Features:
Two-stage propane regulator
Offers universal fit
Inlet connection: 1/4″ FNPT
Outlet connection: 3/8″ FNPT
Max inlet pressure: 250 PSI

3. KIBOW Two Stage Propane Regulator
The KIBOW Two Stage Propane Regulator will also make a perfect match for your camper's propane gas tank. This regular has a two-stage design and will work hard to cut down pressure before reaching your appliances, assuring you of a safe camping experience.
One of the good things about this regulator is its high BTU rating of up to 165,000 BTUs per hour. This is the typical capacity for second-stage regulators. It will ensure the high-end appliances in your RV receive just the right amount of gas, and at the correct pressure.
As a vertical mounting style model, this regular is meat for mounting vertically to your camper. It has an inlet of 1/4″ NPT connector and an outlet of 3/8″ NPT connector.
Installing the regulator is a breeze for you. It goes on easy and delivers an exact fit. It's well built and has a durable look and feel to enable it to serve you reliability for over a decade.
Overall, if you're on the market for a regulator that allows consistent and smooth flow of propane to your RV appliances, this is the model for you. It comes at a great price point and installing it easy. The KIBOW works just great and will give you peace of mind when RVing.
Highlighted Features:
Rated at 165,000 BTU/hr.
Outlet: 3/8″ Female NPT
Inlet: 1/4″ Female NPT
Great for vertical mount applications

4. Camco 59313 Vertical Two Stage Propane Regulator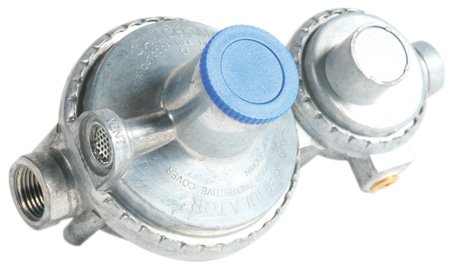 The name Camco is well-known by all RVers across the globe. The brand is famous for producing top-of-the-line RV parts and accessories. Part of their long line of products involves top-quality, highly reliable propane regulators designed to meet the needs of different RVers.
Like the previously discussed propane regulator from KIBOW, this unit from Camco is also designed for vertical mounting applications. It comes with a two-stage design, which means it'll ensure propane gas flows smoothly and consistently to your RV appliances.
Regarding the gas capacity, this model is rated at a whopping 160,000 BTUs per hour. And this makes it a perfect option for regulating pressure flow for just any appliances in your RV.
The Camco even has an overflow safety. If your hose breaks or develops a leak, the unrestricted propane gas flow will trigger an automatic shutdown. Thumbs up Camco for this truly a life-saving feature!
The two-stage system has a smooth and straightforward installation design. It has an inlet connection of1/4″ Female NPT and an outlet connection of 3/8″ Female NPT. Also, it features a sturdy construction that makes it a dependable workhorse in your camper.
Highlighted Features:
Features integral 1st and 2nd stages
Can handle up to 160,000 BTU/hr.
Ideal for vertical mount applications
Inlet: 1/4″ Female NPT
Outlet: 3/8″ Female NPT
11-inch water column outlet pressure

5. FaiRView RV Camper LP Propane 2 Stage Regulator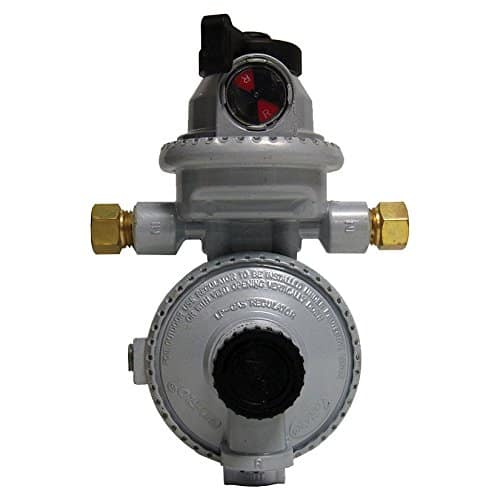 So you want to place the existing automatic changeover regular on your RV, travel trailer, 5th wheel, or pop up camper with a brand new one? In that case, this durable and easy to use product from FaiRView will meet all your propane regulation needs.
Like your existing regulator, this model comes integrated with auto changeover function. This allows you to hook up 2 propane tanks, and it will automatically switch over to the next tank once the first one runs out. It also comes fitted with an indicator that will alter you when one of your tanks has run out of gas and needs refilling.
This regular is also great because it comes preset at standard propane low pressure of 11-inch water column. It presents you with adjustable gas pressure to let you customize it according to your needs. It also features a pressure tap to give you total control over the propane flow in your RV.
For the wellbeing of you and your family, and your RV appliances, this two stage propane regulator for RV will maintain constant gas pressure no matter the conditions or demands. This way, all the devices receive the required pressure, and you don't have to keep worrying about anything going wrong.
Highlighted Features:
Handles up to 262500BTUs
Preset at standard 11-inch low pressure
Features dual-stage design
Auto changeover function
Includes 2 15-in inverted flare pigtails
Adjustable gas pressure

6. FaiRView GR-9984 High Capacity RV Camper LP Propane Regulator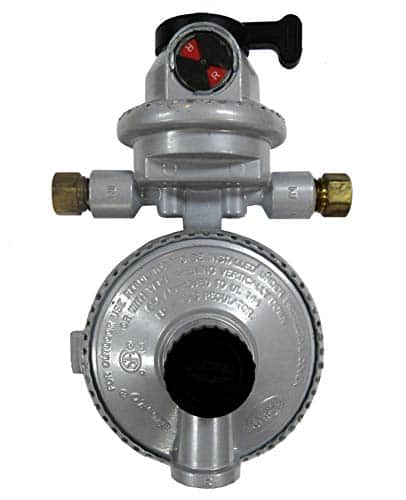 If you need a high capacity 2-stage propane regulator for your rig, this is an excellent choice for you from FaiRView. The regulator is well priced and made of quality. It performs really well and ensures each appliance in your rig receives the right amount of propane supply.
It boasts a whopping 345,000 BTU capacity, which is sure to meet your needs for a high capacity regulator. It comes with a preset low standard 11inch water column pressure. It also features adjustable pressure to give you control of how propane flows to your appliances.
Another cool feature offered by this regulator is automatic changeover. You can hook up two propane tanks…It'll automatically switch to the next one to ensure a continuous flow of gas in your rig.
For your own convenience, the regulator also comes with an indicator that changes color to keep you alert of when your propane tank has been depleted and needs refilling.
The regulator is pretty easy for you to install and use. It has an inlet and outlet of 1/4″ SAE inverted flare and 3/8″ NPT female pipe thread, respectively.
Highlighted Features:
High-capacity 345,000 BTU/hr.
Auto-changeover function
Dual stage design
Features 7 1/4″ overall Height
Adjustable gas pressure
Durable build quality

7. GASPRO 10FT Two Stage Propane Regulator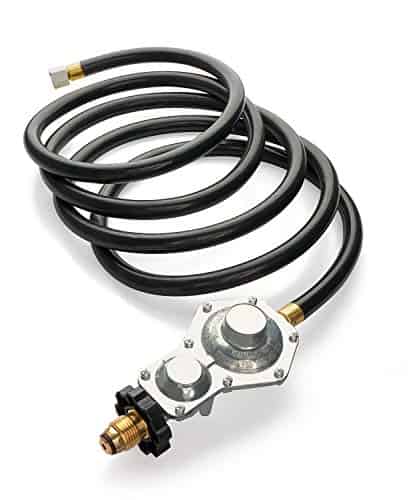 If you want to upgrade from a single stage to a two stage regulator, you'd want to consider this model from Gaspro as one of your top options. Two-stage regulator works better than their single-stage counterparts and assures you of greater and more consistent gas flow.
The two stage regular can handle quite high BTUs of up to 190,000BTUs per hour. This translates to high capacity capabilities. It has an end fitting to appliances (outlet) of 3/8″ female flare. It is a perfect fit for nearly all RV appliances.
The Gaspro regulator plus hose has CSA certification, meaning it meets all the body's safety requirements. It comes with excess flow protection and automatically shuts off if there's an excess flow to protect you and your family from danger.
Inside the box, you'll also discover high-quality 100% solid brass fittings. As you already know, the brass fittings have a high reputation for forming a secure and sealed connection between your propane tank and RV appliances.
Overall, the regular system features good quality and will reliably serve you for a long time. Your safety in RV is guaranteed once you install this regulator. The price is excellent, and its performance is top-notch.
Highlighted Features:
Two-stage RV propane regulator
Outlet: 3/8″ female flare fitting
High BTU capacity: 190000BTU/hr.
High-quality 100% brass
CSA certified for maximum safety

8. GasOne Two Stage Propane Regulator for RV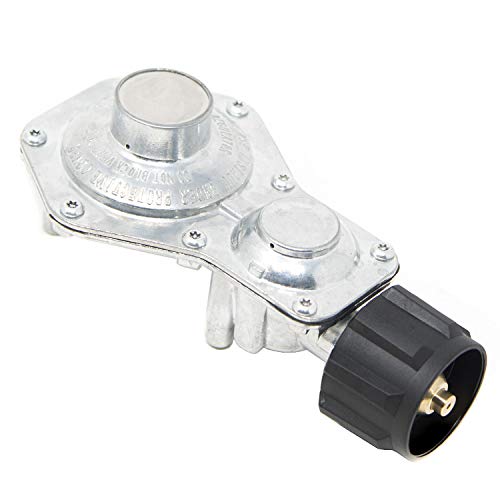 The Flame King two stage propane gas regulator will also solve any pressure issues you're having in your recreational vehicle. It works perfectly well to ensure you achieve a smooth, leak-free propane connection in your recreational vehicle.
One of the great features you'll get when you invest in this RV is its dual-stage function. This means it will let you control your propane flow to match the pressure required to run your specific RV appliances and devices.
Regarding the connection type, this regulator presents you with an inlet fitting of QCC TYPE 1 CONNECTION, 11″ WC, and an outlet connection of 3/8″ Female Flare Fitting.
You'll notice that this material looks and feels pretty solid. And this is made possible by the quality materials used in its construction. This enables the regulator to withstand adverse conditions and resiliently serve you for a more extended period of time.
Like most of the other devices featured on this list, this version of camper propane regulator is easy to install in your RV. You don't need to use a single tool to get it up and running. It offers a great fitment. Its overall good quality means it will stand the test of time.
Highlighted Features:
Two-stage propane regulator
Inlet: QCC TYPE 1 CONNECTION, 11″ WC
Outlet: 3/8″ Female Flare Fitting
Easy and fast installation

9. Flame King (ACR6) 2-Stage Propane Gas Regulator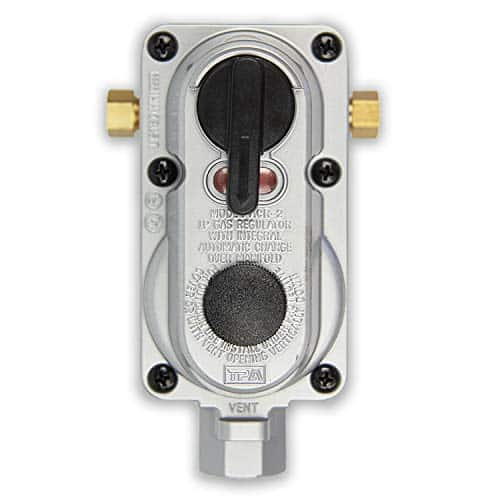 This propane gas regulator also a great choice if you have two propane tanks in your vehicle. It comes with an automatic changeover feature that automatically switches to the second tank once the first one gets depleted.
Knowing how much gas remains in your propane tank can be a hassle. But it becomes easy when you install this RV. It comes armed with an indicator that changes to let you know when your tank has become depleted and needs refiling. It also allows for easy removal of the empty cylinder for refilling without interrupting the propane supply.
Because this is also a double stage regulator, it maintains constant gas pressure under changing demands and conditions. Consent, smooth flow of gas means maximum safety for you and your family!
The RV propane regulator is hassle-free to install in your RV propane system. It comes with an inlet and outlet connections of 1/4″ SAE inverted flare and 3/8″ NPT female, respectively.
Remember, this regulator for RV is rated at 190,000 BTUs. And that means it has the ideal capacity for handling the propane supply need for just any appliance you have in your camper or motorhome.
Highlighted Features:
Handles up to 190,000 BTUs
Features dual stage design
Automatic changeover function
Inlet: /4″ SAE inverted flare
Outlet: 3/8″ NPT female pipe thread

10. Camco Propane Double-Stage Regulator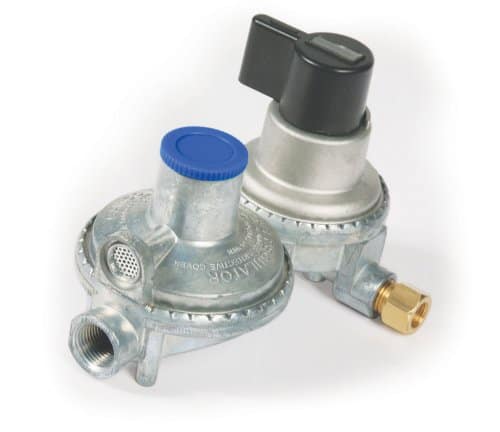 The last camper propane regulator on our list is also proudly made in the USA by Camco. The regulator is intended for RVs with dual propane tank hookups. It ensures constant pressure gets to your RV appliances for your own safety and the effective performance of all your appliances.
One of the top reasons that give this regulator high popularity involves its automatic changeover. This highly convenient function automatically switches from the primary gas cylinder when it comes depleted to the reserve gas cylinder.
Another reason why you should install this regular in your camper today is its entirely high capacity. It can handle a large capacity of 210,000 BTUs per hour in the primary gas tank plus another high capacity of up to 130,000 BTUs per hour for the secondary tank.
Keep in mind that the regulator features an inlet of 1/4″ SAE inverted flare and an outlet of 3/8″ NPT female.
Like every other RV accessory that comes from Camco, this regulator is well built. It features a heavy-duty design that enables it to survive through harsh conditions and serve you for longer.
Highlighted Features:
Double stage propane
Inlet: 1/4″ SAE inverted flare
Outlet: 3/8″ NPT female pipe thread
210,000 BTU/hr. primary tank capacity
130,000 BTU/hr. reserve tank capacity

How do you know if your RV propane regulator is bad?
You'll know your RV propane regulator is bad if you start hearing consistent hissing noise. This is usually caused by the breaking of the internal diaphragm. But this isn't the only sign. There are many other ways to tell if your regulator isn't working. You can also have a professional test it with a monometer to see if it has gone bad.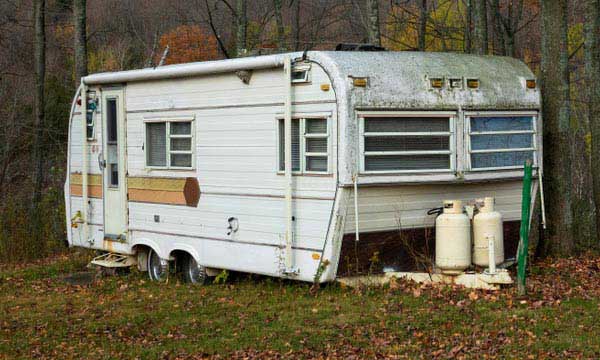 Here are some proven ways to troubleshoot your regulator to know if it has gone bad and it is time to replace it with a new one:
1. How old is your regulator?
The easiest way to tell if your regulator has gone bad is by checking how old it is. As you already know, these devices don't last forever and will need replacement at some point.
The lifespan of a typical model is around 10-15 years. If your regulator has an age around these figures and has issues, then you need to replace it ASAP!
See also: 10 Best RV Vent Fans - Reviews & Buying Guide
2. Is the propane flowing to your devices?
Your RV appliances not getting propane supply simply means that no gas is passing through the regulator.
Usually, this might be due to the regulator's safety feature that automatically shuts off the system if it detects high gas flow. Try resetting this function and see if your regulator gets back to work (it should do so in minutes). If this doesn't help, you have a problematic regulator that needs replacing.
3. Notice any distinct odor in your RV?
Another way to tell if your travel trailer propane regulator has gone bad is by testing if it's leaking. You can do this by spraying a dish soap and solution over it and looking out for any bubbles. In case you notice any bubbles, that's where the leak is, and you need a new regulator.
The vent located at the bottom of your propane regulator enables your regulator to breathe when in use.
It also acts as a safety measure when your tank is overfilled, and pressure becomes too high. If you don't have an overfilled tank and propane is coming out of this vent, you should consider switching to a new one.
See also: 8 Best RV TV Antenna Reviews and Buying Guide
4. Popping noises
Another pointer into issues with your current propane regulator is the production of popping sounds whenever you turn off your RV stove burner's flames.
This can be an issue with your stove burner. It's, therefore, a good idea to see if the issue is only happening to one burner or all of them before you get a new regulator.
5. What type of flame are your appliances producing?
Typically, you expect all your propane-powered RV appliances to produce a strong blue flame when your regulator is working correctly.
The lazy yellow flames mean you don't have sufficient pressure in your RV gas system. And if the gas burns with blue flame but is quite tall and produces roaring sound, there's too much pressure in the gas system. These signs mean your regulator has gone caput and needs replacing.
6. How about heavy soot deposits?
In addition to flames, you should also examine whether the LP gas system in your RV forms dark marks around your water heater or in your RV kitchen.
Propane is known to burn fairly cleanly and should hardly produce any soot. Try adjusting your flame strength to see if the soot problem goes away. Otherwise, you'd want to replace your regulator with a new one.
What kind of propane regulator do I need?
As we mentioned at the beginning of this guide, the propane regulators come in various types, each suited for a specific application. Knowing the right kind of regulator for RV application is essential for the proper functioning of your devices and your own safety.
Let's take a closer look at the most common types of RV propane regulators available for you.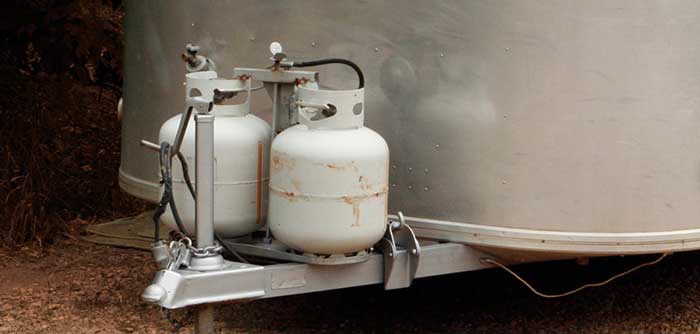 1. Integral twin stage regulator
This is the most common type of regulator and the kind you'll find in nearly all RVs. It also goes by the name inline twin stage regulator or dual propane regulator, and you can use it with multiple RV appliances. However, you might want to avoid using this type of regulator if there's a long distance between your propane tank and the appliance(s) to be supplied. This is because the pressure is likely to decrees to far low levels, making it hard for your appliances to work correctly.
2. First stage regulator
Also referred to as low BTU or single-stage regulator, this is another popular regulator you'll find in campers and RVs. It's suitable for use with small propane gas cylinders and works great for RV appliances like outdoor grill or camping stove. The regulator is usually hooked to the propane tank and then connected to service valve via a hose. The main job of a first stage regulator is to regulate fluctuating tank pressure and deliver the gas to a second stage regulator to do the rest.
3. Second stage regulator
This type of regulator is usually used in conjunction with a first stage regulator. Its main job is to decrease the tank pressure for safety purposes. It helps cut down the pressure of gas before it's delivered to the appliances. Most of these regulators can handle around 175,000BTUs and are great for use with high-end RV grills and appliances approaching the commercial quality. If you choose to use a first stage plus second stage regulator, then you must ensure that both devices are matched and compatible.
4. High stage regulator
As the name implies, these types of regulators are intended to regulate extremely high pressure. Thus, they're less likely to be used in recreational vehicles or with consumer appliances. They are more popular for use with commercial flyers.
Things To Check Before Getting One
If planning to buy a new regulator or replace the existing one, you need to take your time to research the market for the best RV propane regulator that perfectly fits your unique RVing needs.
Below, we have compiled some crucial factors to guide you through the selection process.
Materials quality
A propane regulator is like the heart of your RV propane system. And, as such, you shouldn't settle for a cheaply made model that can't handle its intended job for a long period of time.
We urge you to look for regulators made using quality materials such as raw zinc, aluminum, brass, or stainless steel. All these materials are capable of withstanding hard RV lifestyle and reliably execute their job for years.
Regulator capacity
Each propane regulator you'll come across at the market is rated at a specific BTU capacity. The capacity simply indicates the amount of gas the model will allow to reach your RV appliance. The more the BTU rating, the more gas the regulator will allow to pass.
You should avoid investing in a regulator that allows too low amounts of propane to pass through. This may limit the amount of gas being passed to your appliance, affecting its performance. A model with anything from 50,000 BTUs and above will reliably power most of your RV appliances.
Automatic changeover
If you use two tanks in your recreational vehicle, you should look for a regulator with an automatic changeover system. This type of unit allows you to hook the two tanks at a go and automatically changes over to the secondary tank once the original runs out of gas.
This type of regulator also comes with an indicator that changes color from green to red to let you know when one of your tanks has been depleted. With a simple flip of the supply lever, you can rest this indicator and remove the empty gas for refiling. Note that you won't need to halt the flow of gas to remove the empty cylinder when using this regulator.
Easy installation
Hooking up a regulator to the camper propane system is something you can do on your own.
Make sure you pick a model that goes on easily and has an exact fit. Ensure you choose a regulator that comes packed with all the necessary mounting tools and p[arts needed for proper fitting for a painless installation.
See also: 10 Best Generator for RV - Reviews and Buying Guide
Protective cover
You should also look for a regulator that comes with a protective cover. Why is this necessary?
The cover usually offers much-needed protection of the gas regulator from rain, which can result in rust and corrosion. Though you can always buy a cover separately, it'll cost more than purchasing a regulator already has its own cover.
Frequently Asked Questions
Do I really need a propane regulator for my RV propane system?
You really need a propane regulator for your RV. The critical device plays the role of regulating the gas flow from your propane tank to the RV appliances.
It adjusts the propane pressure to ensure safety in your camper.
What's the best way to reset a propane regulator?
To reset your regulator correctly, you should start by turning off all your propane-powered RV appliances, followed by fuel tank.
Then, disconnect the hose from the gas tank. Give the regulator a little while to reset itself and then turn the propane tank valve back on until you can see the lines adequately pressurized.
How do you prevent your regulator from getting frozen?
It's simple…keep the regulator elevated a bit against a stable surface. Also, use the regulator cover to keep it protected from the freezing weather.
Above all, keep the regulator vent pointing downward to ensure all the moisture is drained out and doesn't freeze up inside the device.
How do you install a propane regulator in your RV?
If your regulator gets frozen in winter weather, you can thaw easily and bring it back to life.
To do so, you first detach it from the hose and then it off your propane tank. Bring it inside or simply leave in a warmer place overnight. The regulator will completely thaw out on its own, and you can put it back the next morning. It should work perfectly fine.
How do you adjust RV propane regulator?
This is pretty easy if you're using an adjustable regulator. You just pull off your regulator lid and then turn the adjusting screw underneath in the direction of adjustment indicated on the regulator. If using a preset, non-adjustable regulator, you can try increasing the gas volume by adding another low- pressure regulator plus a compatible hose.
How long do RV propane regulators last?
These regulators last for around 10-15 years. If your regulator hits this age, you should consider replacing it with a new model. This is true even if you're not experiencing any troubles with its performance; its inside parts tend to wear down with time. The only choice you have is getting a new model.
Final Verdict
Propane regulators are a crucial part of your RV propane system. They control the flow and pressure of propane to your RV propane-powered appliances, ensuring they function correctly and keeping your safety in check.
With all the helpful information about propane regulators we've offered you in this guide, we're confident you should have a struggle-free experience choosing the best RV propane regulator for your specific needs.
Buy on Etsy
Camco 59313 Vertical Two Stage Propane Regulator - Walmart Link
SHINESTAR 5FT Two Stage Propane Regulator Hose with Gauge, QCC/Type 1 Connection x - Walmart Link
JR Products 07-31525 Compact Low Pressure Two-Stage Automatic Changeover Regulator - Walmart Link
GasOne 2131-05 Tanks-RV Two Stage Propane Regulator with Hose 5 ft with for - Walmart Link
New Fairview RV Camper LP/Propane Gas Regulator, GR-630B High Pressure 30 - Walmart Link
Flame King 2 Stage Propane LP Horizontal Super Compact Regulator with POL for RV, Vans, - Walmart Link
Kohree 1/4" NPT RV Propane Pigtail Regulator Hose with Gauge, 12" Stainless Steel Braided - Walmart Link
Buy on eBay
Camco 59313 Vertical Two Stage Propane Regulator - eBay Link
SHINESTAR 5FT Two Stage Propane Regulator Hose with Gauge, QCC/Type 1 Connection x - eBay Link
JR Products 07-31525 Compact Low Pressure Two-Stage Automatic Changeover Regulator - eBay Link
GasOne 2131-05 Tanks-RV Two Stage Propane Regulator with Hose 5 ft with for - eBay Link
New Fairview RV Camper LP/Propane Gas Regulator, GR-630B High Pressure 30 - eBay Link
Flame King 2 Stage Propane LP Horizontal Super Compact Regulator with POL for RV, Vans, - eBay Link
Kohree 1/4" NPT RV Propane Pigtail Regulator Hose with Gauge, 12" Stainless Steel Braided - eBay Link