Life inside your RV without proper ventilation can become unbearable.
As you travel across different states, you'll experience varying weather conditions that affect your mobile home environment. Traveling with a large group of people in your RV can also compromise the air quality inside. Smoking, perfumes, etc., can make your RV feel stuffy and smelly.
At this point, only a vent fan can save you!
Top RV Vent Fans in 2023 by Editors
Yes, installing the best RV vent fan in your RV will help push out the stale air inside your RV and pull in clean, fresh air-dramatically improving the air quality inside your RV for a cooler, comfier home away from home.
In this guide, you'll discover some of the most powerful, reliable fans you can install in your RV today for superior ventilation.
Best RV Vent Fan: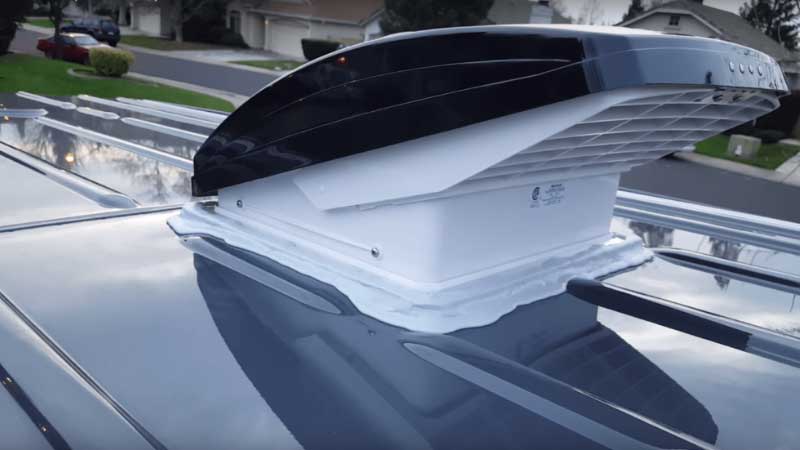 1. Fan-Tastic Vent 801250 1250 Series Vent
Fan-tastic is a trusted US-based brand in the world of RV vent fans. They provide you with a wide range of fans that are powerful and capable of nicely moving fresh air throughout your recreational vehicle while maintaining a serene atmosphere. The Fan-Tastic Vent 801250 is one of the most popular models from their line of fans.
The vent comes equipped with 10 fan blades that work in a joint effort to eliminate unpleasant odors in your RV and bring in the fresh air in minutes. The blades are constructed from clear plastic material to give sunlight an easy way to keep your RV space both bright and airy.
Unlike your old inefficient fan, this model comes engineered to output an ultra-quiet operation to give you the peace of mind you miss in your RV. It offers you up to 3 speed options to pick from (low, medium, and high) to let you have control the airflow in your RV.
You'll appreciate the reversible airflow function this unit comes with to let you pull air from outside or even push air from the inside. Installing this vent in your fast and easy. It fits standard 14 x 14-inch standard openings, and lies flush against seal to prevent draft and leaks in your RV.
Highlighted Features:
Fits standard openings (14″ x 14″)
Up to 3 fan blade speeds
Operates quietly
Comes with manual lift dome
Reversible airflow function

2. Ventline RV Roof Vent White w/ 12 Volt Fan
This is also an excellent replacement for your old non-powered RV vent fan. It comes at a pocket-friendly price but does a great job of supplying your RV with clean and fresh air to make livingable for you and your family or friends.
It presents a basic, hand-operated crank that rotates to let you hassle-freely open or close the dome. It also features an on/off switch that you can use to power it on or off.
Another thing you'll like about this fan is that it features a translucent cover that lets light pass through to keep your RV adequately illuminated.
For the construction, this fan features an aerodynamic, wedge-shaped dome made from durable polypropylene to withstand the tough RV lifestyle. In addition to that, it features a galvanized steel roof flange that resists rust and corrosion for added durability.
Like our previous unit above, this fan is also designed to fit openings measuring roughly 14.25 by 14.25 inches. It's super-easy to install and comes with everything you need for smooth and fast setup, including screws and butyl tape. The manufacturer even includes an inner ring in the package for easy installation.
Highlighted Features:
Fits rough 14.25″ X 14.25″ opening
Galvanized mounting flange
Includes free 1.75″ garnish ring
Durable polypropylene dome
Comes with a manual lift
Snap-out screen for easy cleaning

3. Maxxair Vent Corp 00-06401K Maxxfan DLX Vent - Best RV Roof Vent Fan
This is a high-powered 4-speed fan shooting from Maxxair's line of high-powered ceiling fans that are easy to operate and highly efficient. This particular unit comes optimized to keep your RV cool and ventilate the stale air while keeping bugs and rain from entering your RV.
One of the most notable features of this vent includes the built-in rain shield. This excellently encloses the vent opening to block rainwater and other forms of precipitation from entering through the roof vent and damaging your RV interior. This enables you to run the fan in all weather conditions without having to worry about any consequences.
The smoke dome on the rain shield boasts durable high-density polypropylene construction. And, when closed, it assumes a seamless, low-profile appearance.
This fan operates in manual mode and offers you up to 4 speeds to pick from. This enables you to easily control (increase or reduce) the flow of air inside your RV as per your needs.
Many manufacturers skip this part…but this fan's motor comes wholly sealed to keep dust, dirt, and moisture from interfering with it. The flush-mounted keypad on the fan offers you a hassle-free way to power on/off and operate your fan. Not to forget, this fan features an easily removable bug screen to keep bugs and debris out of your RV.
Highlighted Features:
Built-in rain cover
Powerful 4-speed fan
Manual lift design
Easy-to-remove insect screen
Ideal for 14 x 14-inch roof vents

4. Fan-Tastic 1200 - Best RV Roof Vent Fan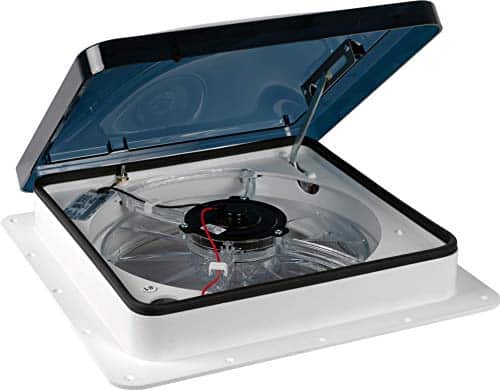 If you're looking for a vent fan to replace your noisy fan, this is a good bet. Rated as one of the best RV vent fans, this model operates in a pleasantly quiet manner. And it works hard to push stale air outside your RV while drawing in clean and fresh air
The vent fan comes in a compact and lightweight and offers you up to 3 blade fan speeds to control how air flows inside your RV living space. It operates quietly at all fan speeds.
It presents you with a manual lid that gives it a simplistic feel, making it easy for you to use and significantly reduce mechanical failure chances.
We also like that this vent comes with a thick and durable plastic housing. This will hold up pretty well to various weather elements and last for a longer period of time. It seals tight when not in use to prevent potential water leaks.
Keep in mind that this vent is also incredibly easy to install with just two wires to navigate. You'll be done installing it in a matter of minutes. And the fact that it fits standard 14 by 14 inch openings makes it easy to install on nearly all RVs.
Highlighted Features:
Lightweight and compact design
Powerful 10-blade vent fan
Quiet, energy-saving performance
Up to 3 fan speeds to choose from
Fits standard 14in x 14in openings

5. Fan-Tastic 801200 Create-A-Breeze RV Roof Vent Fan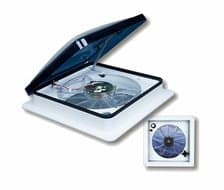 We have another great quality RV roof vent from Fan-Tastic. This model incorporates a 12V variable speed fan that excellently circulates air in your RV, trailer, or camper. It's a great entry-level fan ideal for bathroom or any RV vent opening measuring 14 x 14 inches.
This is one of the quietest roof vents. But don't take its quit operation for incapability. The fan delivers an extremely powerful performance that kicks all the stale air making you RV smelly and stuffy out and replace it with clean and fresh air. It lets you choose from 3 speeds to ensure you're in total control of how much air is entering your RV.
Despite its high performance, this vent is quite economical and won't kill your batteries when not hooked to the power. Mind you; it consumes roughly 3 amps on High setting, a clear indication of how great an energy saver the unit is.
The vent fan comes equipped with a pop-out screen that helps keep insects and debris out of your RV. You can easily detach this screen for easy cleaning.
Just like its siblings from Fan-Tastic, this fan features clear blades that let sunlight in to brighten up your RV space. The white done is made from impact and UV resistant ABS material. This gives strength to withstand occasional low hanging tree branches impacts and sun's UV rays for an extended lifespan.
Highlighted Features:
UV-resistant ABS plastic construction
Removable screen for easy cleaning
3 speed fan
Uses only 3 amps on high
Fits 14 x 14 inch openings

6. Ventline V2092SP-28 Birch White Ventadome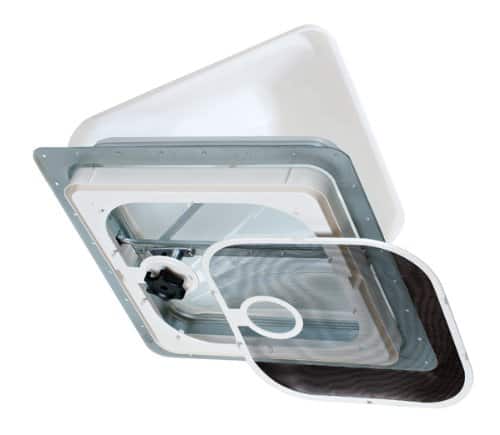 If you don't want to spend a lot of money fixing your old camper vent fan, get this fan from Ventline at a great price. We feature this birch white ventadome on our list due to its great performance at circulating fresh air in your RV without costing you an arm and a leg.
Intended for working with vent openings measuring roughly 14.25 x 14.25 inch, this vent fan is extremely easy to install in your RV roof. The instructions are simple to understand, and this vent will go onto your camper like a snap! And once put in place, the vent seals up nicely, so you won't have to worry about any leaks occurring in your RV.
The vent features a lift mechanism which offers you smoother operation and eliminates chatter. Its slide mechanism makes offer more surface area contact, making the guide bar stronger and promoting better stress distribution.
Because the 2-piece bug screen that comes with this vent has a snap-out design, you can detach it in seconds for easy cleaning.
The case feels pretty sturdy, and you can actually feel its sturdiness by juts holding it in your hands. The aerodynamic, wedge-shaped polypropylene construction that boasts 4x impact strength of the other polypropylene covers out there. Its easy-grip knob allows for smoother operation of the lift mechanism.
Highlighted Features:
Great for 14.25 x 14.25-inch openings
Includes 2.13-in polar white garnish
Easy-grip knob operator
Extra-strong galvanized steel roof flanges
Aerodynamic, wedge-shaped design
Easy-clean snap-out screen

7. Dometic 801200 Vent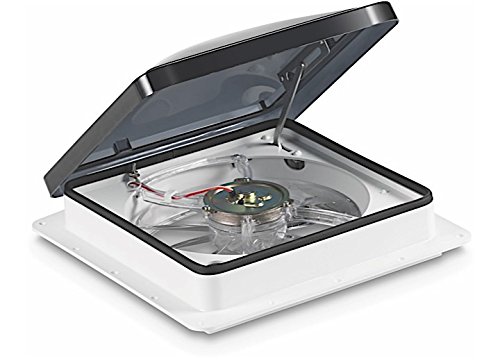 Dometic also won a spot on our ultimate list of top-rated RV vent fans with its highly popular 801200 vent model. This is a manual fan designed to fit standard 14 x 14 inch openings.
This Dometic doesn't disappoint when it comes to performance. It comes equipped with a 12V fan that tirelessly pushes stale air out of your RV and quickly pulls in clean and fresh air to make your second home feel comfortable.
As a manually operated vent fan, this unit comes with a hand knob that lets you easily open or close the dome. It features up to 3 fan speeds to control how air flows in and out of your RV. And you can hop between these speed settings by simply turning the speed knob on the vent housing.
Bugs and debris are always looking for an opening to get into your RV. But this vent won't give them one. It comes with a pop-out screen that excellently locks any insects or debris from getting it. You can quickly detach this screen for cleaning when the need be.
With its 10 clear blades, the fan will let in light to ensure that your RV enjoys clean air and natural lighting.
As with most of the other vents featured on this list, this model is also designed to perfectly fit 14 x 14-inch openings in your camper or RV roof. It has a 2-wire design that makes it super-easy to hook it up in your RV and start using it.
Highlighted Features:
Fits 14 x 14 standard opening
Clear blade fan lets in light
Up to 3 fan speeds
Flat or dome arched dome lid options
Multiple color options available

8. Fan-Tastic 3350 Vent RV Roof Vent Fan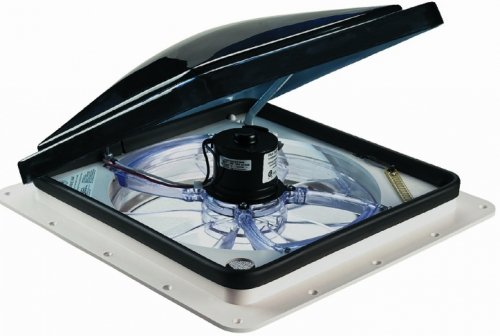 This is one of those uniquely designed fans packed with a list of cool features that are sure to make you go crazy! It comes in the shape of powerful but compactly designed and offers you high flow (up to 950 CFM) to solve your RV ventilation problem.
It offers you manual speeds or automatic variable speeds to let you precisely control the airflow in your RV. It boasts up to 3 fan speeds (low, medium, high) to easily control how much airflow you desire in your camper.
One of its coolest features involves the simpler reverse switch. This changes the fan direction, enabling it to draw air in and out of your vehicle. It also boasts a convenient rain sensor that automatically closes the dome when it senses wet conditions.
For the ultimate comfort in your RV, this event features a built-in thermostat that maintains your desired temperature inside your recreational vehicle or camper.
Its automatic dome open or close switch makes the vent fan easy for you to operate. Moreover, it features a built-in manual knob that promotes easy dome closing in the case of an emergency.
The installation part is easy as this vent fits 14×14 inch openings in your RV. It features a 2-wire setup design that lets you easily and quickly hook it up in your RV to start using it.
Highlighted Features:
Fits standard 14×14 openings
3 fan blade speeds
Reversible airflow function
Features built-in thermostat
Built-in rain sensor

9. Maxxair 00A04401K Smoke Roof Top MaxxFan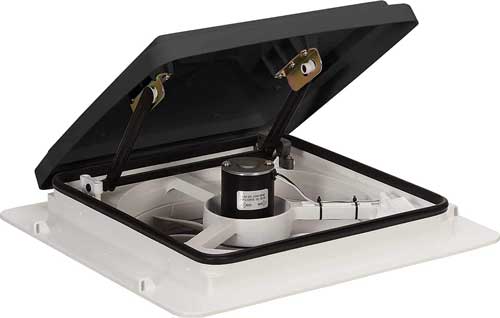 Maxxair has been in the game since 1998, producing high-performance ventilation fans, vent covers, and replacement shrouds for various RV models and all motorhomes. We feature one of their top-rated RV rooftop fans as an excellent replacement for your old unit.
Designed as a manual-lift roof vent, this model boats 4-speed motor that works tirelessly to ensure you enjoy sufficient airflow inside your camper, RV, or travel trailer. It features a convenient ceiling fan mode that circulates air when the vent is closed, so you can continue enjoying fresh air when it's raining outside. Thus this vent can be used to circulate the air in ceiling fan mode.
Like we have seen in most of the fans above, this unit has a manual knob that easily opens or closes the dome. It fits a standard 14-inch by 14-inch RV roof opening and sports a high-profile design.
Convenient features you'll find in this fan include a removable bug screen that keeps the insects out and detaches easily for struggle-free cleaning. The translucent smoke-colored dome lets in sunlight to light up your RV interior.
The fan features 2-wire design for super-easy and fast installation in your RV. It fits standard 14×14 inch openings, which makes it suitable for most RV models. When closed, this fan assumes a seamless, low-profile appearance on your RV roof.
Highlighted Features:
Incorporates powerful 4-speed motor
Installs in standard 14×14 openings
Delivers 900 CFM airflow
2 year limited lifetime warranty
Ceiling fan mode that can improve the coolness in vehicle

10. Maxxair 0007000K MaxxFan Deluxe Fan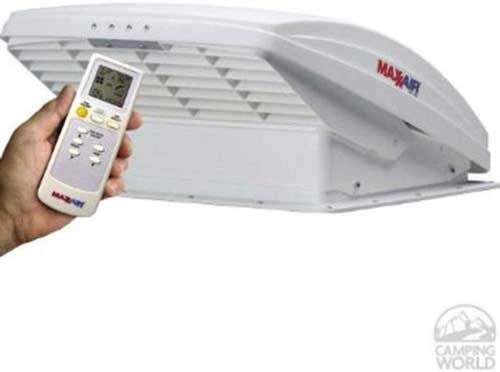 A vent fan with remote. If that's what you're looking for, this Maxxair deluxe fan suits you. It comes equipped with a remote that lets you easily control the lid, fan speed, and all the other vent functions from the palm of your hand and from the comfort of your sofa.
Like the other units that made it to this list, this deluxe fan comes devoted to delivering maximum circulation during those cross-country trips with your family or friends when the air inside your recreation vehicle or camper can get stuffy and hard to live in.
Cooling your RV has never been this effective, thanks to the fan's 10 powerful blades! These work together to deliver a whopping 900 cubic feet per minute of cool air whenever, wherever you need it.
The vent fan is compatible with all standard 14×14 inch openings, which means it'll work with nearly all RV models. The manufacturer includes the necessary screws and other hardware required to make the installation a breeze. The unit can also be installed in a standard RV roof opening with a measurement of 14 by 14 inches.
The complete model features a fan plus a built-in rain cover, which means it'll close automatically when it rains. This is a highly convenient function that enables you to keep this fan running in all weather conditions without worrying about rainwater getting in your RV.
Highlighted Features:
Comes with built-in rain cover
10 blades fan w/12V motor
Fits standard 14×14 openings
Powered by remote control
Hardware and screws included

Are all RV roof vents the same size?
One of the things that new RVers ask when shopping for a new RV roof vent is whether there exist different RV roof vent sizes.
The answer is Yes.
But…
Nearly all the recreational vehicles come with a roof vent with a square opening that measures 14 by 14 inches. This explains why these measurements have become the standard size for roof vent fans.
However, you can also come across vent fans measuring slightly different, around 13 x 14 inches.
If you go shopping for a high quality RV vent fan today, you'll find that most of them come in the same size (14 x 14 inches) and are labeled to work with standard roof vent openings of a similar size.
However, some RVs might come with a differently sized opening.
If you're planning to replace your old vent, we suggest that you start by taking measurements of your RV vent opening to confirm whether it comes in the standard size (14×14 inch) or has an odd size. This will help ensure you don't get the wrong vent fan for your camper, which can lead to frustrations.
In case your RV, camper, or motorhome doesn't come with a roof vent, it's a wise idea to have one installed. In this case, you'll need to hire a professional who will make a perfect vent that works with the standard sized 14 x 14-inch vents to prevent frustrations during installation.
IMPORTANT: We suggest that you get a professional to install a vent in your RV roof, even if you're dealing with a standard-sized one that looks and feels easy to install.
If you do it yourself, you might end drilling wrong holes or keeping extra space. A professional, with years of experience, is best suited to handle this job for you.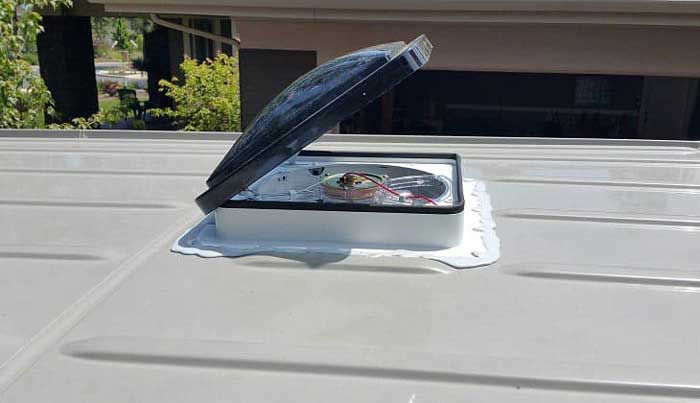 Why do RVs have roof vents?
Every RV needs a roof vent to provide an excellent flow of air and proper ventilation. Just like you need adequate ventilation in your home, you'll need good airflow in your recreational vehicle to make it a healthy living space.
Since it's not convenient to keep doors and windows open in your RV to promote good airflow, every RV comes equipped with a roof vent to help push stale air out and pull in clean air-keeping your RV interior fresh.
It's rare to come across an RV that doesn't have this crucial feature, …and in case your RV doesn't have one, you can have it installed by a professional.
Let's take a look at the top benefits you get from RV roof vent:
The TOP benefit of an RV vent fan is that it helps improve the circulation of air inside your RV. We can all agree that an RV is simply a tiny home, packed with many appliances. This can make air circulation in your RV hard.
Poor air circulation means stale air hangs inside your RV. This can compromise the health of those living inside the RV, cause unwanted odors and smells, and even high humidity.
However, with a roof vent fan, the stale air is easily carried out of your RV and replaced with clean, fresh air from the outside. Most vents even come with adjustable speed to set how much airflow you desire in your recreational vehicle.
2. Flushes out unwanted smells and odors
Bad smells and odors are unavoidable in your RV, just like in your home.
Whether from cooking to bathing, sleeping, etc., all these activities can lead to a buildup of odor inside your RV. When going on a road trip with your family/friends and pets, smells are sure to linger in your RV curtains and upholstery. Smoking and perfumes can also contribute to unwanted odors in your RV.
Having an RV vent fan installed above your bathroom, cooking station, etc. can help throw out these unpleasant smells and invite clean air to make your living space smell fresh.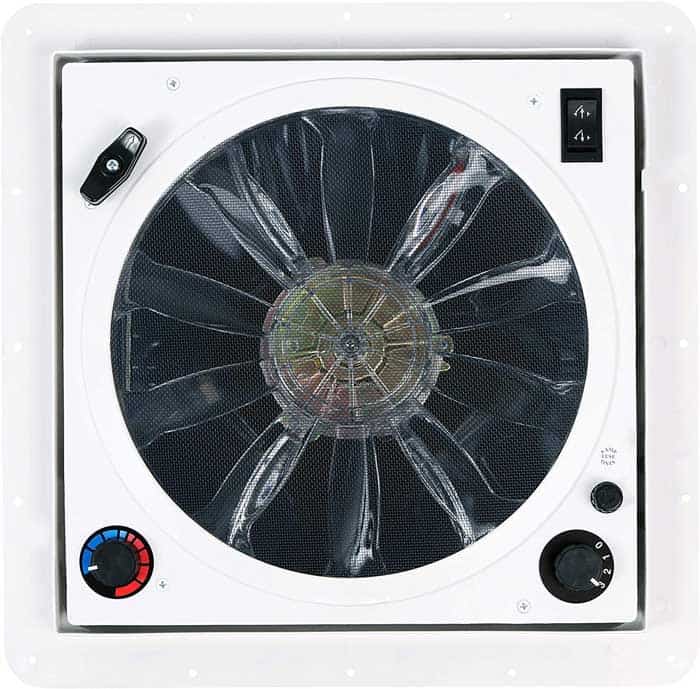 3. Keeps your RV interior cool
Imagine RVing in the hot summer weather without proper ventilation in your recreational vehicle, travel trailer, or camper? That's going to be too comfortable for you, and it can cut short your camping fun.
Luckily for you, the roof vent that comes with campers helps ensure a cooler atmosphere in your vehicle. They do this by flushing hot air in your RV outside and bringing in cooler air from outside.
This way, the interior temperatures stay low to give you more comfortable living space.
4. Give kitchen smoke and steam an easy escape route
RV is like your second home, and that means it has a kitchen where you'll be preparing meals for your family or friends. While cooking on the go can be fun, it has its downside in that it can produce smoke and steam that can accumulate and make life inside your RV difficult.
This is especially true when cooking foods that require deep frying. A good example is grilling, which produces dark smoke that makes life inside your RV a living hell.
Again, a roof vent comes to your rescue by offering you an easy path for the steam and smoke-producing during the cooking session to escape outside your RV. The running fan excellently throws out the unwanted steam and smoke for comfortable RVing.
5. Helps bathroom steam escape
Not just the kitchen, having a hot shower in your RV bathroom will produce steam. And if this steam doesn't have an easy way out, it'll result in vapors that lead to moisture and condensation.
Condensation is known for causing the development of musty smells, molds, and mildews. These can cause damages to your RV interior, which costs you huge amounts of money in repairs.
Having a good vent in your RV roof will easily lead the bathroom to steam out, so you can enjoy hot showers without worrying about any damage.
6. Keeps humidity levels low
Moisture can also easily form in your kitchen. It can come from taking a hot shower, kitchen pot carrying hot food, etc. When this moisture gets trapped inside your RV, it gives rise to humidity levels.
The humidity bores condensation, which causes growth of molds that can damage the interior of your RV. Getting rid of these molds is also a tricky process, especially if not detected early.
Installing an RV roof vent promotes proper air circulation, which is essential for keeping humidity levels low. The stale air moves out alongside the moisture to eliminate the mold forming in your recreational vehicle.
See also: 10 Best RV Door Lock Reviews - Newbie's Buying Guide
Buying Guide For Newbies
If you're planning to upgrade your current RV vent fan with a brand new, more efficient model, you need to do due diligence to ensure you get the most suitable unit for your RV.
In this section, we'll discuss the crucial considerations to help make the selection process for the best RV vent fan a smooth experience for you.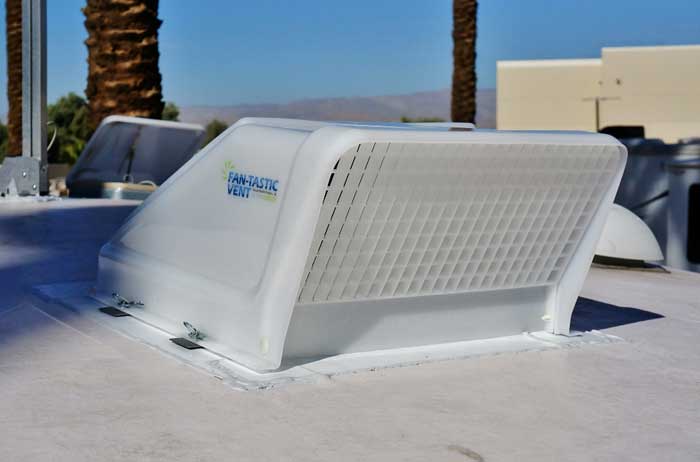 Performance
Let's be honest…the main reason you want that RV roof vent fan badly is to provide you with clean and fresh air in your RV.
This means that the first thing you'll need to check when buying a new vent fan is its performance. You want to invest in a roof vent fan that has a high CFM rating. The rating stands for the amount of air a fan can circulate per minute.
The higher the number, the better. Units with high CFM rating (around 900 CFM) are great for large RVs where heat and moisture can easily ruin the mobile living space, especially when cooking and RVing with a large group of people.
For a smaller RV, you can trust a fan with a lower CFM rating to properly circulate air to all the corners of your vehicle.
Energy consumption
Another crucial consideration you want to take with you when you go shopping for an RV vent fan is how much energy it consumes.
The energy efficiency of a typical RV vent fan is directly dependent on its amperage draw. It gives you an insight into how much the fan will cost for operation.
If you want a model with high energy efficiency (and thus money-saving fan), then you should look for one that comes with low amperage.
We suggest an ideal ampere of around 3Amps (on High setting). This number is not only budget-friendly but also keeps your overall power consumption low. RVers who need a more powerful fan to meet air circulation needs for their large RVs should use this number as their reference point.
Lid opening mechanism
You shouldn't ignore the opening mechanism of the lid of the RV fan you want to buy. Why is it important? Because it affects the overall convenience of the fan.
Most of the models you'll come across at the market usually offer you a manual or automatic opening mechanism.
The latter means that you just need to use a remote control to open or close the lid without moving an inch. This will prove quite helpful if your RV ceiling is too high or if you suffer from an injury and need to open your lid from far.
The manual vents feature a crank mechanism that you need to twist to control the lid.
Intended use
Different RVing enthusiasts have varying demands. You should take this as a key consideration when looking for the perfect RV vent fan.
You should ask yourself whether you're a full-time RVer or only hit the road twice a year.
If you fall in the former category, then we advise you to look for a premium RV vent packed with a list of great features.
It should also be made from durable, wheatear-resistant materials to enable it to last a long period of time. Such a model will ensure you enjoy the constant flow of fresh air inside your RV, regardless of the season.
For those who go RVing less frequently, then a simple non-powered fan will sufficiently meet your RV air circulation needs.
Adjustable fan speed: A fan with multiple speed settings lets you control how much airflow you want in your RV. It also helps you control how much energy is consumed by your unit. The more speed settings a fan comes with, the better.
Built-in rain sensor: a model with an integrated rain sensor automatically closes the lid when it detects wet conditions. This enables you to run the fan in all weather conditions without worrying about rainwater getting into your RV.
Built-in thermostat: This is also a convenient feature to have in your RV roof vent fan. It helps regulate your interior temperature, ensuring your mobile living space feels cool and comfy.
Frequently Asked Questions
Do I really need an RV roof vent fan?
An RV vent fan is a necessity for any serious RVer. It helps prevent stale air from hanging inside your RV interior by flushing it out and pulling in fresh and clean air so you can enjoy a healthy and comfortable living space in your RV.
The fan also helps push out hot air during summer days to make the interior cooler and comfier. The fan also helps eliminate moisture inside your RV, preventing moisture buildup, resulting in the growth of mold.
What are some of the reputable RV roof vent manufacturers?
Some of the best manufacturers of quality and reliable RV vent fans include Fan-Tastic, Maxxair, Camco, and Heng's. All these brands have a line of well-made fans that serve you reliably, ensuring you get the most out of your spending.
How do I measure RV roof vent?
The most common RV roof vent sizes you'll find on the market are 13 x 14 and 14 x 14 inches. To ensure you get the perfect vent for your RV, you need to measure the size of the opening. You can do this by following these simple steps:
Remove the existing cover that you want to replace
Measure the duct opening in height and length and note it down on a piece of paper
Now match your opening size with the size of the vent fan you're planning to buy.
The perfect vent fan's height and length should match the height and length of the vent opening of your RV.
How do you clean your RV vent fan?
Regular cleaning simply involves vacuuming the screen and scrubbing it with an upholstery brush to remove any dust hanging on it. Fans that feature detachable screen are even easier to clean.
For deep cleaning, say after your vent fan has accumulated a lot of dust and grime, you'll need to disassemble it first to help you perfectly clean layers of dirt and dust from its blades.
You'll also need to spray down the screen using a cleaning agent and then wipe it down. Use a small bristle brush to access the hard to reach areas behind the fan blades.
Can the RV vent fan be used in all weather conditions?
Sure! Most of the top-rated vent fans are designed using sturdy materials that can withstand various weather elements, enabling the fan to continue performing for a long time under constant exposures to diverse weather patterns.
How do I replace my RV vent cover?
To replace your RV vent cover, you need to access it by climbing on your RV roof with the help of a ladder.
Remove the pins from the hinge. Ensure the tab stays straight before you remove the lid.
Once you have removed the lid, you can now install the new cover. For proper installation, you'll need to line up the new cover with the straightened tabs.
When done, close the tab and slide all the pins back to the hinge. Ensure the pins are correctly secure before you sit behind the wheel.
Do I need an RV vent insulator as well?
Though not a necessity, the RV vent insulator might prove helpful when RVing in extreme weather.
For instance, it can add an extra layer of protection to stop heat transfer and keep your RV interior cool and comfortable in summer and warm during the winter season.
Final Verdict
Having armed you with the most important information about RV vent fans, we have no doubt that you'll have an easy time choosing the best RV vent fan for your RV, camper, travel trailer, or motorhome. We have also offered you some of the most powerful and reliable fans you can choose from to start enjoying superior ventilation in your recreational vehicle.
Buy them at Etsy, eBay, Walmart (limited quantity)
Maxx Air 00-07500K MaxxFan Deluxe with Remote - Smoke - Walmart, Etsy, Ebay
Fan-Tastic Vent RV Roof Vent, 3-Speed Manual Crank RV Vent Fan, Smoke Dome RV Vent Cover - Walmart, Etsy, eBay
MAXXAIR 0007000K MaxxFan Deluxe Fan with Remote and White Lid - Walmart, Etsy, Ebay
Fan-Tastic Vent 801250 1250 Series Vent - White - Walmart, Etsy, eBay
HENG'S 14" RV Roof Vent Kit w/Butyl Tape w/12 Volt Fan | White | #71112-C | RV - Walmart, Etsy, eBay
Livpow RV Roof Vent 3 Speed Reversible Manual Lift Smoke Lid - Walmart, Etsy, eBay