A TV is a crucial investment for your RV if you love watching. And the best thing you can do to safeguard your RV TV and shield it from damages that may arise from the vibration of your RV is securing it with a reliable mount.
You'll need to use the best RV TV mount compatible with your TV and meets your specific mounting needs.
We have searched the market for the most durable and reliable TV mounts specially made for use in your RV and found the following 10 highly rated mounts that you can order today.
Top TV Mounts for RV in 2023 by Editors' Picks
Best RV TV Mount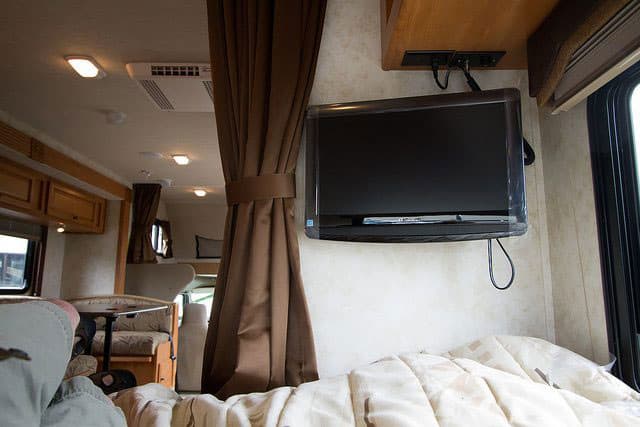 1. Mounting Dream Lockable RV TV Mount
This is one of the most reliable locking TV mounts for RVs you can find on the market today. The mount comes engineered to support TVs from 17 to 43 inches and has a maximum weight capacity of 44lbs. It's ideal for travel trailers, motorhomes, campers, boats, trucks, and more.
One of the reasons we like this TV mount is the flexibility it offers you. It allows you to hassle-freely tilt your TV forward 15 degrees or backward 5 degrees to reduce the glare from light or get a good viewing angle. What's more, the TV mount can fully extend 18.4 inches from the wall-letting you point your TV exactly where you want to view it from.
It also offers you a reliable locking mechanism that keeps your TV from moving when your vehicle is in motion, preventing possible damages from vibration or bumpy roads.
The mount also allows a 90-degree swivel, so you can easily adjust your TV left or right 90 degrees for the optimal view. Watching a movie with your family from any seat in your RV has never been this easy!
For the construction part, this mount is made from a heavy-duty steel material covered with a durable powder-coated finish. It's 100% welded by an automatic robot, making it one of the sturdiest, most reliable mounts for your RV TV. Mind you, it will safely and securely hold a TV as heavy as 44lbs!
It installs in 3 easy and quick steps, and you don't need any special skills to set it up. All the necessary hardware comes nicely packed in pre-labeled bags for hassle-free mounting. A set of clear instructions is also included to make the installation easy for beginners.
Highlighted Features:
Supports most TVs from 17 to 43 inches
Maximum weight capacity: 44lbs
Heavy-duty steel construction
Unique locking mechanism
Up to 20 degrees of tilt
Extends up to 18.4 inches
Offers 90 degrees TV swivel
Simple and fast installation

2. Mount-It Lockable RV TV Wall Mount
You can't go wrong with this RV TV wall mount if your screen size is anything from 22 to 42 inches. This mount comes ready to help you adjust your screen to your desired viewing angle while keeping it protected from vibrations of your RV during transit.
It comes armed with a secure locking mechanism that comprises a unique gear structure with a fixing knob that securely holds it in place during transit. This ensures your TV doesn't move around and suffer damages from the vibrations of your RV as it travels.
The Mount-It camper TV bracket has a full-motion design to grant you maximum flexibility to easily tilt, swivel, or extend your TV. To be precise, it extends a total of 15 inches from the wall, allowing you to easily set it for the perfect viewing angle from any part of your camper or recreational vehicle. It also lets you tilt your screen 55 degrees up or 35 degrees down to reduce glare and give you an enhanced viewing experience, whether you're sitting, standing, or laying down.
Keep in mind it comes with an adjustment knob to allow you to fine-tune the tilt/pan adjustments for a customized viewing experience.
Like our previous model, this TV mount is also super-easy to set up. It features a slide-in TV plate that lets you easily attach your TV to the wall mount arms, simplifying the installation process. All the hardware you need to set it up comes packed in the box. The included in-arm cable clip routes your cables for a cleaner appearance.
Highlighted Features:
Fits screen sizes 22 to 42 inches
VESA compatible
Extends up to 15.3 inches
Pan and tilt adjustment knob
Up to 33lbs load capacity
Easy 2-step installation
Sturdy alloy steel construction

3. Perlesmith RV Lockable TV Wall Mount
If you're looking for an extremely secure and safe RV wall mount for your TV, this is a good choice. It's a 100% heavy-duty TV wall bracket with really high standards and accommodates TV inches from 22 to 43 inches. With a maximum weight capacity of 77 lbs., it's the ideal choice for holding the heaviest TVs available.
The highly reliable wall mount is highly popular for its universal compatibility. It works with most 23-43 inch flat panel TVs. It's also compatible with the VESA pattern faceplate and fits VESA 200×100, 100×100, and 75×75. The wall mount works with the most popular TV brands on the market today. Simply put, this wall mount will work with nearly any RV TV.
As a full-motion lockable wall mount TV, this model will also offer you a ton of flexibility on how you can view your TV. It will tilt your screen 15 degrees forward or 10 degrees backward, swivels up to 180 degrees. Above all, it extends up to 18.4 inches to give you optimized viewing regardless of where you are in your RV.
You can easily fold down TV mount for RV to about 2.4-inch to save space as well as keep your TV out of the way from getting accidentally damaged.
And when your RV is on the move, you can deploy the mount's locking mechanism to hold your TV in place and keep it from moving around and getting damaged. To use the lock, you simply pull the strap, and your TV gets locked in place!
Inside the package, you'll get all the mounting hardware needed plus cable ties and a user manual to ensure you have a smooth time installing the TV mount in your recreational vehicle or camper.
Highlighted Features:
Suitable for most TVs from 22 to 43inches
Carries TVs up to 77lbs
Sturdy steel construction
Unique strap locking mechanism
Swivels, rotates, extends for optimal viewing

4. GOFORWILD RV TV Mount for Camper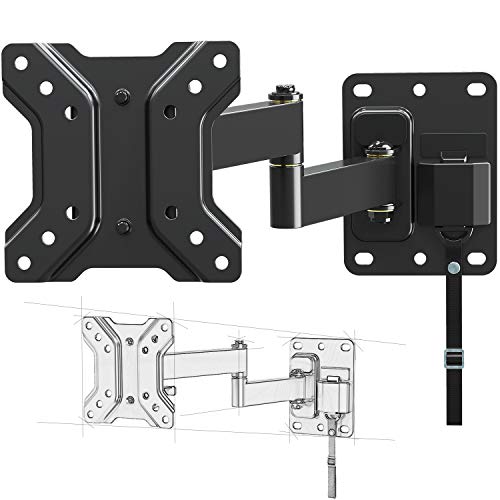 If you're done with cheap junks that don't secure your RV TV as they promise, it's time to up your game with this TV mount for camper from Goforwild. The model is compatible with a wide range of TVs from different brands, measuring from 10 to 26 inches. It also works with VESA attachment dimensions of 75x75mm and 100x100mm.
The TV mount appears well made and boasts a durable construction of 100% heavy-duty steel. Such a strong construction is all the assurance you need that the mount securely and safely supports your RV TV for trips to come.
The RV TV wall mount also grants you maximum viewing flexibility; it allows you to tilt your screen, swivel it, or even rotate it to get the most comfortable view.
You'll also love how it locks in place to get your TV out of the way and save space. When in a locked position, the swivel arm will not move an inch to prevent your TV from getting vibration damages or moving around when you're moving. The unlock is also easy with the attached pull strap that hangs down.
Like the previously discussed mounts, this mount also comes with all the necessary mounting hardware to facilitate an easy, problem-free setup. The manufacturer even includes a mini bubble level to ensure you get the setup right!
Highlighted Features:
Ideal for 10 to 26 inch TVs
VESA compatibility: 75x75mm, 100x100mm
100% heavy-duty steel construction
Supports TVs up to 22lbs.
Twists, swivels, extends for optimal viewing
Strap locking mechanism
All mounting hardware included

5. Mounting Dream MD2209 Lockable RV TV Mount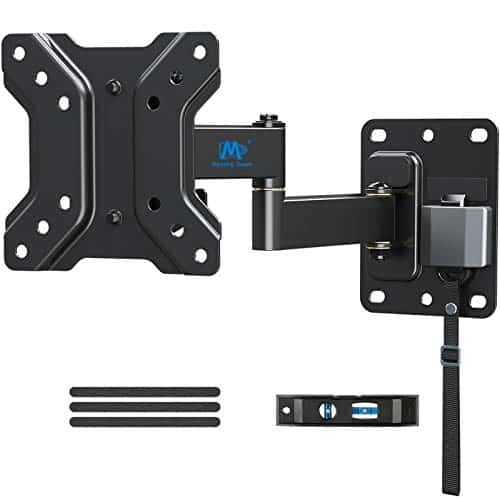 This is a viable option for you if you're on the market for a budget-friendly mount for small RV TV. This mount is designed to work with small TVs with sizes ranging from 10 to 26 inches, with a maximum weight capacity of 22lbs. It's compatible with TVs with VESA spacing of 75x75mm and 100 x 100mm, increasing its versatility over the TVs it can work with.
Like the other model from Mounting Dream, this TV mount has a great build quality. It features heavy-duty steel construction plus a durable powder-coated finish. And it's welded using a 100% automatic robot. The result is a sturdy mount that holds your TV stably and securely.
You'll also be impressed by how far you can adjust this TV mount to get the most comfortable viewing in your RV. You can choose to tilt your TV from +5° to -15° or swivel it up to -/+90° on either side. And if you feel your TV isn't level, the mount allows you up to -/+3° level management.
Installing this mount in your RV is easy as pie. All the mounting hardware you need come packed in pre-labeled compartments for straightforward installation. A set of clear instructions also accompanies this mount to guide you through the setup process.
Once installed, you'll be impressed by how sturdy the mount's articulating arm feels. The integrated locking system utilizes a spring snap to keep your TV from wobbling around and rattling when your camper is on the move.
Highlighted Features:
Heavy-duty steel construction
Made for TV screens from 10-26 inches
Easy one-step locking system
Supports TVs up to 22lbs
VESA compatibility: 75x75mm, 100 x 100mm
Tilts and swivels for comfortable viewing
Comes with all the necessary mounting

6. PAW International RV TV Bracket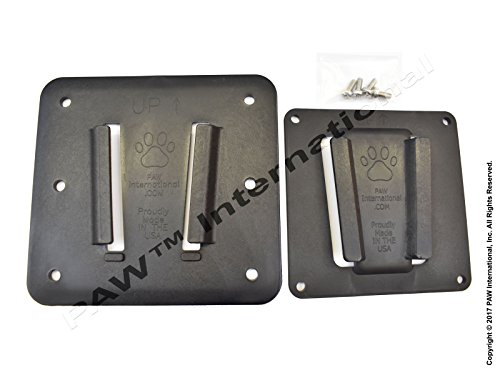 On the market for the perfect interior and exterior RV TV mount? If yes, this PAY International RV TV bracket will fit your needs. The bracket features reinforced polymer construction and a solid black UV coating, making it virtually indestructible and enabling it to withstand interior and exterior RV environments.
The bracket also works great at protecting itself from rusting, further making it a durable and reliable mount for your RV. Assembling and installing this mount is super-easy since all the hardware you need comes included in the box.
Besides perfectly mounting your TV on your RV, this mount will also allow you to perfectly take it down while traveling without necessarily unscrewing the mount from the TV or RV wall.
When installed, this bracket extends your RV approx. ¾-inch from the wall to ensure you have enough space for feeding wires through the back.
This bracket only works with PAW international mounts, so you'd want to make sure you have those before installing the bracket. If your RV or travel trailer comes pre-installed with the Paw Int'l mounts, then you're in luck as you just need to get this bracket.
Highlighted Features:
Works with TVs size 30 inches
High-density polymer construction
Solid black UV coating
Fits VESA pattern 100mm x 100mm
Maximum weight capacity: 30lbs
30-day money-back guarantee

7. Master Mounts 2311L Locking RV TV Mount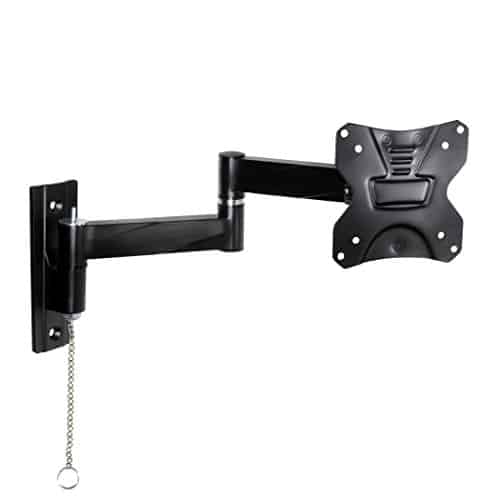 If you're looking for the best TV mount for RV for most TV screens measuring up to 42 inches, then this is a viable option. The model offers full range motion and easily locks in place for your moving travel trailer, camper van, or RV, ensuring the safety of your RV TV.
Designed to mount directly to your RV wall, this mount offers you full range motion to allow you to watch your favorite TV show in any angle you desire; you can easily swing it to watch your TV while in bed, in dinette, or any other area of your recreational vehicle.
This mount is made from aluminum, making it feel light (weigh3 pounds only!) while being strong enough to securely hold your RV TV for trips and trips to come.
When riding on a bumpy or rough road, you don't want your TV to move around and get damaged. This mount features a chain that you simply pull to easily lock up your TV in place. This locking method is way more convenient than the gears, knobs, ties, straps, etc., that come with other TV mount models.
The mount is pretty easy and effortless to mount in your RV. It comes with all the necessary hardware logically packed in well-labeled compartments to help you quickly figure out what goes where. Additionally, it comes with a set of instructions on how to mount it in your RV the right way.
Highlighted Features:
Fits up to 42-inch TVs
Strong cast aluminum construction
Holds TVs up to 33 pounds
Lightweight design; measures 3 pounds
Protects the TV from bumps and vibrations
EZ pull-chain locking mechanism
Mounts directly to the wall

8. LWL Mounting Trailer RV TV Mount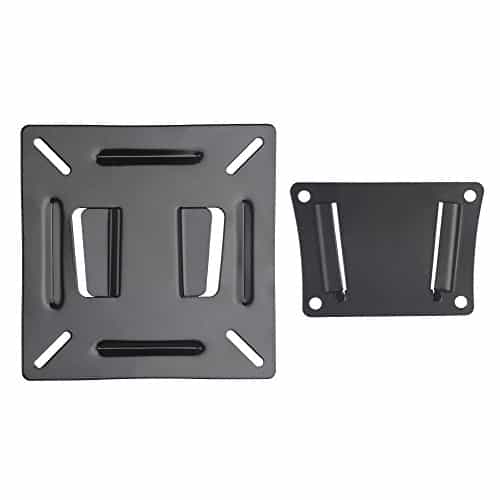 As we edge closer to the end of our list of top-rated camper TV brackets, we have this LWL mounting trailer RV TV mount. With its compatibility with TV screens and monitors size 10 to 24 inches, this is the perfect TV mount for safely hanging a small TV in your RV or travel trailer.
Featuring a pocket-friendly price tag, this TV mount is compatible with TVs with VESA pattern spacing of 75×75, 75×100, and 100x100mm. It has a maximum weight capacity of 55lbs, enabling it to securely and reliably support a wide range of TVs.
We like that this mount also comes with a great build quality, which involves heavy-duty steel construction plus a durable powder-coated finish. This makes it an extremely sturdy and strong mount for supporting your TV and shielding it from potential damages.
Installing the TV mount is quite easy and fast. It comes in two pieces: a larger and smaller bracket. The smaller one mounts to the wall while the larger one attaches to your TV. The wall piece measures approx. 2.4"x 3.2" and will easily fit on your RV wall.
Highlighted Features:
Fits most TVs from 10-24 inches
VESA compatibility: VESA 75×75, 75×100, 100x100mm
Heavy-duty steel construction
Supports TVs weighing up to 55lbs
Offers easy and quick install

9. Mount Plus 1070 Ultra Slim Flush Wall Mount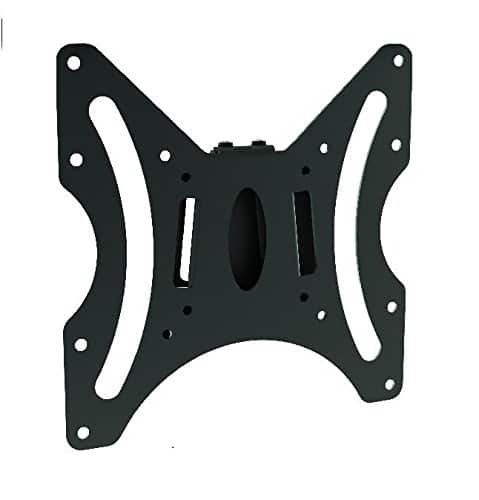 Engineered by Mount Plus, another leader in the production of top-notch TV mounts, this ultra-slim flash wall mount makes another best RV TV wall mount for the budget-minded RVers. It will meet your needs if you're looking for something that places your TV as close to the wall as possible, with no angle adjustments.
It works with a wide array of TVs ranging from sizes 23 to 42 inches TVs. It's compatible with smart TVs, LEDs, LCDs, and OLEDs. It also works with VESA standards 100x100mm, 200x200mm, and 200x100mm-making it a highly versatile mount for most RV TVs.
The wall mount boasts heavy-duty steel construction and feels extremely sturdy. This gives it the strength to support even heavier TV screens and monitors weighing up to 66lbs. Because it's also covered with a powder-coated finish, it will shield itself from rust, further enhancing its lifespan and durability.
This TV mount is incredibly easy to install in your RV. It comes with the basic hardware you need to set it up. You'll first need to mount it on the wall in your desired location and then unscrew its mounting screws (just enough to slide it off the wall). Then, mount your TV and slide it back on. That's all!
Unlike most of the mounts featured here, this mount will not offer you any adjustments and stays flat to the wall you mount it on. It feels sturdy, secure, and stays flush to the surface you mount it on.
Highlighted Features:
Compatible with TVs size 23″ to 42″
VESA compatibility: 100x100mm 200x200mm 200x100mm
66lbs maximum weight capacity
Heavy-gauge metal construction
Mounting hardware included
Super-easy and fast installation

10. Moview Removable TV Flush Mount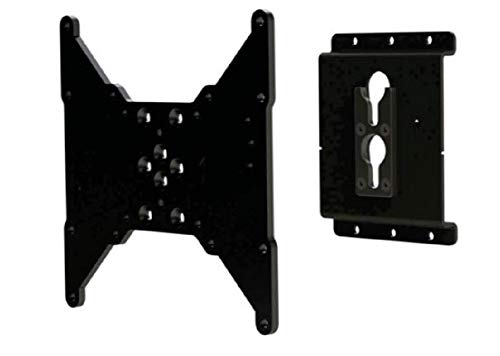 The last spot on our list of the best TV mounts for RV goes to the removable TV flush mount from Moview. 100% designed, engineered, and manufactured in the USA, this mount will safely and securely hold most medium-sized TVs from 23 to 27 inches.
It features a great load capacity of up to 60lbs and works with the VESA patterns: 75X75mm, 100X100mm, 100X200mm, 200X200mm. This makes it one of the most versatile TV mounts for RV you can find on the market today. However, keep in mind that this mount may not work with Samsung TVs that require an 8mm screw.
The mount is designed to flush mount to the RV wall; it mounts ¾-inch from the wall, translating to a low profile fixed position.
Regarding the construction, this mount is made using aluminum material for a lightweight yet sturdy design. As you already know, aluminum is a high corrosion-resistant material, meaning this mount will not easily give in to rust and will last a lifetime.
It's also worth noting that this mount features a Quick Set design-with a Snap Lock feature-to allow for easy installation and positive retention of the display and the VESA plate. A hardware pack comes included in the box for easy installation.
Highlighted Features:
Holds up to 60lbs TVs
Works with TVs from 23-27 inches
VESA compatible: 75X75mm, 100X100mm, 100X200mm, 200X200mm
Lightweight, non-corrosive material
Quick disconnect, detectable face
Mounts ¾-inch from wall
Quickset design for easy install

How to mount a TV in an RV?
Now that you have finally picked the perfect camper TV mount for your RV, your next wonder is how to install it in your RV the right way.
Below, we have put up a general guide on setting up a TV in your RV using your new mount.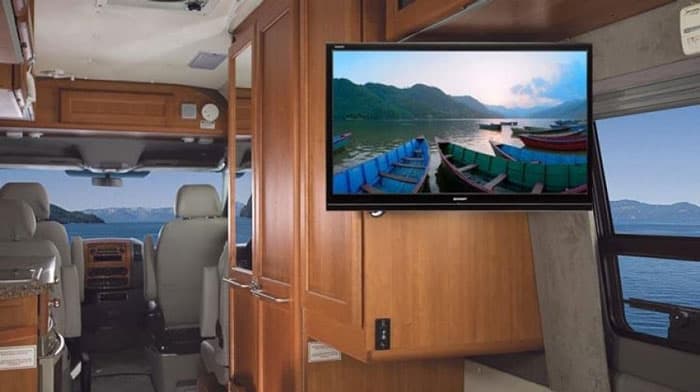 For this guide, we'll focus on the mount with arm method as it's the most popular and the simplest way to mount a TV in your RV.
This is how you mount a TV with an articulating arm mount:
Step 1. Decide on the right location
The first thing you'll need to do is pick the right area for mounting the TV in your RV or travel trailer. Make sure you choose an area that's strong enough to handle your TV's weight plus that of the mount.
If your TV plus mount weight is too heavy, you'd want to look for ways of reinforcing it before mounting your TV. Else, you'll end up breaking off the wall, leaving you with a damaged wall, TV, and frustrations.
See also: 10 Best Ceiling TV Mount 2023 - Reviews and Guide
Step 2. Secure the mounting plate to your TV
Once you have picked the right area for installing the TV, you can now get down to setting up your mount. You'll first need to secure the mounting plate to the back of your TV. This will be pretty simple for you since all the screws required to mount the plate are included in the box.
Next, attach the mount to the area you have chosen in the previous step and head over to the next step.
Step 3. Install the base plate
Now grab the base plate and install it to your RV wall using the provided screw anchors. Before you screw it in place, ensure it's perfectly aligned to the wall you have set it on. You don't want to misalign the bracket as this will make your TV look out of place.
Once you're satisfied with its placement, you can go ahead and insert and secure the TV mount arm into the bracket. The mount is now ready to carry your TV.
Step 4. Attach your TV
With the arm and bracket in place, all that's left of you now is to attach your TV with the plate you installed in step 2 to the arm and secure it down using screws. Set your desired height. You can now sit back and enjoy watching your TV.
Feel free to play with tilt and swivel options offered by this mount to adjust your TV for the most comfortable viewing angle.
TIP: If you don't want to take chances with your TV's safety, you might consider coating the screws in an adhesive before screwing them into the bracket. This will an extra layer of security and give you peace of mind.
What to look for before buying?
Different RVers have varying preferences on how they wish to mount their RV TVs. The market has plenty of mount options to give you one that meets your unique mounting needs.
When shopping for the best TV mount for RV, we advise you to look out for the following key factors to help you easily pick the perfect mount for your needs.
Type of mount
One of the things to keep in mind when shopping for an RV TV mount is that there are different types of mounts designed to address different users' needs and concerns. Let's take a quick look at the most common types of mounts you'll find on the market today.
1. Articulating mount
This is by far the most popular type of TV mount you can find on the market today. Many RVers love it due to the high adjustability level it offers you while featuring a small footprint that enables it to easily fit in the most compact spaces.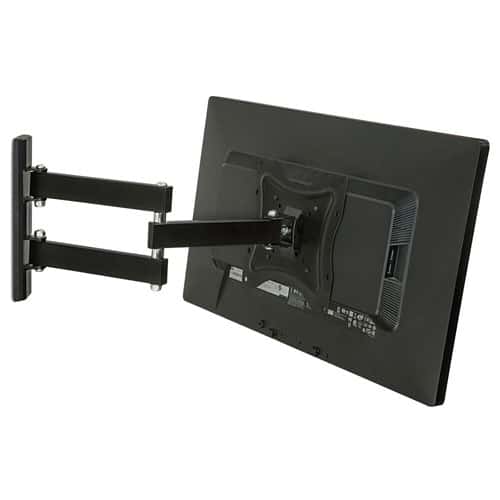 Models under this category let you easily tilt and swivel your TV to achieve the perfect viewing angle.
But the greatest benefit in versatility is seen in the way they let you swing your TV screen over a wide arch so you can easily watch your TV from any part of your RV. This saves you the need to buy separate TV sets for the living room, bedroom, etc.
2. Flat mount
This model of RV TV mount attaches closely to your wall, just like you mount a mirror or picture to a wall in your home. With such kind of mounting, the mount keeps your TV close to the wall, helping you save space in your RV.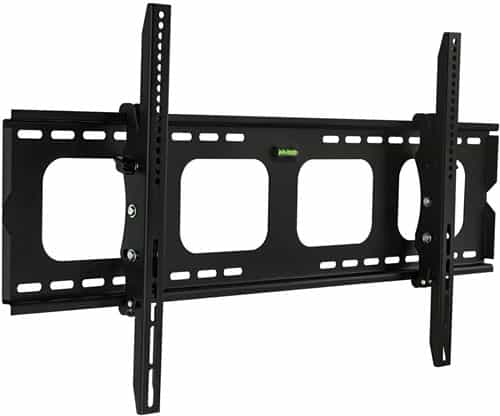 The mount looks stylish and is straightforward to install than the other mount models. Another great thing about flat mounts is that they tend to work well with most rigs.
Unfortunately, this mount doesn't offer you any range of motion. It stays in the same position you install it and won't tilt or rotate. Because it mounts your TV close to the wall, accessing the wires on the back of your TV might become problematic.
3. Under cabinet mount
This mount is specially made for TVs that tuck under a cabinet. And the biggest benefit they hold is letting you enjoy watching TV in your RV while helping save a significant amount of space.
RVers with smaller TVs, say from 10-25 inches, will find this mount a great option as it helps you easily tuck in your TV in any room with a cabinet, including the kitchen.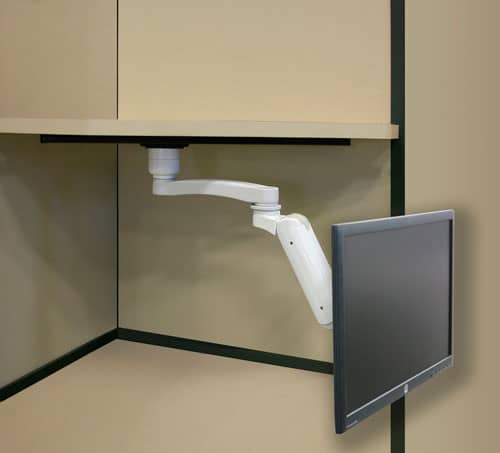 One of the coolest things about mounts in this category is that they offer you rotating and tilt capabilities, allowing you to adjust your TV to find the perfect viewing point.
You can find two variations of this type of mount: a stationary permanent or folded up design. Both variations offer you plenty of versatility to let you enjoy watching your favorite shows in small rooms like the kitchen.
The main issue you'll face with this type of mount is that accessing cables and wires will be a real problem for you. Also, these mounts only work for small TVs. If you have a larger TV set, you might want to consider other types of mounts.
4. Full-motion mount
As you can easily tell from its name, this type of mount for RV TV is designed to offer a full motion. You can easily move your TV to the left, right, tilt…some models even let you move them in 20 degrees.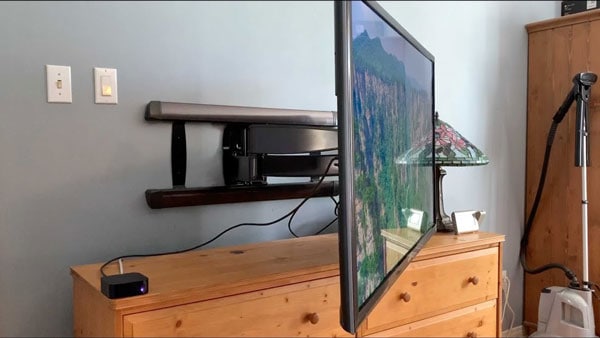 This means plenty of flexibility, and you'll get to easily manipulate them to achieve the most comfortable viewing position in your RV. And you to watch your TV from other rooms other than the living area.
One of the drawbacks of this type of mount is that it doesn't sit close to the wall, so it ends up taking some of your limited RV space. Also, you'll need to secure this mount during travel (which can be a real hassle) to keep your TV from moving and getting damaged.
5. Pull-down mount
This is one of the most advanced RV TV mounts and more of a drop down TV mount for RV. It supports your TV overhead and smoothly slides it down when you need to watch something on the TV.
A typical pull-down mount will easily come down to your eye line or even pull down up to 20 inches to offer you a more optimal viewing angle.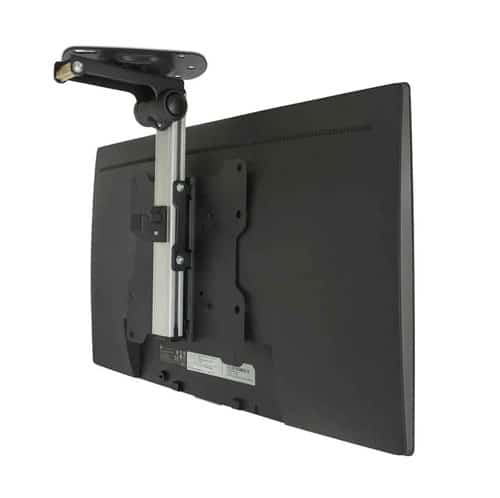 When not in use, this mount will retract to its position effortlessly, helping save space in your RV.
However, keep in mind that these mounts are a bit more expensive than the other models, probably due to the use of gas springs needed for them to work properly.
6. Tilt mount
A tilt mount could be mistaken for a flat-mount due to their striking resemblance.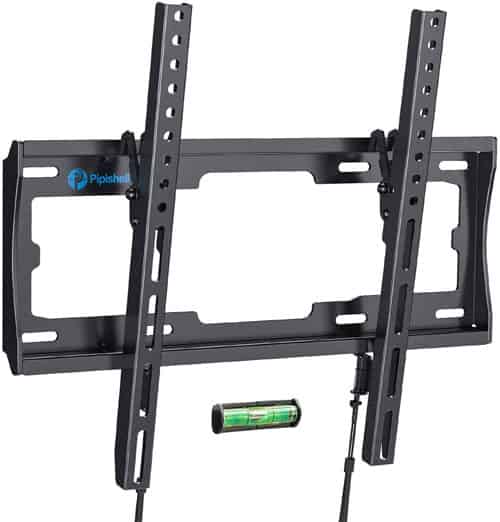 But what sets these two mounts apart is that the tilt model lets you tilt your TV at will. This great function has made the TV mount quite popular among RVers who travel a lot and are always faced with diverse lighting conditions that affect their TV watching experience. A simple tilt will help eliminate the light glare for a clear picture.
Also worth mentioning is that this mount can also work as a flip down TV mount for RV as it allows you to tilt your TV downwards. Thanks to this feature, you can mount your TV higher than your eye line without affecting your viewing experience.
Compatibility
TV mounts meant for RVs are NOT universal. Sure, some mounts will work with a wide range of TVs, but some will not work with specific TV models. With this in mind, you should always ensure you get a mount that's 100% compatible with your TV.
Gamble around with compatibility, and you end up with a TV mount that doesn't work (that's frustrating, right?). Ensure your TV size, and weight is within the range supported by the mount.
If your TV has VESA patterns, make sure it matches the VESA compatibility of your new mount.
Build quality
The other factor that will help you choose the perfect TV mount is the quality of materials used to construct it. This is essential since you're on the market for a mount that will safely and securely hold your delicate investment (TV) and shield it from potential damages.
Pay attention to the type of material used, thickness, joint, etc. These will give you a clue on the strength of the mount. If you notice any red flags in the mount's integrity, you'd want to think twice about picking it.
The strongest mounts are made from steel and offer great reliability in supporting your TV. Aluminum isn't as strong as steel but has a lightweight feel, so you might go for it if weight is a concern.
Avoid plastic mounting hardware as much as possible as it can degrade with time and leave behind costly damages.
Ease of installation
You should also check how easy the mount you buy assembles and installs in place. You've already had enough of the headaches that come with RVing life and don't want setting up your new mount to be another headache.
Go through the previous users' reviews to get firsthand info on how easy the mount you're buying installs. This will give you a clue whether the model you plan to buy will go in easily or not.
Additionally, look for a mount that comes with all the necessary installation hardware included, plus clear mounting instructions to make the whole process easy for you.
Other features
Lockability: a flexible mount is great in that it lets you play around with the TV position. But it can be problematic when your RV is on a bumpy road, and you want to keep your TV in place to prevent it from getting damaged. A mount that comes with a locking system will help securely hold your TV in place and prevent vibrational damages or accidental knocks.
Easy dismounting: when you plan to store your RV long-term, you'd want to dismount the TV to shield it from humidity and temperature variations inside your RV that can affect its performance and lifespan. For this reason, you want to ensure you invest in a TV mount that allows for easy dismounting of your TV.
Frequently Asked Question
Can you use a regular TV mount in an RV?
Not a good idea. The regular mounts are made for supporting a stationary TV at home. This is unlike the camper TV mounts specially made to endure the vibration that comes with RVing.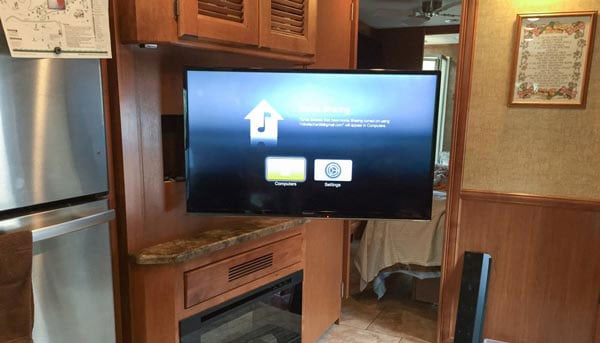 Going for a regular TV mount might save you a few bucks but will cost you in TV repairs and replacement expenses in the long run.
Can you get a ceiling mount TV bracket for RV?
Sure! It's possible (and easy) to find a TV bracket that goes into the ceiling. This type of mount is a great choice if you don't have wall space in your RV for mounting your TV. The best ceiling mount will fold down when not in use to help save space. It should also offer flexibility to let you adjust your TV for the best viewing angle.
Is a TV mount safe to use in RV?
Absolutely! These mounts are specially engineered to keep your TV safe in the RVing environment. they feature a great build quality to support your TV weight. They also lock your TV in place to prevent movements that could end up damaging it. Above all, these mounts minimize vibrations that could affect the performance and lifespan of your TV. If you get a decent TV mount for your RV, it will definitely keep your TV safe.
How high should I mount my RV TV?
The perfect mounting height depends on your TV size. For a 42″ TV, consider mounting it at the height of 56 inches from the floor to the TV center. A height of 61 inches from ground level will do for a 55 inches TV. For larger TVs, say 70 inches and above, consider mounting them at a safer height of around 67 inches from the floor to the center of your TV.
How many pounds can an RV TV mount support?
The mounts can hold a lot of weight. Most of them feature a maximum load capacity of 33 to 55 lbs., though you can find models with an even higher capacity of up to 77lbs.
Do TV mounts require any maintenance?
The basic maintenance for these mounts includes cleaning them from time and time and lubricating the moving parts (if any). For more maintenance tips specific to your mount, check your user manual.
Here's some relevant articles you might be interested about:
Final Verdict
After going through this guide, you're now fully equipped to know how to choose the best RV TV mount that meets your unique TV mounting needs. The most important factors to look out for in a TV mount include the type of the mount, build quality, compatibility with your TV, and easy installation.
We have also outlined some of the highly-rated TV mounts for RV that you can find on the market today. Compare these models and choose one that matches your unique RV TV mounting preferences.
Buy now at eBay, Etsy, Walmart (quality guaranteed)
PERLESMITH Lockable RV TV Mount for 13-42 Inch TVs up to 77 lbs, RV TV Mount for Camper - Walmart, Etsy, Ebay
Master Mounts 2311L Locking RV TV Mount Lockable Full Motion TV Wall Mount Easy to Reach - Walmart, Etsy, eBay
InstallerParts Lockable TV Wall Mount 32"-50" – Fixed Swivel – Tilt – for LCD LED Plasma - Walmart, Etsy, eBay
Mount-It! RV TV Mount, Lockable Full Motion TV Wall Mount Designed Specifically for RV or - Walmart, Etsy, Ebay
Mounting Dream UL Listed Lockable RV TV Mount for Most 17-43 inch TV, RV Mount for Camper - Walmart, Etsy, eBay