It's common knowledge that projectors are best suited for dark rooms. Any light coming from windows, overhead lamps, table lamps, or even the natural light will greatly impact your projector's performance.
This leaves you wondering…can I get a projector that works in a room with ambient light? The answer is a resounding yes! We've researched the best projector for bright rooms, focusing on model specifications, key features, and previous user experiences.
Find below our final list of the projectors that perform well in bright rooms.
Editors' Picks: Projectors for Bright Room in 2023
Top Projectors For Bright Room: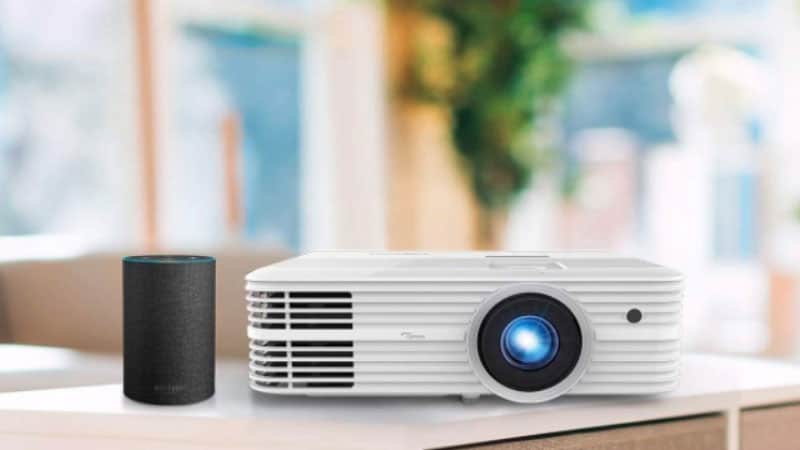 1. Acer H7850 4K Ultra High Definition Projector
If you want to enjoy a fully immersive 4K watching experience in your home, get this projector. This Acer features affordable pricing and comes in a compact design (measures approx. 40cm wide and weighs around 5.3kgs only). It's ideal for daily use, and you can easily move it from one point to another.
The projector boasts 4K Ultra HD resolution to project super-sharp images into screens measuring up to 120 inches. It features a truly impressive 8.3 million on-screen pixels, further promoting exceptional picture quality.
It features a high lumen rating of up to 3000 lumens to give you super-clear, bright images from a distance in broad daylight or indoors. We also rated this unit as the best projector for daylight due to its HDR compatibility, which lets you real-world visuals.
It will easily eliminate the motion blur associated with lower-end projectors with integrated Acu-motion technology-giving you a great watching experience for action movies or the big game.
The two built-in speakers, rated 5 Watts each, will eliminate the need for external speakers while making your movies, songs, and game more engaging with epic sound. With up to 1.6X zoon plus vertical lens shift, this unit's installation and placement is a breeze.
Highlighted Features:
4K UHD resolution
HDR (high dynamic range) compatible
Rated up to 3000 ANSI lumens
Contrast ratio: 1000000:1
Optimal zoom ratio: 1.6x
Two 5Watt built-in speakers

2. Epson Home Cinema 3700 1080p 3LCD Home Theater Projector
Straight from Epson, this projector is a great option for your sitting room or home cinema room that receives a lot of ambient light. It comes with optimized brightness and contrast, which translates to stunning image quality and unparalleled performance.
It boasts up to 3000 lumens of color brightness plus up to 3000 lumens of white brightness, to ensure you enjoy highly clear images in a bright room. Also, it comes with a great contrast ratio of 70,000:1 to deliver deep black levels-allowing you to enjoy rich detail in dark scenes.
With a full 1080p widescreen 3D performance, this projector will give you a breathtaking experience when watching a movie, game, etc.
This projector will easily project a 110-inch image from up to 10.5-ft. away. And with its wide vertical and horizontal lens shift plus a 1.6x zoom lens, this projector will offer you a lot of flexibility on how you can position. The integrated 10W speakers are sure to give you lifelike sound for an enhanced watching experience.
Highlighted Features:
Up to 3000 lumens
Image contrast ratio: 70000:1
Display resolution: 2049 x 1080
1.6X zoom for flexible placement
Two built-in 10W speakers
Includes one HDMI port

3. BenQ TK800M 4K UHD Home Theater Projector
This is also a great option for the best projection system for room with some light. It boasts real 4K HDR for immersive live sports, letting you enjoy the beautiful game at football parties, bright living room, or backyard BBQ.
The 4K projector comes armed with as many as 8.3 million distinct pixels to give you true 4K UHD image quality with great detail and the ultimate clarity. It features up to 3000 lumens for outstanding brightness to ensure ambient light doesn't affect your image quality.
You'll also be amazed to note that this projector is build using DLP (digital light processing) technology. This outperforms other projector technologies in that it offers you a better image resolution and quality with higher pixels.
You'll also like this projection system because it features a high contrast ratio to ensure the image quality remains sharp and has the deepest black levels in its class.
Because this projector comes with a built-in, powerful 5Watt speaker, it will also deliver enhanced sound quality to elevate your enjoyment further. Its 1.1X zoom facilitates a range of throw distance for easy and diverse mounting/placement.
Its lamp has an extended lifespan of up to 15,000 hours to let you use it for longer without stressing yourself with lamp replacement costs.
Highlighted Features:
3000 lumens for ambient lighting
Display resolution: 4096 x 2160
Boasts 4K UHD image quality
Powerful 5Watt power speaker
1.1X zoom for diverse placement
Includes 2 HDMI ports

4. BenQ TK800 4K UHD Home Theater Projector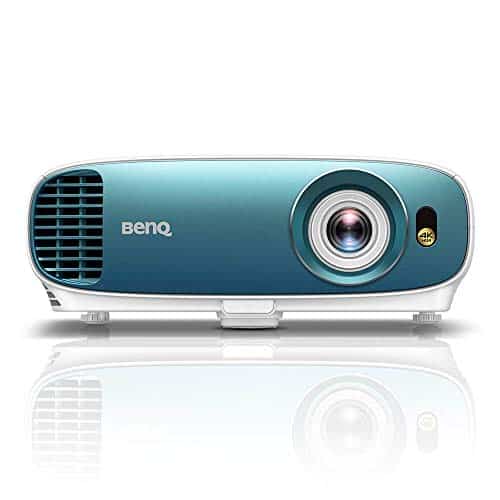 Like our projector above, this model is proudly designed by BenQ as another best projector for light rooms. BenQ released it as the second true 4K UHD resolution projector after the popular HT2550 2,200-lumen model.
Just like the HT2550, this model comes fully loaded with as many as 8.3 million distinct pixels for true 4K UHD resolution. It comes optimized with up to 3000 lumens of brightness that deliver superior quality and high clarity images.
Another cool thing about this projector is that it supports HDR10, offering you greater contrast range, image optimization, and exceptional brightness-all in a single step-bringing out the REAL 4K video content for the ultimate enjoyment.
The BenQ gives you 5 picture modes to choose from, including sport, football, bright, vivid TV, and cinema mode for a more customized viewing experience. It also features an auto vertical keystone to ensure it projects a professionally squared image.
Don't forget that this unit has a sleek, compact, and lightweight design to allow for easy portability. It presents you with 1.2x zoom to allow for diverse mounting and placement options. The longer lamp life of up to 10,000 hours will help minimize lamp replacement costs.
Highlighted Features:
True 4K UHD resolution
Rated up to 3000 lumens
Up to 8.3 million pixels
Includes dual HDMI ports
10,000-hour lamp life
Supports HDR10

5. Optoma UHD52ALV True 4K UHD Smart Projector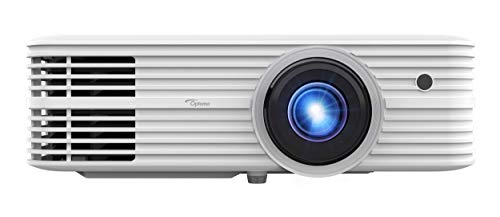 If you're looking for a smart projector that easily integrates with your smart home, this is a smart choice for you. The projector comes with a voice command function and seamlessly works with Alexa, Google Assistant, and IFTTT, giving you total control over the device.
The Optoma comes engineered to give you a lights-on viewing experience. It comes equipped with the latest Texas Instruments 4K UHD DLP chipset. This is capable of displaying 8.3 million simultaneous distinct pixels at screens sized 140 inches or higher.
It supports HDR10 and HLG to provide you with deeper blacks, brighter white levels, and overall vivid colors.
Remember, this smart projector offers you the voice command function to perform basic tasks on the device such as turning it on and off, adjusting the volume, changing the input source, and even controlling the USB media player.
It also comes with a pair of HDMI 2.0 inputs (with HDCP 2.2 connectivity) to let you easily use it with 4K UHD video sources. With the 15% vertical lens shift plus 1.3x optical zoom, installation and placement of this projector will become an easy task.
Highlighted Features:
4K UHD resolution
Two HDMI 2.0 inputs
Super-bright 3500 lumens
A 1.3x optical zoom
HDR10 and HLG support
Works with Alexa, Google Assistant

6. ViewSonic True 4K Projector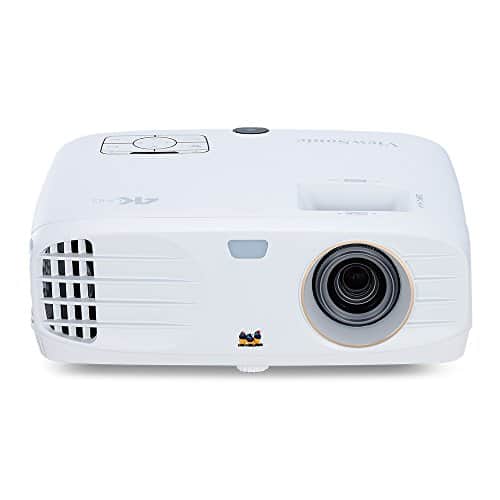 Do you want to enjoy stunning 4K ultra HD resolution all day and night? If yes, this is the best projector for high ambient light for you. This projection system boasts incredible Ultra HD resolution in addition to the high brightness of up to 3,500 lumens for stunning home entertainment in bright or dark rooms, day or night.
It features HDR compatibility, which enables it to deliver detailed video playback. The colors projected by this unit look brighter and more vivid, and the contrast looks richer and more detailed. The result is an amazing image reproduction that gives you a fuller and more immersive listening experience.
We also like that the projector offers you two HDMI inputs to let you easily connect to a variety of HD devices, including gaming consoles, laptops, digital cameras, Blu-ray players, and more.
Additional features include a powerful 10Watt speaker that fills your room with incredible sound for an immersive multimedia experience, extended (up to 15,000hours) lamp life, wider optical zoom (up to 1.2X) for easy setup, and a backlit remote control for easy use in dark rooms.
Highlighted Features:
4K UHD resolution
Up to 3,500 lumens
Supports HDR content
Built-in powerful 10W speaker
Wider 1.2x optical zoom
Includes 2 HDMI ports

7. Epson VS355 WXGA Portable Projector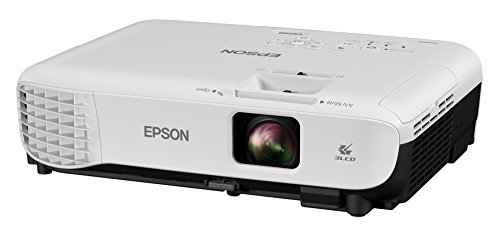 If you're looking for the best projector for lighted room at a budget-friendly cost, you'll be hard-pressed to find a deal like this Epson VS355 portable projector. The compact and reliable projector delivers an amazing 3,300 lumens of color/white brightness-ensuring you enjoy watching vivid colors, even in well-lit rooms.
The Epson projector presents you with WXGA resolution (1280 x 800) to enable you to see 2x more detail than SVGA. This makes it a great option for projecting HD presentations and videos. This type of resolution also makes it the right projection system for use with laptops with wide screens.
Since this projector supports HDMI, the digital connectivity standard, you'll have no problems connecting it with the latest laptops or media players.
This projector is pretty simple and fast to install. You'll get up and running in no time with the easy image adjustment and convenient control it offers you. The auto vertical keystone function will ensure easy adjustment for professional square images. And the wide optical zoom (1.0-1.2) allows for versatile placement.
Highlighted Features:
3,300 lumens of brightness
Display resolution: 1280 x 800
3chip 3LCD technology
Connectivity options: VGA, USB, HDMI
Fast, easy setup
Auto vertical keystone

8. Sony VPL-HW45ES Home Theater Projector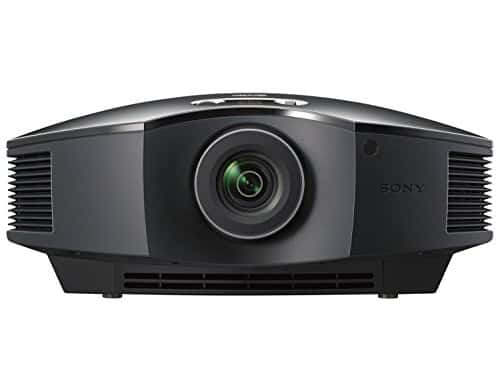 This projector will also let you watch your movies, big games, etc., in a room with ambient light. It will make a great investment for home cinema room that receives natural light.
It features an impressive 1800-lumen brightness plug high image contrast ratio (60000:1) to deliver full HD images that are super-clear, with bright highlights and rich, deep blacks, even when projecting in a well-lit room.
The Sony projecting system also comes armed with Motionflow Technology that allows you to see every detail with minimized blurring, regardless of how fast the action is in the game or movie you're watching.
You'll like the powerful calibration feature that lets you quickly calibrate your picture to the type of content with up to 9 unique picture modes-like gaming, cinema, photo, and user-customized pre-sets.
The home theater projector has a manual zoom lens with a 1.6X zoom ratio plus a wide lens shift range to help give you greater installation flexibility in different room sizes. The built-in fan operates quietly (rated 22dB), so it won't disrupt your shows.
Highlighted Features:
Impressive 1,800 lumens
Full HD resolution (1920 X 1080)
Sharp full HD pictures
6000hr long-lasting lamp
Whisper-quiet fan
Flexible installation with wide 1.6X zoom

9. DBPOWER L21 LCD Video Projector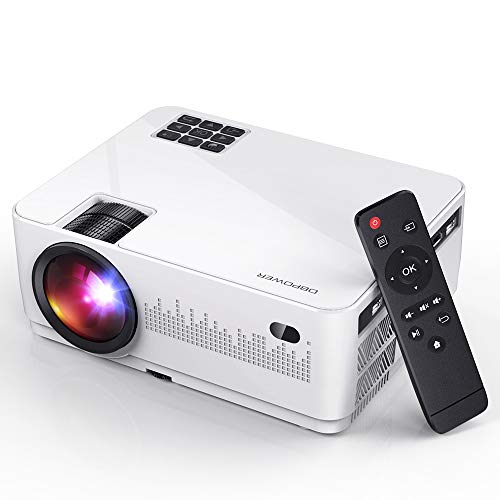 For a pocket-friendly price tag, you can get this high-performance projector for bright rooms. The DBPower team worked on this video projector, upgrading it from 5000 to 6000 lumens and a contrast ratio of 3000:1 to make it 80% plus brighter than a regular projector. The result is a vivid visual feast in bright rooms.
The projector comes equipped with the latest LED light technology to project a clear image without inflicting the same optical harm as your laptop, TV, or tablet. This technology will save your eyes while allowing you to enjoy movies, sports, TV shows, and more.
It will deliver a great projection of cinema-like big screen up to 200 inches so that you can enjoy a good time with your family and friends. You simply place this projector at an optimum distance of around 1.8 to 20m, and it will give you a super-clear and bright 130-inch image.
Another great feature that makes this model the best projector for bright room is the built-in 3Watt Hifi speaker. This produces a surround sound style experience for a more immersive movie experience.
Above all, this cost-effective DBPower projector has an excellent lamp life of up to 50,000 hours, allowing you to use it for up to 20 years without having to worry about replacing it with a new one.
Highlighted Features:
6000 lumens of brightness
Display resolution: 1280 x 720
3000:1 contrast ratio
Built-in Hifi speaker
Up to 50,000hr. lamp life
Backed by a 3-year warranty

10. DR. J Professional HI-04 Mini Movie Projector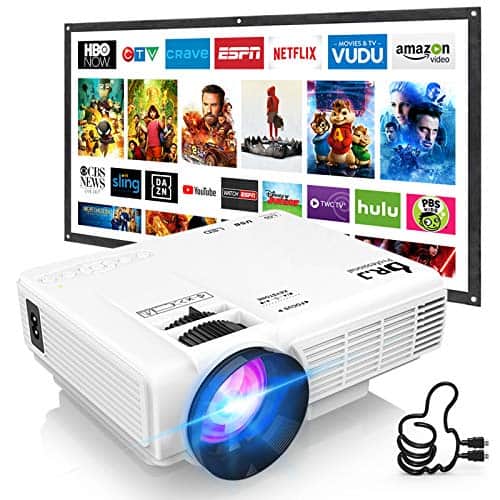 The final spot on our list of the best projector for ambient light reviews goes to this mini movie projector from DR. J Professional. The model comes with improved brightness, contrast ratio, and a 100″ portable projector screen to help meet your needs for quality watching in a bright room.
Like the previously discussed projectors, this model delivers a high 1080p resolution of 1920*1080 to give you high-clarity images in your home theater room.
DR. J Professional also worked on the contrast ratio of this projector and improved it to 3800:1 to help restore the true color of the projection display for more vivid video images. Besides, they have used healthy diffuse reflection technology on this projector to let you watch it for long hours without feeling fatigued.
Despite being a mini projector, this unit comes with a handful of connectivity options to ensure you can play just any device you choose. These include AV in/out, HDMI port, USB, TF cards, and VGA port. It also lets you connect your smartphone to it using a micro-USB to HDMI adapter.
Don't forget that this projector also comes with a built-in stereo surround speaker. This helps bring out every sound detail sound effect to ensure you enjoy the pleasure sounds in all scenes in a movie.
Highlighted Features:
Contrast ratio: 3800:1
Supported resolution: 1920 x 1080
Advanced fan cooling system
Built-in speaker stereo sound
Beatures VGA, HDMI ports
Lamp lifespan: 40,000 hours
Packed with 100″ projector screen

How To Choose The Best Projector for Bright Rooms?
A number of factors come into play when selecting a projector that works for bright rooms. In this part, we'll outline a quick list of the most crucial considerations you should make to ensure you get the most suitable model for your specific needs.
Brightness
This is probably arguably the most important consideration when choosing for a projector that you can use in a bright room.
This is because the level of brightness a projector delivers will directly determine whether it will be able to cancel the ambient light intensity to enable you to enjoy more detailed, cinematic images.
The brightness of projectors is usually indicated in the number of lumens. The higher the number, the brighter a projector becomes. And the better it will perform in a brighter room.
But how high should the brightness level be? The best projector for bright room should feature anything from 2000 lumens and above.
Resolution
Another crucial consideration when choosing a projector is its resolution. For those who don't know, resolution simply refers to the number of pixels that make an image. The higher the number of pixels a given unit comes with, the higher its resolution becomes.
High resolution translates to sharper and more detailed images. Choose a projector with at least HD resolution with 720, 1080 or higher pixels for the ultimate picture clarity.
Contrast ratio
To get a projector that will perform well in a bright room, you should also check its contrast ratio. This refers to the difference between the lightness and brightness of a projected image.
The higher the difference, the more clarity, and detail the projected images become. To be more specific, choose a model with a minimum contrast ratio of around 2000:1 to ensure you enjoy sharper images, even in rooms with ambient light.
Technology
Different projectors are designed using varying technologies. The most common ones include LCD (liquid crystal display) and DLP (digital light processing). Both of them find favor among users due to their ability to work with just any application while producing excellent results.

That said, we suggest that you go for DLP for video applications as it gives a softer, smoother image. The LCD is great for data or computer application as it delivers a sharper and often brighter image.
Lamp life
Projectors lamps go bad after some period, depending on how you use them. The period varies from model to model; some require you to replace them every few months while others can go for years.
The longer the lifespan of a projector lamp, the better.
Inputs and outputs
Depending on the specific equipment you wish to use your projector with, you'll also need to check that it features the correct set of inputs to allow it to work with the source.
For instance, if you plan to use multiple computer or video inputs, you'll need to choose a dual input projector.
Or, if you're using a Blu-ray player, you'll need an HDMI port. Projectors that supports various inputs/outputs usually give you more flexibility over what sources you can connect them to.
Audible noise
If you have used a projector before, then you already know they come with a built-in fan, which produces some noise when it's running. Some projectors are louder, while others produce barely audible noise.
We suggest that you get a model with a low noise fan (anything rated around 25dB) to ensure it doesn't make a lot of noise to distract your listening experience.
Warranty
Ensure that you get a projector that comes backed with a manufacturer warranty. Even the highest-quality model can fail at times, so it's best to ensure you have assurance from the manufacturer that they will offer a free replacement or repair your projector if it develops any issues.
Different manufacturers offer different warranty policies, so take your time to choose one that sounds the most favorable to you.
Final Verdict
These 10 projectors are best suited to work in bright rooms. They come optimized with great features and specifications that enable them to defy the ambient light and offer you quality images so you can enjoy a quality watching experience at any time of the day with your family or friends.
Get the best projector for bright rooms for your unique needs from the above list today for an immersive watching experience in a well-lit room.
Buy on Etsy, eBay, Walmart (subject to availability)
ViewSonic True 4K Projector with 3500 Lumens HDR Support and Dual HDMI for Home Theater - Walmart, Etsy, eBay
BenQ TK800M 4K UHD Home Theater Projector with HDR and HLG | 3000 Lumens for Ambient - Walmart, Etsy, eBay
Epson Home Cinema 3700 1080p 3LCD Home Theater Projector - Walmart, Etsy, eBay
ViewSonic (PX748-4K) 4K UHD Projector with 4000 Lumens 240 Hz 4.2ms HDR Support Auto - Walmart, Etsy, eBay
Optoma UHD51A 4K UHD Smart Home Theater Projector, Works with Amazon Alexa & Google - Walmart, Etsy, eBay
Acer H7850 4K Ultra High Definition (3840 x 2160) DLP Home Theater Projector - Walmart, Etsy, eBay