Planning to upgrade your laptop WiFi card? If yes, this guide will help you find the perfect one that matches your laptop specifications and requirements.
WiFi cards for laptops are a must-have for you to enjoy wireless network connection. However, these cards are completely different from those meant for desktops. This explains why choosing the best WiFi card for laptop might become a tricky process if you're doing it for the first time.
This guide will walk you through the basics of laptop wireless cards and give you a roundup of some of the highly-rated cards you can get for your laptop today.
Editors' Picks for Best Laptop Wifi Cards in 2022
Best Laptop WiFi Cards Reviews: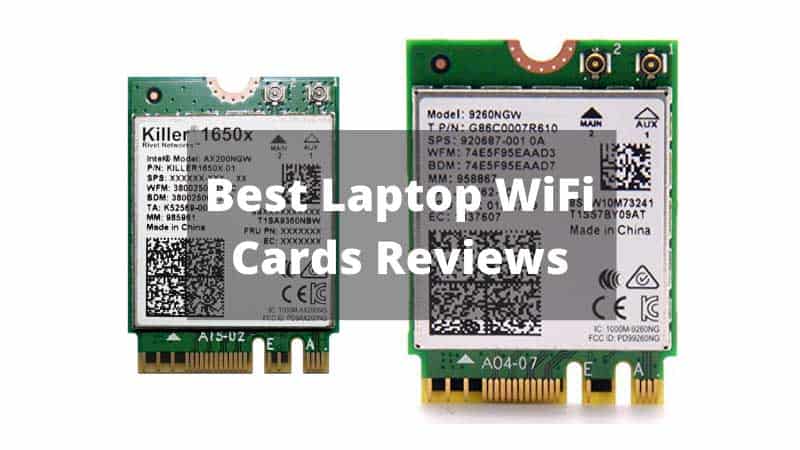 1. Killer WiFi 6 AX1650 Module
The Killer WiFi Ax1650 is labeled as the best WiFi card for laptop for gaming because it delivers exceptional performance when it comes to giving you a lag-free, low latency online gaming experience. When paired with a WiFi 6 router, it provides a 3x more powerful performance than the earlier 80MHz 2×2 AC devices.
Built with gamers' needs in mind, this card boasts built-in Advanced Stream Detect 2.0 technology. This gives the card the ability to identify, sort, and even prioritize gaming traffic. This way, your gaming device gets favored, and you can enjoy a lag-free online gaming experience.
In addition to that, it boasts GameFast technology that automatically stops all processes not related to gaming. This frees up to 10% of the CPU and 20% memory, further ensuring you enjoy uninterrupted online gaming.
The high-performance WiFi card features up to 4x more network capacity in dense environments. It features Bluetooth 5.1 connectivity, placing it ahead of its competition.
The card is meant for use on laptops with M.2 slot (key A or E socket). It only works with Intel-based systems that operate on Windows 10 as well.
Highlighted Features:
Up to 2.4 Gbps of throughput
Advanced Stream Detect 2.0 Technology
Intuitive, easy to use interface
Built-in GameFast technology
Suitable for Intel-based systems
Supports Bluetooth 5.1

2. NETELY WiFi 6 AX200 WiFi Adapter
Looking to upgrade your laptop's wireless connection to the latest and fastest WiFi 6 at an affordable rate? If yes, we recommend you to consider this WiFi card as your top choice. Coupled with an equally high-performance router, this network card will let you enjoy blazing internet speeds of up to 76Mbps (for 2GHz) and up to 2.4Gbps (for 5GHz band).
It's compatible with Intel-based systems and works for laptops with M2 network slot. It runs on Windows 10 (64-bit), and Chrome OS.
This budget-friendly card also supports Bluetooth 5.1, which produces a strong and fast signal with an extended range. This latest Bluetooth technology will also eliminate your current Bluetooth related issues such as connectivity cutting in and out, lagging, and so on. It also works with Bluetooth modes 5.0, 4.2, 4.0, 3.0, and 2.1.
Because this chip is built according to the latest WiFi 6 standards, it supports 64-bit and 128-bit wireless security encryption of WEP, TKIP, and AES-CCMP. This assures you of a fully secure wireless connection.
The WiFi card is extremely simple and straightforward to install… it's a matter of plug and play. The installation gets even easier if your laptop offers easy physical access for replacing the WiFi card.
Highlighted Features:
Built-in Bluetooth 5.0
Supports the latest 802.11ax WiFi
Backward compatible with WiFi 802.11 a/b/g/n/ac
High internet speeds up to 2.4Gbps
Supports wireless security encryption

3. OKN WiFi 6 AX200 802.11ax WiFi Card
This WiFi card is designed to transform the way you access wireless networks over your laptop for good. It comes designed to offer you lighting fast connections of up to 2974Mbps, which is nearly 40% faster than what you get with 11ac cards.
Its ability to deliver such blazing speeds comes from its ability to work with the latest WiFi 11ax standard. In addition, it supports 2×2 WiFi 6 technology-translating to data speeds of up to 2.4Gbps.
Another reason we rate this module as the best WiFi card for laptop is that it supports the latest Bluetooth 5.1 technology. This ensures you enjoy up to 4x longer range over Bluetooth 4.2, increasing the coverage throughout your home. What's more, this Bluetooth technology doubles the data rate speeds to give you faster transmissions and, thereby, reduce the overall power consumption.
Keep in mind that this WiFi card is fully compatible with all the latest Microsoft Windows 10 64-bit, Linux, and Chrome OS operating systems. It works with intel base CPUs and can work with any laptop featuring the standard M.2 Key A or Key E slot.
The setup process is a breeze and you don't need to attend any special course on how to put it in place to start enjoying all these great benefits it comes with.
Highlighted Features:
Supports IEEE 802.11ax standard
Supports2x2 Wi-Fi 6 technology
Supports Bluetooth 5.1
Backward compatible with 11ac and 11n
Up to 2.4Gbps throughput
Supports Windows 10 64-bit, Linux, Chrome OS

4. OIU WiFi 6 Intel AX200 WiFi Card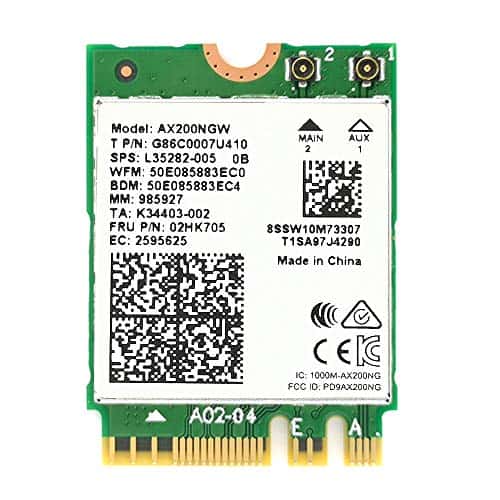 Still looking for the perfect WiFi card for your gaming laptop? If yes, it's hard to ignore this OIU WiFi Intel AX200 model. The card delivers crazy internet speeds of up to 2.4Gbps. This is more than enough to keep your plane gaming smooth and fast. It guarantees you minimized latency and increased reliability.
The super-easy to setup WiFi card is compatible with all laptops featuring a standard M.2 key A or Key E slot. it also supports popular operating systems, including Microsoft Windows 10 64-bit, Linux, and Chrome OS.
Like the other top-rated models above, this card also comes equipped with the latest Bluetooth 5.0 technology. This means up to 4x broader coverage and 2x faster speeds than the previous Bluetooth 4.2 standard. You can now enjoy connecting all your devices, including keyboards, headphones, headset, game controllers, etc. without any issues.
With this card, you won't have to worry about unauthorized users gaining access to your home network and stealing your data. It comes armed with advanced WPA3 encryption, which is sure to give hackers and malware a really hard time.
As one of the most versatile WiFi cards available, this OUI WiFi card supports ALL intel based CPUs. It's backward compatible with11ac and 11n. and it's backward compatible with Bluetooth 4.2 and 4.0. above all, it works with all the popular operating systems.
Highlighted Features:
Compatible with 2×2 WiFi 6 technology
Equipped with Bluetooth 5.0
Features advanced WPA3 encryption
Compatible with all Intel-based CPUs
Backward compatible with 11ac and 11n

5. Siren Wireless-Network Card 9560AC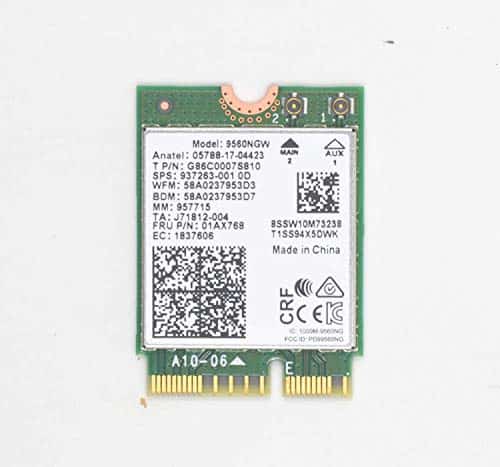 This is one of the fastest WiFi card for laptop you can find on the market today. It comes with built-in dual-band capabilities and gives you amazing data transfer speeds of up to 1730Mbps. This will be quite a huge improvement in your home wireless network, no doubt!
The network card is capable of working with various WiFi standards, including802.11a/b/g/n/ac. This makes it pretty versatile, and you can trust it to work with all the older networking standards.
Another great thing about this dual-band wireless network card is that it comes armed with the latest Bluetooth working protocol (Bluetooth 5.0). This is a stronger and more reliable Bluetooth technology which enables you to connect all your Bluetooth-enabled devices to your laptop for the ultimate connection.
Also worth noting is that this laptop supports antenna diversity to improve wireless signal reception. It also supports MU-MIMO technology, which allows you to enjoy a high bandwidth connection for online gaming or online streaming.
Regarding the OS compatibility, this network card works with Linux, Google Chrome, OS, and Windows 10. It works with 4th/5th/6th/7th/8th generation processors and Lenovo ThinkPad 6th/7th/8th processors.
Highlighted Features:
Ideal for intel processors only
Built-in dual-band capabilities
Max speed: 1.73Gbps
Equipped with Bluetooth 5.0
Supports MU-MIMO technology
Compatible with 802.11a/b/g/n/ac

6. Intel Wireless-Ac 9260 NGW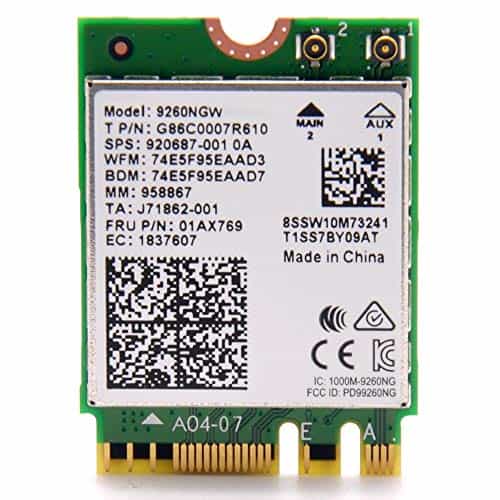 This is a WiFi 5 network card that also comes equipped with the latest in networking technology to give you a completely new wireless network experience on your laptop. It supports dual band capabilities and will offer exceptional internet speeds of up to 1.73Gbpss for uninterrupted, low latency online gaming, video streaming, file torrenting, etc.
Because this device features2x2 802.11ac, it has low power consumption compared to legacy 802.11ac devices. This translates to longer battery life, allowing you to stay extended periods of time.
We also featured this wireless network cord for laptop on this list because it comes with Bluetooth 5.0 technology. It has an extended Bluetooth connectivity range and offers faster data transfer rates compared to the earlier Bluetooth versions.
This wireless card will work perfectly well with all 8th generation intel core processors and above. It also comes 100% ready to work with Microsoft Windows 10 (64-bit). It gives you the flexibility of using either standard key A or E socket for attaching the module to your laptop.
Highlighted Features:
Supports2x2 802.11ac Wi-Fi standard
Suitable for Intel CPU 8th-Gen or later
Features Bluetooth 5.0 technology
Microsoft Windows 10 64bit ready
Up to 1.73Gbps internet speeds
Supports MU-MIMO technology

7. NETELY Wireless Network Adapter for Laptop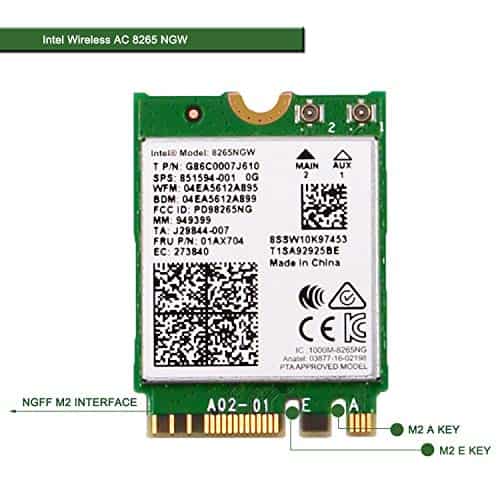 The last spot on our best laptop wireless cards reviews goes to this wireless network diapers from Netely. This is the perfect wireless card for you if you're looking for something that works with older laptops.
The card works with Windows 10, 8.1, 8, 7 (both 32 and 64-bit options), making it great if you have an older laptop. It works for all laptops with key A or E.
It's a 4th generation802.11ac or WiFi 5 card that's capable of delivering up to 867Mbps-giving you 3x faster speeds than WiFi 4 cards. This means it will enable you to enjoy a smoother, uninterrupted video streaming experience in your home. Moreover, you'll notice a dramatic decrease in drop-outs and faster speeds, even when you're far from your router.
Another reason that makes this laptop wireless network card great for older laptops is that it works with WiFi standards IEEE 802.11 a/b/g/n/ac, and supports Bluetooth.2, 4.0, 3.0, 2.1, further increasing its versatility and the number of laptops it can work with.
The install is easy and quick. You don't even need any tech support. And if you're an absolute beginner with no clue where to start, there are plenty of video tutorials on YouTube to walk you through the installation process.
Highlighted Features:
Offers 2X2 wave wireless AC connection
Max. data throughput: 24Gbps
Advanced security encryptions
Supports WiFi IEEE 802.11 a/b/g/n/ac
Supports Bluetooth 4.2, 4.0, 3.0, 2.1
Compatible with 32/64-bit Windows 10, 8, 7

Laptop WiFi Card Buyers Guide
If you really need to upgrade your laptop WiFi card, the first step involves finding a suitable wireless network adapter for the job. In this part, we have outlined some crucial aspects to help you find the most suitable card for your specific laptop.
Upgradability
The first thing you need to do before you start looking for the best laptop wireless card is checking whether your laptop WiFi card is upgradable. You'll find that some laptops are quite hard to open and modify than others. If your laptop has a BIOS whitelist, it will restrict you from replacing your WiFi card that isn't manufacturer-authorized. Such laptops will only work with the same WiFi adapter brand as the existing card.
Compatibility
Once you have ruled out that your laptop network card can be upgraded, the next step involves finding a WiFi adapter that works with the laptop. You might be tempted to go for the newest and latest WiFi card adapters, the WiFi 6. But the truth is, this card might not work with your laptop. If you've got an old laptop, it won't work with the latest modules. Laptops that run in 64-bit Intel processors are usually labeled safe. AMD-based laptops are, however, unpredictable.
Bluetooth technology
You should also check whether the laptop WiFi card you're planning to buy comes with Bluetooth connectivity. As you might have noticed above, most M.2 cards come integrated with Bluetooth. This useful aspect further enhances your wireless convenience by enabling you to connect your devices to the laptop without using any wires. As much as possible, look for a card featuring the latest version of Bluetooth technology. The latest tech is Bluetooth 5.2 and offers you advanced features such as LE Power Control, LE Isochronous Channels, and Enhanced Attribute Protocol.
Size
This is one thing most newbies tend to ignore when shopping for the perfect laptop WiFi card-the size of the WiFi card. If you do your research, you'll discover that different cards come in varying sizes. So does the card slots on various laptops. To ensure you're getting the right card for your unit, make sure its dimensions match those of the slot you want to install it into. Most of the newer laptops feature an M.2 WiFi card slot. This card's dimensions are 33 mm long by 22 mm wide. If you've got a laptop released in recent years, this card will most likely fit in without any issues.
Ease of installation
The installation of a WiFi adapter is usually simple and straightforward and doesn't require a lot of expertise to get things done. With this in mind, it doesn't hurt checking whether the card you're getting goes on in smoothly. The previous users' reviews section is a good place to get this crucial info on whether the WiFi card will be easy to install.
How to Install/Upgrade Your Laptop WiFi Card?
Now that you have finally gotten the best wireless card for laptop, the only thing troubling your mind is how to install it into your laptop correctly to start enjoying better WiFi networks and other features the card offers you.
Below, we have outlined for you the super-simple steps you should follow to upgrade your laptop WiFi card.
Step 1: Start by turning off your laptop and unplugging it if it was charging. Remove the battery as well. Replacing the WiFi card while your laptop is still charging is putting yourself in danger. It can also cause damage to your laptop.
Step 2: Next, turn around your laptop and open the back so that you can locate the old WiFi card. If you don't have an old WiFi card on your laptop, then you should be able to see an empty slot where you should fit in your new card.
Step 3: In case your laptop had a previously installed WiFi card, then you should first take it out to empty the slot in readiness for the new adapter. Disconnect the old WiFi card antennas from your old card. They're usually a white and black antenna. When removing them, take note of how they were connected so you can connect your new card accordingly for it to work well. Finally, unscrew the old card and move on to the next step.
Step 4: Now is time to install the new module. This is as simple as putting the new card where the old card was, making sure to carefully align the contacts. Once in place, you can go ahead and reconnect the antennas and screw the new card in place.
Step 5: Finally, put your laptop casing back. Put the battery back on and plug it in again. Install/update the necessary drivers. And that's it! Now you can start enjoying better quality wireless connection in your home!
Frequently Asked Questions:
Can any WiFi card work with my laptop?
Not really. You'll need to check the compatibility of a WiFi card with your laptop before buying it. You should also ensure it comes in the right size to fit your laptop wireless card slot. Still, at it, the market has both laptop and desktop cards. The desktop modules can't work with laptops as they come in different sizes and shapes. Check our guide above o how to check the compatibility of a wireless card for your laptop.
how do I tell if my WiFi card needs to be replaced?
One way to tell if it's time to upgrade your laptop WiFi card is when you start experiencing an unstable network connection. This could be an indicator that your current had some issues. If your wireless router works well with other devices except for your laptop, it confirms the card has problems and needs replacement.
Another way to know when you need to change your WiFi card is by checking whether your laptop is reading the card. Access the Device Manager option on your laptop and see if the card is there. If it's not showing up, it means your laptop isn't reading the module, probably due to a defective WiFi card.
How do I know if my laptop has a WiFi card?
Go to Device Manager on your laptop and click Network Adapters. Expand the adapters list to view all the networking devices. Check the list to see if your laptop has a WiFi card.
Alternatively, go to Control Panel> Network Sharing Center> Manage Network Connections. Locate your wireless connection on the list that shows up. Right-click on the connection and navigate to the status> details.
Q: What's the difference between WiFi 5 and WiFi 6 cards?
WiFi 5 means 5th generation WiFi standard, while WiFi 6 refers to WiFi 6 standard. The WiFi 5 corresponds to 802.11ac card, while WiFi 6 corresponds to 802.11ax card. While WiFi 5 covers the 5GHz band only, WiFi 6 covers both the low-speed 2.4GHz and high-speed 5GHz bands. Other key differences between the two cards include maximum data transfer rates and QAM levels.
Can I upgrade the WiFi card in my laptop?
Sure! You can easily replace your wireless card with a new one if the existing one has issues that limit you from enjoying quality wireless connections. You just need to open your laptop and locate the wireless slots. In case your laptop doesn't open up or don't feature any slots, you might want to use a USB-based WiFi adapter to enjoy better WiFi connections.
What is dongle?
A dongle is simply a WiFi adapter that you plug into your laptops USB port. It's an easier way of upgrading your laptop wireless card without necessarily opening up the casing. It's a great option if your laptop doesn't come with a wireless card slot.
Final Verdict
Finding the best WiFi card for laptop that works with your specific laptop model can be a hard task, especially if you don't know much about these WiFi adapters. After going through this guide, you'll have an easy time navigating the market for the most suitable wireless adapter for your laptop. We have also offered you some of the top-rated WiFi cards you can order today to improve your wireless network quality and reliability.
Buy them at Etsy, eBay, Walmart (quality guaranteed)
Killer Wi-Fi 6 AX1650 PCIe Addin Card – Dual Band, 2x2 Wi-Fi 6/11AX, Bluetooth 5.1, - Walmart, Etsy, eBay
OKN WiFi 6E AX210 NGW 11AX WiFi Card Tri-Band 5400Mbps Wireless Module for Laptop with - Walmart, Etsy, Ebay
AX210NGW WiFi Card, WiFi 6E 11AX(802.11ax) WiFi 6 Card, Wireless Network Card Expands - Walmart, Etsy, eBay
Intel Wireless-AC 9560, M.2 2230, 2X2 Ac+Bt, Gigabit, No Vpro (9560.NGWG.NV) - Walmart, Etsy, Ebay
Intel Wireless-Ac 9260, 2230, 2X2 Ac+Bt, Gigabit, No Vpro - Walmart, Etsy, eBay
NETELY Wireless-AC 8265NGW NGFF M2 Interface WiFi Adapter-Wireless-AC 1200Mbps (2.4GHz - Walmart, Etsy, eBay
AX210NGW WiFi Card, WiFi 6E M.2 laptop Wireless Card, 5400Mbps Tri-Band Wireless Module - Walmart, Etsy, Ebay