It's easy to assume that a basic router will get the job done in a small to medium-sized apartment. You might want to rethink your options. The best routers for apartment use come with many features an average consumer may overlook.
Contrary to what many ISPs will tell you, there are several benefits of choosing a great router, even if your home isn't huge. Besides just the size, the router's placement and the number of users matter too.
There is a world full of options available for purchase; each provides a different kind of value to the user. You'll want to choose one with a feature-set that caters to your needs.
Top Routers for Apartment in 2023 by Editors' Picks
5 Best Routers for Apartment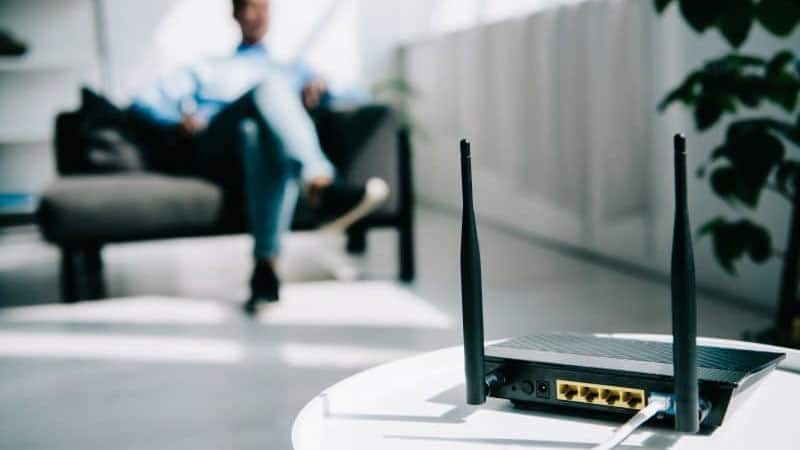 Some routers execute all the important features better than others. To help you decide which one to buy, we've put together a list of the five best router options on the market. Let's look into what they can do.
1. NETGEAR Nighthawk R7000 Smart Wi-Fi Router
The R7000 is one of the best routers available you can use at home. First of all, it has three adjustable high-gain antennas that provide great coverage all over the apartment. It has a range of up to 1800 square feet.
You can adjust each antenna to focus the signal in a particular direction. Additionally, it uses Beamforming+ technology to connect and maintain steady bandwidth with any selected device. The dual signal transmission gives you a stronger connection consistently.
Up to 30 devices can connect to the network simultaneously, and several can stream on it. It has two active bands, one at 600 Mbps and the other at 1300 Mbps. As soon as the router detects streaming, it bumps the device up to the faster band.
There are four Gigabit Ethernet ports, especially useful for bandwidth-hungry computers and gaming consoles. It also has one USB 3.0 port alongside a USB 2.0, featuring the ReadyShare Vault for automatic backup.
The 1GHz dual-core chip inside powers the router, which uses dynamic QoS to prioritize bandwidth allocation.
Since securing your network is important, the system takes a handful of protective measures. There are WPA2 security protocols and guest Wi-Fi access for devices you don't trust. It has a firewall, VPN, and DoS to close off your network to potential intruders.
You can use the Netgear Armor for added security; it's quite useful. But you'll need a paid subscription for the software after the trial ends. However, you can use OpenVPN for remote access at any time to change configurations and settings. Furthermore, Alexa's voice controls enhance hands-free operation.
Pros
Connects up to 30 devices
Uses Beamforming+ technology
Range of 1800 square feet
Offers a guest network
USB 3.0 and 4 Ethernet ports
Cons
Subscription fee for security software
Doesn't support 5GHz

2. NETGEAR Nighthawk RAX120 Wi-Fi Router
Here's a router for the gamers, the editors, and everyone else who needs extremely high speed and performance in the lapse of a moment. This thing can reach up to 6 Gbps speed, and its futuristic design is sure to amaze you.
First of all, it looks like a spaceship. It has two fins on two sides that look like airplane wings, which conceal the two high-powered antennas. The fins don't disrupt the signal; they work better and have up to 3500 square feet of coverage. The set-up is pretty easy too.
While the fins broadcast signal without the adjustability of antennas, the manufacturers have included Beamforming+ to extend signal strength. It connects to any specified device and maintains a steady bandwidth. On top of that, MU-MIMO technology supports several streamers simultaneously.
This router can handle 12 streamers at once over Wi-Fi, but gamers might want a wired connection for reliable speeds. You get a 1/2.5/5G Ethernet port alongside four standard 1G ones; there are also two USB 3.0 ports. These ports, along with the Wi-Fi, enhance connectivity that heavy users prefer.
The guest network separates the home network with a firewall in between. You get a one-month free trial of Netgear Armor for cybersecurity. Still, you'll have to buy a subscription to continue. There's a built-in VPN that is remotely accessible with the Netgear app.
This router supports WPA2 and WPA3 security protocols and can muster extremely fast speeds. Likely, even your average ISP won't be able to match the AX6000 speed. Anyone who can agree with the price tag can get this unique and reliable product.
Pros
Two USB 3.0 ports
12 simultaneous streams
1x 5G and 4x 1G Ethernet ports
Up to 6000 Mbps speed
3500 square feet coverage
Cons
Non-adjustable fins
Considerably expensive

3. MOTOROLA MR2600 Smart Wi-Fi Router
Since some of us are on a budget, let's look at something we can afford. That's not to say this product is subpar with its features; it's the best budget-friendly router on our list. It manages interference well, maneuvers through the apartment, and reaches good speeds.
This device supports dual-band signals and has four antennas. Two antennas transmit the lower bandwidth, and the other two, the higher one. You can reposition them to point in any direction for better connectivity. We recommend keeping one antenna of each band vertical and the other horizontal for optimum results.
If you're looking to connect via Ethernet, there are four ports. These ports support 2.5G as well as 5G, in case you were wondering. You also get one USB 3.0 port for sharing content on the network; it supports DLNA.
As for wireless connectivity, implicit and explicit Beamforming track devices to maintain a steady connection. Smart QoS locks onto a streaming device as soon as it detects one and keeps a strong connection. There's also MU-MIMO technology to boost speeds.
Since families often opt for this router, there's parental control. You can access it through your device or USB and limit what certain users will access. Also, the guest network and firewall protect the home network from intruders.
This router can also reach AC2600 speeds, which is more than most users will need. The device needs to stay in a well-ventilated area, so it doesn't get too hot. Its plastic build doesn't help much in this department.
Pros
Implicit and explicit Beamforming
4x 1G Ethernet ports
USB 3.0
Parental control
Smart QoS
Cons
Bulky in size
Needs to be well-ventilated

4. Gryphon AC3000 Mesh Wi-Fi Router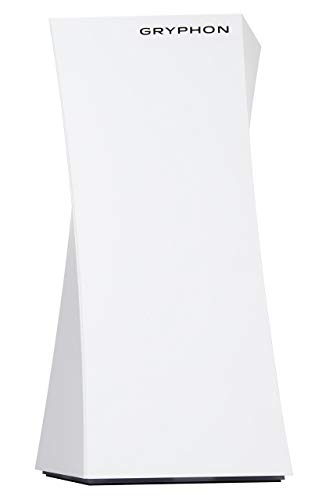 Parents looking for a great option with effective parental controls and extended coverage for the whole house have certain requirements. And this smart router deals with all of them. It's a mesh system that reaches the house's corners and maintains a safe and controlled browsing experience.
The first thing you'll appreciate is that this device covers about 6000 square feet with its two points. It's good enough for any house and depends on how far you place the points. It can reach up to 3000 Mbps speeds as well.
Using MU-MIMO, Beamforming, and Wi-Fi prioritization, this system smartly tracks devices in use and allocated bandwidth accordingly. Its six internal antennas are angled optimally for users to get great speed from any direction. Since it's a mesh system, you don't have to worry about how far you are.
As for kids being on their phones all the time, parents have further control now. This router smartly manages screen time and limits signals to specific devices after a certain point. Its settings include safe-search, website blocking, and browsing time management.
Parents can take away internet privileges anytime and set usage timings. The parental controls are accessible through the Gryphon HomeBound Service for a monthly payment plan, which many may not prefer. However, it's a worthwhile expense for the number of smart control features you get.
As for the design, the router itself looks like a white, minimalist tower. It blends in with most kinds of décor and looks futuristic. There are ports for LAN connection, including 2.4G and 5G. Its ventilation system is pretty functional, which avoids overheating issues.
Pros
Smart parental controls
Six antennas at every point
6000 square feet of coverage
Mesh network
Smartly tracks activity
Cons
Paid security features after one year
Weak firewall

5. MOTOROLA MG7550 Modem and Router Combo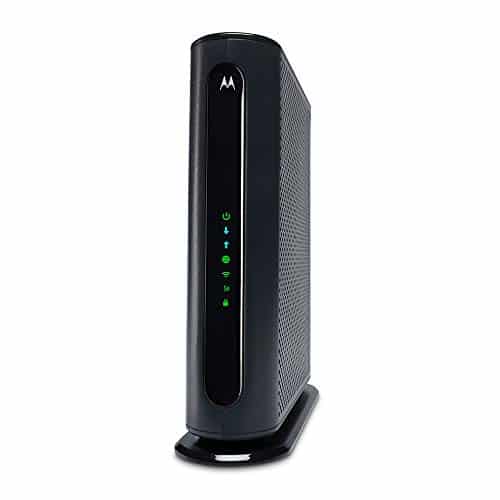 The MG7550 is the product to get for the users looking for a modem and router in one package. It makes great use of wired and wireless connections and performs reliably at all times. You'll require a cable internet connection, but you'll save hundreds in bills.
Just like other popular Motorola routers, this one has a tower design. It stands vertically on a base and has ports at the back. The design makes for good air circulation and prevents overheating; it's also much less likely to crash like other horizontally-set routers.
It can connect to computers, HDTV, gaming consoles, and other devices with its 2.4GHz and 5GHz Ethernet ports; it has four of these ports. Once you've connected your device, you'll find a maximum download speed of 686 Mbps. It can reach 1900 Mbps on paper.
The device uses Motorola's Speed Boost to increase signal strength and range over Wi-Fi. You can connect several devices without a stagger and stream seamlessly. Beamforming smartly allocates bandwidth to heavy-usage devices and keeps the signal steady. It works great even through apartment walls.
This router has a dual-band signal at 2.4GHz and 5GHz; when it detects a user streaming, it bumps them up to the 5GHz band. You can create two SSIDs for the two bands as well. The router can also work on Wi-Fi DFS and manage interference well, unlike others.
One area where this thing performs well is with TV. You can connect it to Apple TV, Roku, Chromecast, and others with a cable for extremely fast streaming. The 10/100/1000 Gigabit Ethernet ports can connect to any of these devices without an issue.
Pros
4x Gigabit Ethernet ports
Router and modem combo
Dual-band router
Great for TV
Saves cable internet fees
Cons
Difficult-to-update firmware
Not compatible with Comcast

Things to Consider Before Buying
Since you're getting a new router for your apartment or replacing an older one, you'll need to think about some things. There are several key features and aspects you'll need to consider in the buying process. Here are the important factors.
Apartment Size
The size of your apartment matters; the signal gets weaker as you get further from the router. Most routers will work decently in a smaller apartment. However, you'll encounter slower and weaker signal strength in apartments bigger than 1200-1400 square feet.
If you have a bigger apartment, try buying a router with stronger, higher-gain antennas. You'll appreciate wider coverage even more if there are several walls and more than two rooms. Ideally, you'll want to place the router centrally.
Wi-Fi Interference
The Wi-Fi signals interfere with each other where there are several routers nearby. Interference issues are particularly common in apartment buildings since many people live too closely. If you face such an issue, try to opt for a dual-band router.
If your router has dual-band signals-2.4GHz and 5GHz-you'll face much fewer problems with interference. Whenever you're streaming or there are clashing frequencies, the router switches to 5GHz; it has a much smaller wavelength and barely crosses the walls.
Number of Connected Devices
If there are too many devices on one network, the speed slows down. Routers usually share the bandwidth equally among all users. If there are only one or two users, the allocation is no big deal. However, on networks with four or more users, you'll want a stronger signal and smarter prioritization.
Devices with Beamforming and Smart QoS manage bandwidth well when there's hectic activity. These technologies identify devices with heavy traffic and stably maintain the signal and boost the strength. Dual-band routers are also pretty useful in this regard.
Security Features
Internet security features are extremely important. If not secured properly, hackers can hop onto your network and access your information and potentially your devices. Outsiders can do it, but people inside your network can breach security too.
To ensure an airtight network, look for routers with WPA protocols and above. A firewall and VPN are just as important. If you use a VPN, even your ISP can't access your browsing history and information. An added feature many prefer is parental control.
Where to Place a Router for Better Coverage?
Since the range is proportional to signal strength, your Wi-Fi router's placement is important. Here are some tips:
Keep the router in a centrally located room.
Place it as high up as convenient.
Try not to put it in a meeting place to avoid interference.
Position the device away from walls as they block the signal.
Don't place it near a microwave as they interfere with the signal.
Point the antennas toward rooms with devices.
Keep one antenna vertical and another horizontal.
You can get the best signal strength and least interference if you follow these tips.
Frequently Asked Questions
Is it okay to leave your Wi-Fi router On all the time?
Leaving your router On for extended periods isn't a significant problem in terms of its longevity or performance. However, we recommend that you turn it Off and then On again every few weeks; restarting resolves connectivity issues sometimes.
Can a router catch fire?
Routers usually use very low-voltage power supplies, and the adapter maintains optimum voltage. The risk of a router catching fire is virtually non-existent, given the low power consumption.
Is Wi-Fi free if you have a router?
Sadly, no, you need an Internet Service Provider and subscribe to one of their paid internet plans. A router is a device that transmits the data. It downloads and uploads data from your device to satellites via your ISP's server. However, you can connect several devices on one network for free.
Is it dangerous to sleep next to a Wi-Fi router?
Unlike X-Rays or nuclear radiation, radio waves do not break the chemical bonds in the human body (or any other animal). Since routers produce harmless radio waves, it's perfectly safe to sleep next to one.
How do I reduce Wi-Fi interference?
It can help to keep the router and the device in use closer and removing other devices out of the way. Try to keep the router away from microwaves, telephones, and even video cameras.
Final Words
There are thousands of options on the market for the best routers for apartment spaces, and you can get the best one. At varying price points, these devices provide excellent value for money. Hope our review helped you in your search.
Buy them at eBay, Walmart, Etsy (limited quantity)
Google WiFi system, 3-Pack - Router Replacement for Whole Home Coverage - Walmart, Etsy, eBay
NETGEAR Nighthawk Pro Gaming WiFi 6 Router (XR1000) 6-Stream AX5400 Wireless Speed (up to - Walmart, Etsy, Ebay
TP-Link AC1750 Smart WiFi Router (Archer A7) -Dual Band Gigabit Wireless Internet Router - Walmart, Etsy, eBay
Motorola AC2600 4x4 WiFi Smart Gigabit Router with Extended Range, Model MR2600 - Walmart, Etsy, eBay
ASUS WiFi 6 Router (RT-AX3000) - Dual Band Gigabit Wireless Internet Router, Gaming & - Walmart, Etsy, Ebay
TP-Link WiFi 6 AX3000 Smart WiFi Router (Archer AX50) – 802.11ax Router, Gigabit Router, - Walmart, Etsy, Ebay
Wireless Router 1200Mbps Long Range Wifi Router AC High Speed Dual Band Router with 4 LAN - Walmart, Etsy, eBay
NETGEAR Nighthawk Smart Wi-Fi Router, R6700 - AC1750 Wireless Speed Up to 1750 Mbps | Up - Walmart, Etsy, eBay
Gryphon Tower Super-Fast Mesh WiFi Router – Advanced Firewall Security, Parental - Walmart, Etsy, eBay
TP-Link AC4000 Smart WiFi Router - Tri Band Router , MU-MIMO, VPN Server, - Walmart, Etsy, eBay