Real-time network management. Increased network stability. Advanced wireless setup. VPN integration. A boost in network speed. Increased security. These are some of the benefits you unlock when you get a router operating on the OpenWRT firmware router.
For you to enjoy these benefits, however, you need a router that works with this advanced firmware.
To save you from the mind-boggling hassle of analyzing numerous routers to find which one works with this firmware, we have compiled the best OpenWRT router 2020 models that are 100% compatible with OpenWRT below.
Top OpenWRT Routers in 2022 by Editors' Picks
6 Best OpenWRT Routers in 2022

6 Best OpenWRT Routers in 2022



1. Turris Omnia 2 GB open source & WiFi router
If you're looking for the best router for OpenWRT designed for exceptional performance, get this router today. The Omnia uses an operating system based on OpenWRT firmware. This gives your device a Linux distribution, and you can do a lot of things with this router.
The router boasts a high-powered dual-core ARM with a 1.6 GHz CPU in addition to a 2GB RAM capacity. Such specification takes it at the top of the best performing OpenWRT routers available for you.
Unlike the routers that come with default stock firmware, this Turris Omnia enjoys automatic updates to its core components throughout its lifetimes. This helps seal al the security vulnerabilities, ensuring you use your home network without worrying about someone getting access to your personal info.
When this router detects suspicious data streams, it sends it to Turris headquarters. Thousands of submitted data from various routers are then compared. And if the attack is identified, all the Turris will receive updates to protect from the threat.
Setting up this router is simple and fast for everyone. It gives you the full freedom to customize your router according to your unique network needs and personal preferences.
Highlighted Features:
High-power dual-core ARM CPU
Dual-band WiFi capabilities
Secure default configuration
Easy and fast setup
Automatic updates forever
Built-in MIMO technology
5 Gigabit LAN ports

2. NETGEAR Nighthawk X4S Smart WiFi Router
Netgear is one of the popular manufacturers of top-notch networking equipment and accessories. Their nighthawk X4s router is rated as one of the top OpenWRT supported routers you can get on the market today.
One of the reasons why we like this router is that it comes designed for the ultimate performance. It boasts a powerful 1.7GHz dual-core processor that delivers unmatched processing power. It also boasts 160MHz, MU-MIMO, and Quad Stream technology, which work hand in hand to deliver strong WiFi signals to multiple devices simultaneously.
You'll really appreciate that this router supports great data transfer rates of up to 2600Mbps and great coverage spanning up to 2500 square feet. Whether you're gaming or streaming media and live in a large home, you can rest assured that this router will help you do smoothly in any corner of your home.
The dual-band, OpenWRT compatible router features convenient parental controls to let you effortlessly manage web filtering, website access, or even pause WiFi for specific devices.
With up to 4 Gigabit ports included, you can trust this router to give you a fast, uninterrupted wired connection to your game box, computer, or any other device. The two USB ports and one eSATA port allow you to share the printer, driver, etc. around the network.
As for the setup, this unit comes with the popular Nighthawk app, which walks you through the key steps for a straightforward, hassle-free setup.
Highlighted Features:
1.7GHz dual-core processor
Up to 2600Mbps wireless speed
Up to 2500 sq. ft. coverage
One eSATA port
Works with up to 45 devices
Beamforming and MU-MIMO technologies

3. Zyxel Armor Z2 AC2600 MU-MIMO Wireless Router
This is the best OpenWRT router if you're working on a tight budget. It comes with an edgy design, which makes it highly appealing for gamers. It's also a great choice for power users who want nothing but the fastest, most reliable WiFi connectivity.
The powerful wireless router is 100% compatible with OpenWRT, so it'll let you do a ton of customizations, including shaping, filtration, NAT, tunneling, WAN backup, complex routing, and more.
Because this router is powered by a superior 1.7GHz processor and advanced dual-band WiFi technology, it will provide you with high-speed connectivity. This makes it a great device for the most demanding multimedia streaming and gaming requirements. Besides, it features 4×4 Mu-MIMO technology to help accelerate transmission up to 4 wireless devices for even faster WiFi speeds.
Other features that make this router a true beast for handling heavy bandwidth tasks include beamforming technology and compatibility with the latest 802.11ac WiFi standard. It has a total combined speed of up to 2600 to let you stream HD movies without lag, lay online games, and do more.
Highlighted Features:
1.7 GHz dual-core processor
2,500 square feet wireless range
Up to 2600Mbps data speed
Features beamforming antennas
4×4 MU-MIMO technology
Supports WiFi 802.11ac
Easy to set up

4. TP-Link AC1900 Smart WiFi Router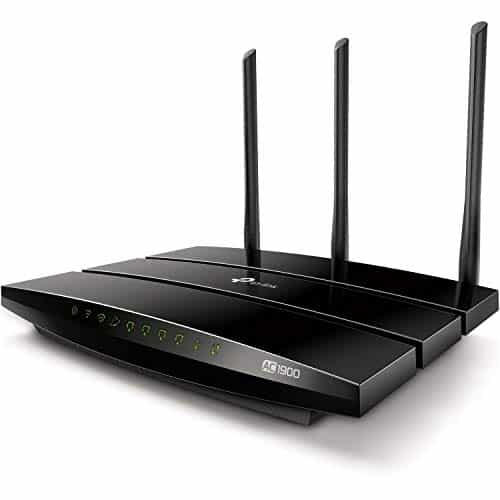 This router is a JD Power Award winner for the category of highest in customer satisfaction for wireless router. Even better, it stands among the few, top-performance OpenWRT supported routers.
It boasts dual-band capabilities, which makes an ideal choice if you want to reduce WiFi interferences and boost the speed of your home internet. The wireless router will give you, get ready for it…a combined dual band speed of up to 1.9Gbps! This will surely turn your home into internet heaven, and you can handle 4K streaming plus online gaming simultaneously!
It comes optimized with MU-MIMO technology to let you enjoy up to 3 data streams simultaneously without any of the devices slowing down. It also features beamforming technology, which works hard to give you a highly efficient wireless connection.
The Smart Connect and Airtime Fairness functions further ensure you can enjoy silky-smooth 4K streaming and play online games at the same time.
Suited with up to 3 high gain antennas, this unit is sure to concentrate the WiFi signal directly to your devices. It presents you with convenient parental controls, a VPN server, and Control Access to put you in total control of your network. It sets up in minutes and features a companion app for easy manageability.
Highlighted Features:
Features MU-MIMO technology
Beamforming technology
Blazing 11ac WiFi speeds
Combined dual-band speed of 1.9Gbps
Easily sets up with tether app
Supports Smart Connect technology

5. Linksys WRT3200ACM Dual-Band Open Source Router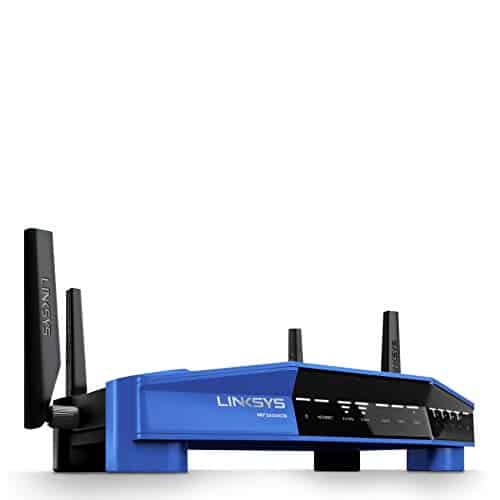 This Open Source wireless router from Linksys, the father of OpenWRT firmware. And will let you easily install OpenWRT firmware into it and enjoy advanced customizations that are usually rare in default router firmware.
The highly-rated OpenWRT recommended router offers you great flexibility regarding the type of operating software you can use it with. It supports macOS (10.X or higher) as well as Windows (7, 8.1, and 10), letting you choose your preferred OS.
It boasts an ultra-powerful 1.8GHz central processing unit, something that sets in atop its competition. This is an enterprise-grade processor that delivers the computing power you need to handle the heaviest traffic and greatly minimize latency.
The router features two dedicated WiFi bands that collectively deliver exceptionally fast combined speeds of up to 3.2GBps!
It comes equipped with MU-MIMO technology and Tri-Stream 160 technology (doubles the 5GHz bandwidth) to deliver blazing fast wireless speeds to multiple devices at the same time. This dramatically expands your router speed and ensure your home network has high speed to meet demanding tasks like streaming, gaming, torrenting, etc.
Keep in mind that this router also puffer's you a versatile range of ports to help you hassle-freely connect to an eSATA, USB hard drive, flash drive, network printer, and other devices.
Setting up this router is easy for everyone, including beginners. It comes with a smart WiFi app that you can use to remotely control and monitor your WiFi in real-time.
Highlighted Features:
Ultra-powerful 1.8GHz processor
2160Mbps data transfer rates
Supports Tri-stream 160MHz technology
Features MU-MIMO technology
Gives access to restricted DFS channels
Smart WiFi app for remote network control

6. Linksys WRT1900ACS Open Source Wireless Router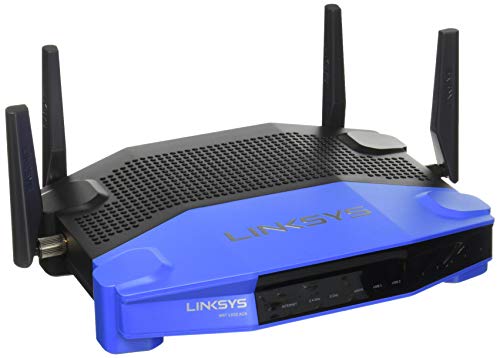 This router also comes from Linksys WRT serious of routers, directly qualifying it as an open-source wireless router that works with OpenWRT firmware. This means you can customize its settings and use advanced monitoring options not found in your default monitor app.
The router features a professional-grade 1.6GHz processor that can smoothly handle huge data amounts at a fast rate. It can also handle multiple users and digital devices at a go without lag. What's more, it comes optimized with a 512MB RAM, which allows you to move movies, music, videos, and other files at super-fast speeds.
We also like that Linksys has equipped this router with up to 4 high-performance antennas that are fully adjustable to ensure maximum signal strength and coverage. Since this is a dual-band router, you can trust these antennas to maximize the performance of the 1.4GHz and 5GHz WiFi bands for optimal coverage.
Just like the other high-performance OpenWRT supported devices, this unit also provides you with beamforming technology, which enables it to strengthen the WiFi signal to specific devices. It comes with an array of ports-including eSATA port, USB 3.0, and USB 2.0-for flexible connectivity.
The parental controls give you total control over your home network settings. And the fact that this router also supports a smart WiFi app means you can easily monitor and control your home network remotely.
Highlighted Features:
1.6GHz dual-core ARM-based processor
Up to 1.9Gbps data speeds
4 detachable high-performance antennas
Up to 512MB of RAM
Supports Wireless-AC technology
Smart WiFi app for remote network control

What is an OpenWRT Router?
An OpenWrt router simply refers to any router that's compatible with the OpenWRT firmware. As you hover from router to router, you'll realize that most of them are configured to ONLY work with their factory-installed software. With this in mind, you should double-check that the router you pick is compatible with OpenWRT.
Now, you might be probably asking yourself what OpenWRT is…
To put in plain English, OpenWRT (short for O pen W ireless R ou T er) is a custom aftermarket software that you can install in an OpenWRT compatible router.
In tech-speak, OpenWRT is an embedded Linux distribution that you can install on a router compatible with the same. Installing this custom software on your router greatly enhances its performance and gives you more advanced features.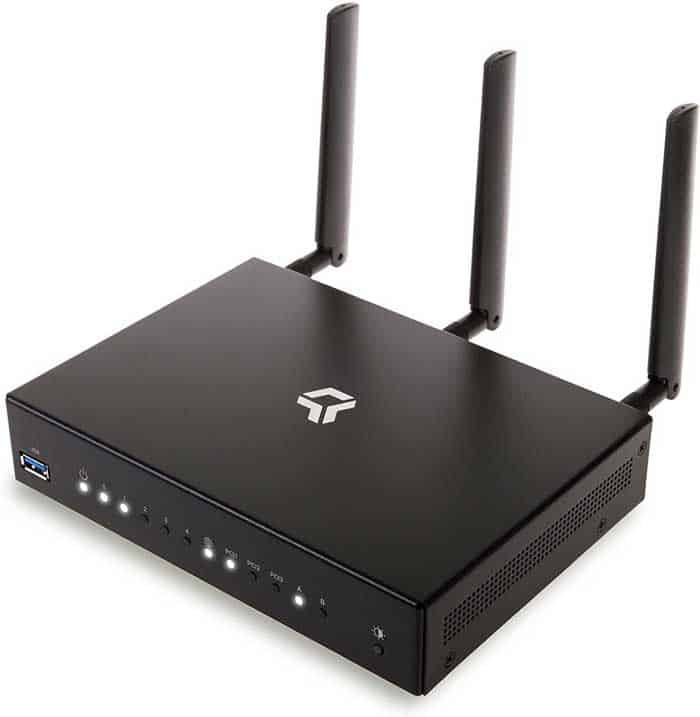 OpenWRT is 100% FREE for everyone, forever.
The firmware entered the public domain in 2004. This was after Linksys released their WRT54G wireless routers code under the GNU General Public License. The license terms dictated that Linksys had to make the firmware available to the general public. It also stated that the developers were free to modify the code or even come up with derivative versions.
Though this firmware originally worked with the WRT54G series routers only, it spread out years later and become fully compatible with devices and routers from other manufacturers.
Some of the coolest features you'll enjoy from installing this custom firmware in your router include:
IP tunneling
IPS via Snort
Dynamic DNS
Printer support
Packet injection
PeerGurdian Support
File sharing via Samba
Mesh networking support
Active queue management
Wireless distribution system
Real-time network monitoring
Writeable file system for configuration
Load balancing, for use with multiple ISPs
DNS and DHCP via MaraDNS, Dnsmasq, and more
Stateful NAT, firewall, and port forwarding via Netfilter
Customizable through web-based interface or command line
And so much more!
Benefits of using OpenWRT Router
Probably the biggest reason why you should use an OpenWRT is that it bypasses the limits that come with factory-installed router software.
One such limit is the speed. If your home network suffers heavy usage that your standard router can't handle these demands, then you should go for an OpenWRT router; it will enable you to connect multiple devices to high-speed internet without lagging issues.
Another benefit of this kind of router is that it gives you more control over your network, so you can easily customize it to fit your needs best. If you find that your current router limits your ability to manage your network, switch to an OpenWRT-compatible unit, and you won't look back!
Here are some additional benefits you'll enjoy when you use OpenWRT supported devices:
Monitor your network in real-time
With this great firmware installed in your router, you'll get what the rub-of-the-mill routers can't do-granting you full control over your network in real-time. This will enable you to see what other connected users are using the internet for in your home. For instance, you can see what kind of content your kids are accessing.
Enhanced network security
Your home network will enjoy enterprise-grade security when using an OpenWRT router. It will stop hackers and intruders right on their tracks. It will also enable you to easily set guest access accounts. All this ensures unwanted users can't get access to your valuable personal info. Because this firmware enjoys lifetime automatic updates, all the security holes are sealed in time.
Increased stability
As you've witnessed from the top routers above, these routers come equipped with powerful dual processors in addition to significant RAM capacities. This makes it more powerful than the standard routers. This translates to excellent stability and performance of your network.
Get all your devices connected
It's true that you can connect more devices to a router running on the OpenWRT firmware as opposed to the stock firmware. What's more, connecting more devices won't slow down your devices, making your home network more convenient than ever before.
Boost your network coverage
A good OpenWrt-compatible router will also enable you to crank up your home wireless network so that it reaches the farthest corner of your home. This way, it eliminates dead spots and ensures you can enjoy quality WiFi everywhere in your home.
How to Choose an OpenWRT Router?
So you've made up your mind that you want to switch to OpenWRT? Now, you first need to choose the best router that works with this firmware to ensure you enjoy all the perks listed above.
Let's outline the key factors to consider when choosing the best OpenWRT router 2020:
Compatibility
It goes without saying that the first step to enjoying OpenWRT involves getting a router that works with this firmware. Not all routers out there are compatible with this software, so you should be extra careful what you get. Any router that crashes, freezes, or operates inconsistently with OpenWRT isn't an OpenWRT recommended router.
Processor
Routers designed for open-ware are usually equipped with powerful processors to ensure great performance and network stability. In addition to compatibility, make sure you choose a router that has a dual-core processor to enable it to handle heavy traffic without hanging or crashing.
Special features
Depending on what you use your home network for, you should also consider any additional features the router comes with. For instance, if you usually subject your network to heavy usage such as online gaming, streaming 4K videos, etc., then you should get a router with built-in MU-MIMO technology to allow for smooth streaming for multiple devices. Beamforming technology is also great for smooth, low latency streaming and gaming.
How Do You Install OpenWRT?
Good news! You don't need to be a techie-geek to install OpenWrt firmware. Assuming you have already bought an OpenWrt compatible router, here are steps to follow to get the firmware up and running.
Step 1. Head over to OpenWRT.org and select the firmware version you want and download it. If you're doing the installation on a device for the first time, we suggest that you go for the latest versions.
Step 2. Next, connect your router to the computer (where you've downloaded the firmware) via Ethernet cable. Make sure the computer is configured with IP address that allows it to connect to the router.
Step 3. login in the router's web interface and look for device-specific firmware installation function. In most routers, this function will prompt you to upload the software you download in step 1 to your router.
If you have trouble transferring the file to the router, check the user guide of your specific router on how to do it correctly.
Step 4. Wait for the installation process to complete. When the router is done flashing and installing the new firmware (the OpenWrt), it will automatically reboot.
Step 5. You can then access your new OpenWrt web interface to make your preferred configurations to start using your router effectively.
For more information on setting up OpenWrt for the first time, check this guide from openwrt.org
Frequently Asked Questions
Do I really need an OpenWRT router?
OpenWRT might not be for everyone. If you're satisfied with your routers default firmware and it meets all your needs, then you don't really need this router. If you don't like the limited features and high-security vulnerability that comes with stock router software, you should get a router that works with this advanced firmware.
Is OpenWrt safe?
Absolutely! In its default nature, OpenWRT is more secure than the stock router firmware. This means that you can use it without even configuring the firewall and web security and still enjoy a highly secure home network without worrying about intruders stealing your private data. If you're an experienced user, configuring your OpenWrt router security settings makes it even more secure.
How do I access my OpenWrt router?
Simply enter the gateway address 192.168.1.1 on any browser to access your OpenWrt router. A login window will appear when you can key in the password and username. If you've just installed the firmware and haven't set any password or username, simply enter the username " root " and leave the password field empty. (root is the default admin username).
Is OpenWrt better than DD-WRT?
DD-WRT is a derivative of the OpenWRT firmware, so they share a lot of features. Both grant you real-time monitor control, QoS, access control, and the ability to set up a home VPN. DD-WRT offers you additional features such a Wake-On-LAN. However, the DDWRT doesn't support as many devices as OpenWRT. The only thing that makes DDWRT better than OpenWRT is that it's easier to install and manage, and supports most of the common home routers.
Final Verdict
The best OpenWRT router comes with many perks and changes your home network for the best. It lets you bypass the limits set by stock router firmware and do things like control your network in real-time, increase its range and make it faster and more stable. Having offered you the basics of OpenWRT firmware routers, how to pick the right one, and some of the top models available at the market, we've no doubt you'll have an easy time choosing the perfect one for your needs.
Buy on Etsy
Cudy AC2100 Smart WiFi Mesh Router, WiFi Range Extender, AP, Dual Band Gigabit Wireless - Walmart Link
GL.iNet GL-AR750S-Ext (Slate) Gigabit Travel AC VPN Router, 300Mbps(2.4G)+433Mbps(5G) - Walmart Link
Linksys WRT1900ACS Open Source Dual-Band Gigabit WiFi Wireless Router ,Black - Walmart Link
Linksys AC1900 Smart Wi-Fi Router Home Networking, MU-MIMO Dual Band Wireless Gigabit - Walmart Link
GlocalMe DuoTurbo 4G LTE Mobile Hotspot, No SIM Card Needed, WiFi Hotspot Unlock Device - Walmart Link
Buy on eBay
Cudy AC2100 Smart WiFi Mesh Router, WiFi Range Extender, AP, Dual Band Gigabit Wireless - eBay Link
GL.iNet GL-AR750S-Ext (Slate) Gigabit Travel AC VPN Router, 300Mbps(2.4G)+433Mbps(5G) - eBay Link
Linksys WRT1900ACS Open Source Dual-Band Gigabit WiFi Wireless Router ,Black - eBay Link
Linksys AC1900 Smart Wi-Fi Router Home Networking, MU-MIMO Dual Band Wireless Gigabit - eBay Link
GlocalMe DuoTurbo 4G LTE Mobile Hotspot, No SIM Card Needed, WiFi Hotspot Unlock Device - eBay Link