Sewing is a fun and creative activity. There is a certain satisfaction to hold up the dress you made or the cardigan you prepared for a loved one to brave the winter with.
However, if you are a beginner, sewing can be quite intimidating and hard to get into. You look around and see that there's hardly anyone you could go to for help. What do you do?
Good old fashioned books might be the answer. Nothing beats self-learning. Which book do you consult to help you start sewing? Here are 10 recommendations you can try out.
Editor's Recommendation: Top 10 Sewing Books to Help You Get Started Fast
Sewing Books to Help You Get Started Fast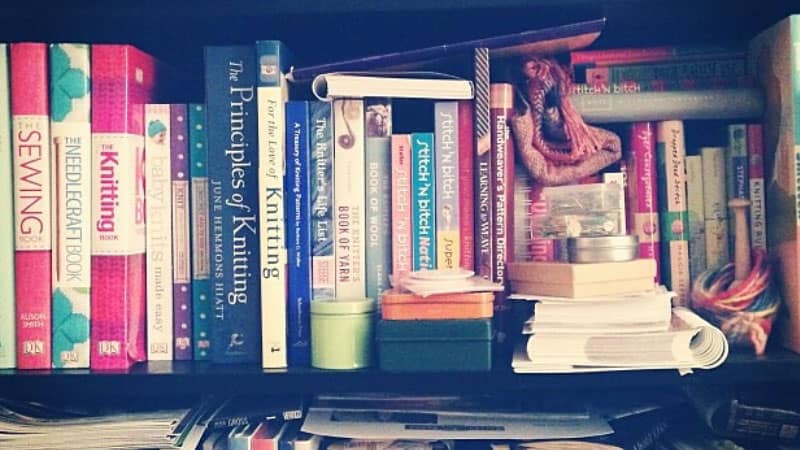 1. The Sewing Book: Over 300 Step-by-Step Techniques by Alison Smith
The realm of sewing is quite vast. You could be sewing clothes one day or making home décor the next. However, there are so many intricacies and differing techniques for each project that it can be quite overwhelming.
Thankfully Alison Smith, as her book name suggests, covers 300 techniques to tackle all these different projects as well as offering an insight into such things like which threads to use and where extra accessories you might need to make your job easier as well as projects to test your skills out.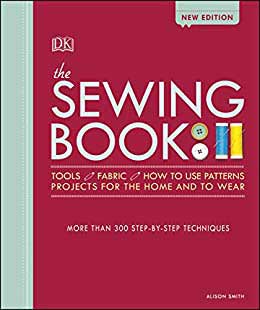 The book goes in-depth and covers many different types of fabrics. Above it all, this book has a visual learning approach, mostly consisting of pictures helping you identify the fabric and follow easily with text as supplements.
Overall, this is a must-have for beginners and even for people who tried sewing but want to get back into it.
2. First Time Sewing: The Absolute Beginner's Guide by Editors of Creative Publishing International - Link
This is another book highly recommended for beginners. This book has a greater emphasis on clothes featuring great guides on t-shirts, elastic skirts, pants, and jackets.
It also features guides on aprons and pillows. It helps you in sewing both using your hands and a machine.
The book features an introduction to the terminology used in sewing and holds your hands as it quite nicely guides you through the basics of sewing, even giving you projects to test the things you have learned beforehand.
As the book suggested beforehand, this book also goes for a visual learning approach with clear pictures and precise instructions to help you take your first steps into the world of sewing. While it covers less techniques, it is definitely more beginner-friendly.
3. New Complete Guide to Sewing: Step-by-Step Techniques for Making Clothes and Home Accessories by Editors of Reader's Digest
This book is a little advanced, featuring a large array of projects for you to do and learn from. This book is quite organized, being separated into various sections depending on the techniques used and types of stitches.
This book features instructions in the form of well-drawn diagrams and pictures supplemented by large text and to the point instructions.
There's a greater emphasis on fashion designs in this book, as well as including an extensive section on sewing with your hands. Although to get the best out of this book, it is recommended you are at least a bit familiar with sewing terms and basics.
4. One-Yard Wonders: 101 Sewing Projects by Patricia Hoskins and Rebecca Yaker
Containing 101 sewing projects as the book suggests, this book is quite great to help you start out sewing.
It offers guides on a variety of projects, including clothes, crafts, accessories, baby items, pet projects, and household decorations. Almost all of the projects aren't time-consuming or very difficult and will serve to introduce you into the realm of sewing and boost your confidence.
The writers include clear photos and well-written instructions that are quite easy to follow. Overall this book is recommended mostly for beginners. People who have experience in sewing might not find new things to learn from this book.
5. Couture Sewing Techniques by Claire B.Shaeffer
The author of this book is well renowned for her mastery of sewing, which translates into a book that teaches people aspiring to sew the art of sewing and stitching garments.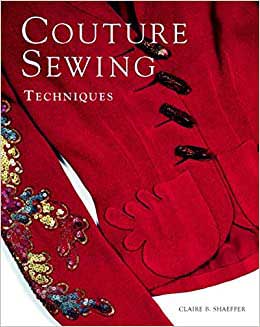 This book contains pictures added with organized text that separates content, instructions, and tips to provide a satisfactory reading experience. This book deals in fashion design but offers a comprehensive step by step guide to patterns and dresses as written by someone quite well versed in her craft.
The author even includes tips taken from her experience to help beginners - a must-read.
6. Sew Me! Sewing Basics: Simple Techniques and Projects by Choly Knight
If you are completely new, then this book is made just for you. Sew Me! Written by Choly Knight starts right from the basics giving recommendations on what sewing machines and accessories to buy and preparations needed to start sewing.
You'll learn the basic techniques and a few shortcuts and then put them all to use in the fifteen projects presented in the books that will test what you learned in the book.
The instructions are clear cut; the projects are well-chosen to increase proportionately in difficulty with your growing skills and overall, a great read for anyone getting into sewing.
7. Sewing Happiness: A Year of Simple Projects for Living Well by Sanae Ishida
This book features twenty sewing projects, but it deviates a bit from the other books in this list as all the projects and the book, in general, are connected by the story of how the author Sanae Ishida found light and happiness during dark times through sewing.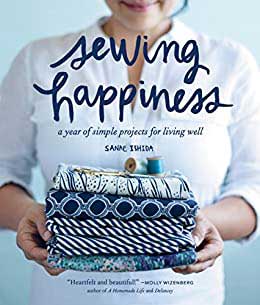 It features an organized structure covering goods and clothes, but however, the experience of reading it is amplified by the writer's personal tale of finding happiness through her passion for sewing in the face of a chronic illness.
This warm and wholesome approach to sewing will have you find a newfound passion and urge you to try your best at this craft and even change how you view sewing.
8. Sew Everything Workshop by Diana Rupp
Diana Rupp introduces sewing with a passionate attitude that will encourage you to tackle this form of art and expression with glee.
She covers almost everything from finding the right sewing machine and how to work on it, preparing your sewing workspace, essential skills for operating a machine, and basic terminology, all compounded using easy to understand instructions and illustrations.
There is a very personal touch to this book, making it quite interesting to read and follow, unlike most how-to books. Topping it all off is a set of stylish projects that you can craft and wear, ranging from cardigans to scarfs and even more.
9. Me and My Sewing Machine by Kate Haxell
For those interested in using a sewing machine but have no idea which one to get or how to use it, this book is a must-read. Kate Haxell holds your hand as she guides you through the ins and outs of a sewing machine.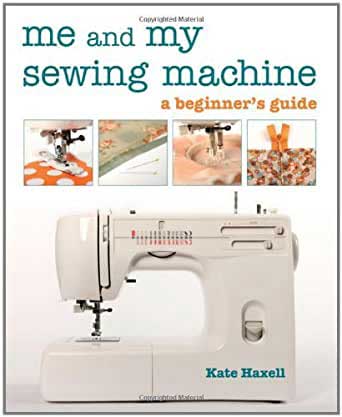 There are no complicated instructions and terms; only eloquently simple language that will detail the procedures you need to operate your sewing machine and take care of it. The author also includes tips from her experience in using it, which will provide great aid for those starting out.
10. All New Fabric Savvy: How to Choose and Use Fabrics by Sandra Betzina
This is an update to Sandra's classic Fabric Savvy. While sewing techniques and what machine you use are important, it is equally important to get a good grasp on fabrics.
There are numerous different types of fabrics, though. How would you go about it? Sandra Betzina has you covered as she goes through around 100 different types of fabrics, from cotton and wool to new synthetic options like leather and oilcloth.
The book seeks to remove any confusion in regards to what fabric you should use and how to use them, serving as an incredibly helpful reference for all types of sewers.
Alongside instructions specific to each type of fabric, she complements them by adding a fair share of photographs and illustrations, providing a visual and clear aid to beginners, and helpful reference to professionals. Definitely, one you should give a read both to learn and expand your horizons.
Final Words
We hope that this list was comprehensive enough to give you an idea on which books to purchase and read to accompany you in your first steps into the world of sewing like they have done with many others and even lead you into a newfound passion that will brighten both your life and your loved ones.
Buy on eBay, Etsy, Walmart (subject to availability)
First Time Sewing: The Absolute Beginner's Guide - Walmart, Etsy, eBay
First Time Sewing: The Absolute Beginners Guide - Walmart, Etsy, eBay
Sew Me! Sewing Basics: Simple Techniques and Projects for First-Time Sewers (Design - Walmart, Etsy, eBay
Sewing For Kids: 30 Fun Projects to Hand and Machine Sew - Walmart, Etsy, eBay
Singer: The Complete Photo Guide to Sewing - Walmart, Etsy, eBay
Sewing School ®: 21 Sewing Projects Kids Will Love to Make - Walmart, Etsy, eBay
Sewing 101, Revised and Updated: Master Basic Skills and Techniques Easily through - Walmart, Etsy, eBay
A COMPLETE GUIDE TO HOME SEWING - Walmart, Etsy, eBay
(Sewing School) By Amie Plumley (Author) Paperback on (Dec, 2010) - Walmart, Etsy, Ebay
Professor Pincushion's Beginner Guide to Sewing: Garment Making for Nervous Newbies - Walmart, Etsy, eBay
Ultimate Illustrated Guide to Sewing Clothes: A Complete Course on Making Clothing for - Walmart, Etsy, eBay