Installing a utility sink next to your washer enables you to use the same water hookup, saving your time as well as the amount of space in your laundry room. To hook up with your washer and sink, you don't need to call in a professional plumber. With little DIY experience and the right set of tools, you can easily set up your utility sink next to your washer in less than an hour. Follow our step by step guide below on how to get it done.
How To Install A Utility Sink Next To Washer?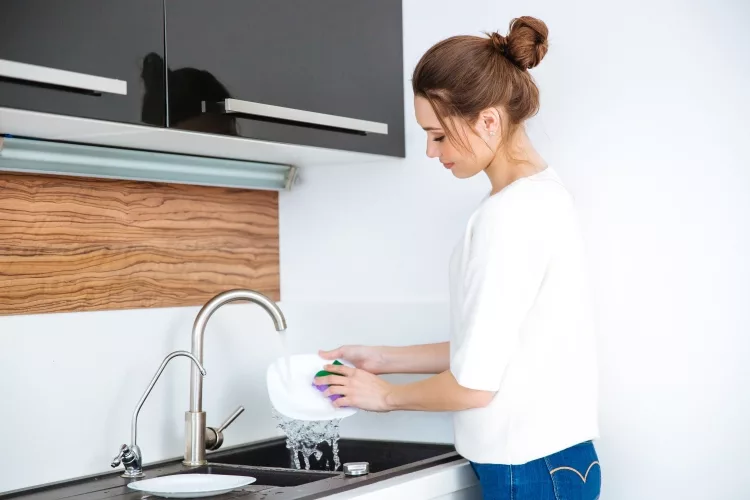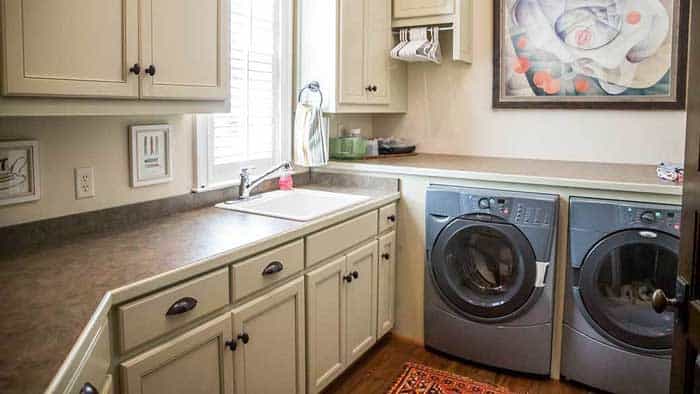 Wrench
Pliers
Measuring stick
Hot and cold flexible tubing
Plumber's glue
PVC Y-fitting
PVC hand saw
Dual head brass pipe splitter
De-burrer or a small piece of sandpaper
Step-by-step guide for installing utility sink next to the washer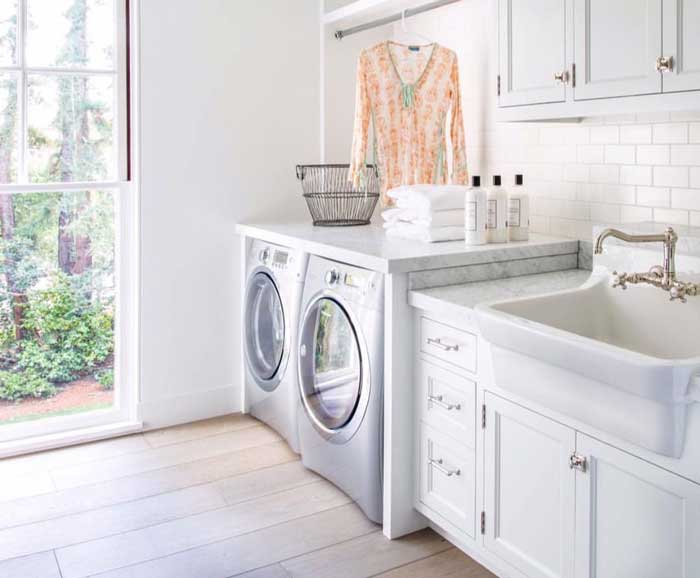 Step 1-Measure the height of sink drain pipe
As the rule of thumb goes in all plumbing jobs, the first thing you ought to do is turn off the main water supply.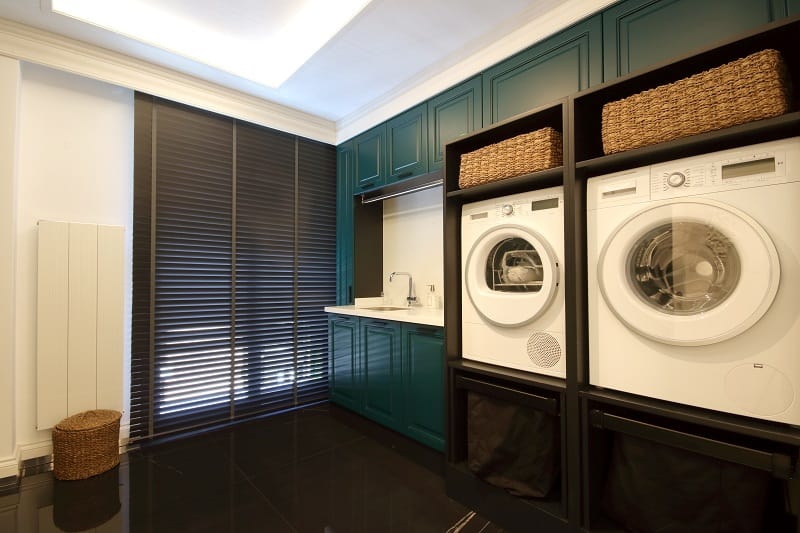 Then, use a tape measure or measuring stick to get the height of drain pipe connection from the ground to your utility sink. Locate the existing washer drain line where it gets down into the wall or floor.
Use the sink drain line measurements you've taken to measure up from ground a mark on your washer drain line.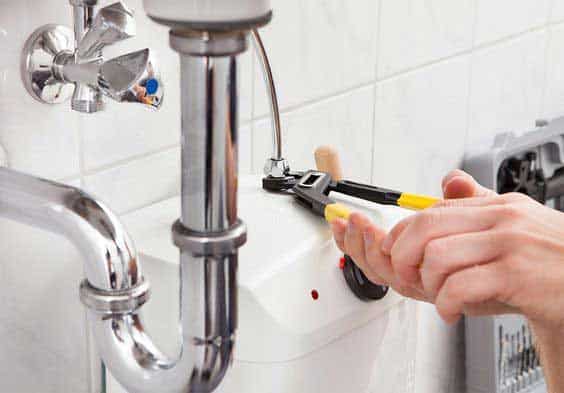 The mark will indicate where your new Y-fitting will be installed to separate the washing machine drain from the utility sink drain.
Step 2-Cut a section of the drain pipe
Now you'll need to grab that pipe cutter or PVC hand saw to make a cut of the existing drain pipe, extending from the make you just made in the previous step all the way up to anywhere around the venting pipe connecting above it.
As you can easily tell, cutting this piece off means cutting the horizontal T-fitting where water from your washer enters the exit drain pipe.
Use a de-burrer or a piece of sandpaper to smoothen out the inside parts of the pipes you've just cut to eliminate any rough or uneven edges that might cause loose connections for the pipes.
Step 3-Install the Y-fitting
Take the PVC Y-fitting and connect it to your existing drain pipe. This fitting features up to 3 arms.
You'll need to connect it in such a way that one sidearm attaches to the horizontal flow where the washer drain exits, and the other side arm will attach to the pipe running from your utility sink drain. And the top arm goes to the venting pipe above.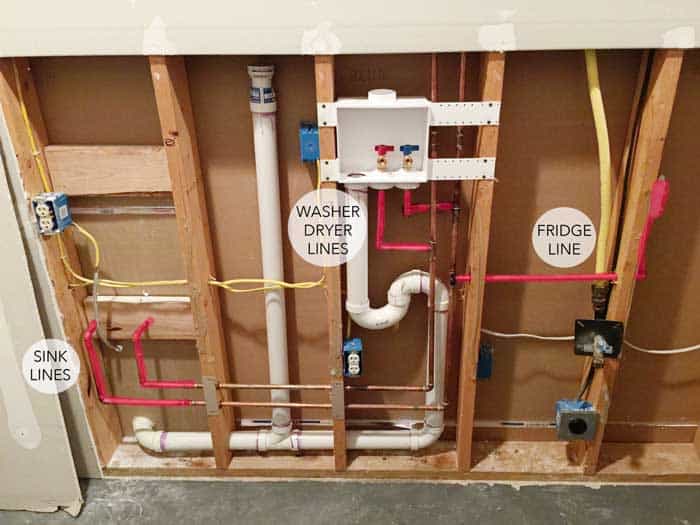 Having installed the fitting correctly, you can now use the plumber's putty or glue to glue all the connections together. Make sure the connection you form is completely tight, waterproof, and secure.
Step 4- Install a pipe splitter for cold and hot water lines
Locate the hot and cold water pipe connections near your washing machine. These are quite easy to locate as they're the lines running to a single fitting on your water pipe.
Once you have these connection lines in sight, you can go ahead and disconnect the water pipe on the cold and hot hookups.
What if you can't seem to find this fitting and the water source comes in a long, continuous line? You'll need to cut the pipe with a pipe cutter. Cut it around an area that measures midway between your utility sink and washer. if you'd like to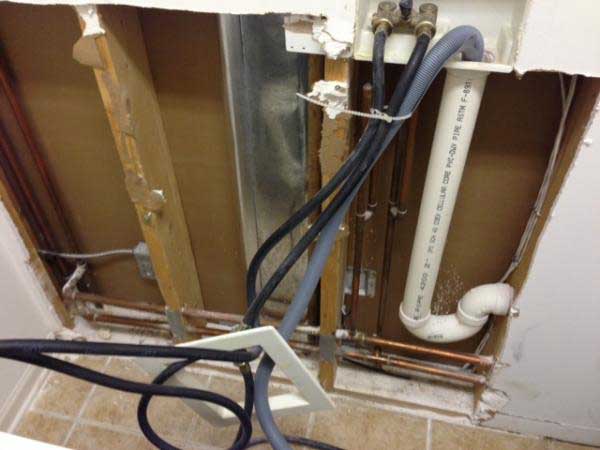 Be sure to have a bucket within reach to catch any water that might come out of the pipe.
Take the dual head brass pipe splitter and screw it onto the main water supply for the cold and water lines to help separate the water supply from the cold and hot pipes. Use a wrench to make a tight and secure connection. The splitter will enable you to run one lien to your washer and the other to your sink.
After you've connected the splitter to hot and cold water pipes, reconnect the washer with existing lines and use the wrench or pliers to ensure you make tight and secure connections.
Step 5-Hook the hoses to your utility sink
At this stage, you've done pretty much everything to connect the washer and utility sink. All that's left now is to connect the hoses that will be supplying hot and cold water to your utility sink.
Get a tubing that's long enough to reach your sink and hook it from the pipe splitter you installed in the previous step to the cold and hot lines of your utility sink.
For easy distinction, get blue tubing for cold water line and red tubing for hot water line, just like in your kitchen sink.
Confirm that you hook each tubing to the correct line and then use a wrench to tighten them for a more secure, leak-free connection.
PRO TIP: After this last step, ensure all the connections you've made are tight and secure. Turn on the main water supply and look out for any leaks and fix them immediately. Also, make sure the water runs smoothly and quickly.
Bonus step: Installing the new sink faucet
If you haven't already done this, you'll also need to install a faucet to your new utility sink. Again, this is a simple task that everyone homeowner can do on their own.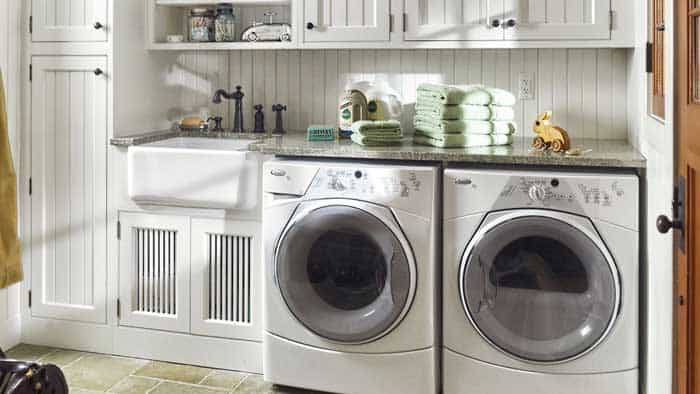 Here are quick steps on how you can get it done:
You'll need to do this with the water supply turned off to avoid flooding the area.
Put the faucet in place. The utility sinks usually feature a predrilled hole where you slide the faucet. The best utility sink faucet models usually come with rubber, gasket, and nuts to help you hassle-freely secure the faucet head into your sink. To get a tighter seal, consider using the plumber's putty in addition to the rubber and gasket that comes with the faucet.
Tighten the faucet mounting nuts under the sink. Use a wrench for this part to ensure your nights are well secured.
Now, hook the ends of the cold and hot water lines to the corresponding faucet handles from the underside and use the pliers or a wrench to tighten them.
Turn on the water supply to your utility sink to see if everything runs alright. Check if there are any leaks and fix them ASAP!
Quick TIP: If you don't know what type of faucet to get for your new sink, we suggest going for a pull down kitchen faucet, the most basic faucet you can get on the market today. The beauty of this type of sink is that it features a spray wand that pulls down straight into your sink-making it great for cleaning dishes, pets, and other items. It's also great for cleaning up a messy sink.
Final Verdict
So that's how you install a utility sink next to your washer. This kind of setup is not only time-saving but also helps save water and your laundry space. You don't need to spend your money on a professional plumber to do the utility sink next to the washer setup. Simply arm yourself with all the key items we've listed here and follow our simple steps, and you'll get it done in under an hour.