Besides Accountants and lawyers, teachers are the most prominent professionals who need to deal with tons of filing and documentation. Tracking these docs and files regularly is almost impossible if you don't label them.
So what do you do? Print out a whole A4-sized paper for a tiny two-word phrase? Let alone using the anti-cutter and scissors! What a terrible mess that would be!
Well, here's a simple and better solution - use a label printer. Put down tiny words, print it out, and paste it on the files - you're done in seconds!
Editor's Recommendation: Top Label Maker for Teachers in 2023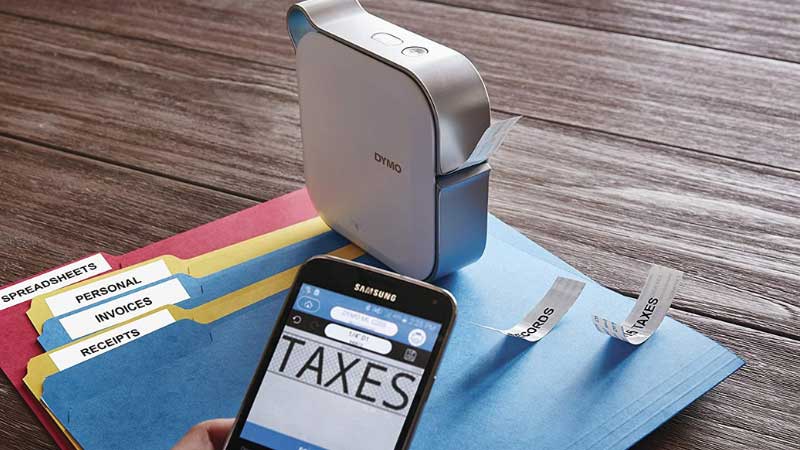 But what's the best label maker for teachers ? That's the question we're going to answer today. Keep reading till the end to find it out!
10 Best Label Maker for Teachers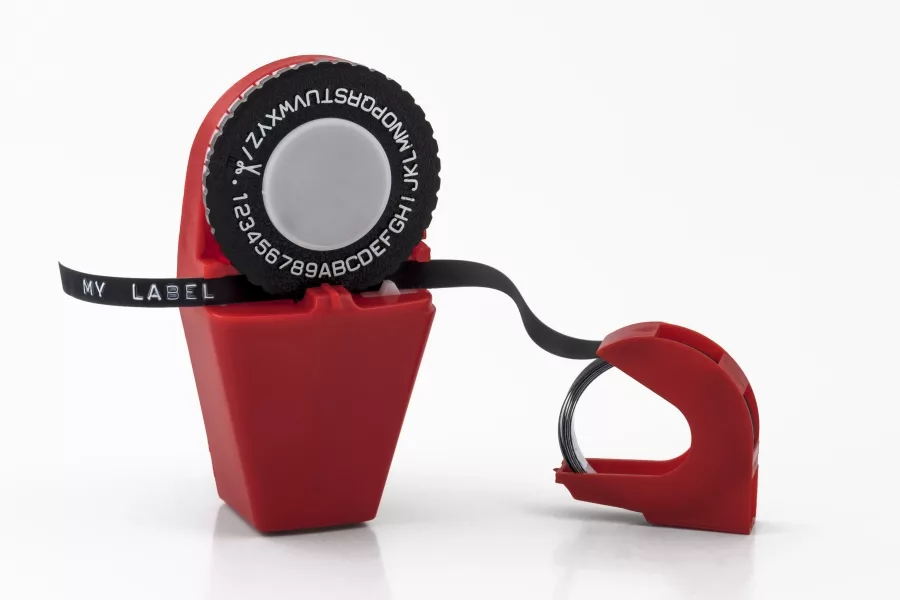 These printing devices are tiny and compact. Hundreds of manufacturers are producing these gadgets every day. Sorting out the most useful models is one of the hardest riddles we had to crack. But we did our best to finally make a list of the top 10 label makers. Here's what we have found.
1. Brother P-touchPTD400AD
When we talk about professional printing, there's a little room for not mentioning Brother's devices. They have been ruling the market for quite a long time with top-notch technology and excellent quality.
The PTD400AD label printer is one of the visible displays of what Brother's excellence is all about. Weighing around only 1.6-pounds, it's an ideal compact device for a teacher to carry inside his/her carrying bag.
It's got a wide and clear display on top with an easy-to-type qwerty keypad attached to it. Resembling a PC keyboard, the qwerty pad takes no effort to type on it, even if it's a small one. This surely makes typing labels on the go a comfortable possibility.
Choose from over 99 frames, 600 symbols, and 14 different fonts to type just what you want on the label. Be it a name of your student, a file name, or even a serial number; it's just as easy to type as a pie.
You can power it up with two different types of electric current. Both AC and DC connection is available for the printer with the AC cord coming with the package. As for the batteries, you would need to buy those separately.
One exciting feature of this device is its memory. It can store some previous templates you have made in its memory and can recreate the same design within a few clicks. The gadget can save about fifty recently and commonly used label-designs that you can just select and print later.
The device can print on labels as high as 15.8 mm. That's a good height for any document labels we use on a regular basis. Having all these features in mind, it's a true functional gadget for any busy teacher!
Pros
Complete qwerty keyboard
Wide graphical display for a clear view of what you're printing
Around 50 designs can be saved in the internal memory
Runs on both AC and DC power
Print as many as nine copies at a time
Cons
Single print leaves large margins on both sides of the label

2. DYMO LetraTag LT-100H
What if we told you, you can use a label printer just like a TV or AC remote? Like carry it in the palm of your hands, click it to print out in seconds, and run on batteries? Well, all the answers are in one device - Dymo LT-100H.
The printer comes in an amazingly sleek design. And it literally resembles handheld remote devices that you use for your TV or AC. It can even be stored in a holder that can be attached to a wall, as well.
Weighing just above 10 ounces, you can tell how compact it is. Despite the small size, it comes with; the LT-100H has a vibrant LCD screen to display what you're typing and printing. The 13-character graphical display makes it impossible to make any mistake while you type.
The display can hold 13 characters that home two lines of printing at a time. As for the font styles, you have the freedom to choose from 5 different font types and 8 other box styles. Its 3-language support system is truly useful in many cases.
Keep track of your designs even after you're done with it. The LT-100H can store up to 9 label designs you have worked on within this device. This allows you to imitate the design just by a few clicks from memory.
As it runs on batteries, you may be wondering about its power backup. While it does support a good amount of time, the good thing is, it doesn't drain drastically. Thanks to its automatic power-off mode, it quickly turns itself off if you're not using it.
Pros
Very lightweight product
13-character useful bright LCD screen
Automatic power-off system allows saving power
9-label memory system for future reference.
Can be carried along in a carrying bag easily.
Cons
Sticker paper's backing is pretty hard to peel off.

3. Brother P-touch Handheld PT70BM
Have you been a gamer in your childhood? If yes, then the Brother PT70BM will definitely remind you of your gaming times! It is designed to be handheld in a comfortable way - just like a gaming console!
The way it's handled, it's obvious to have a QWERTY keyboard on it, and yes, it does. That's not the only thing we liked about the keyboard. It has buttons raised that you can feel when you touch. This makes it way more interactive and comfortable to type.
There's a clear 8-character LCD screen on the device that helps you type accurately. It also has two-line typing space to add more information on the label you want to compose.
Just lose yourself in the abundance of font styles. The Brother PT70BM houses in almost 54 different font styles. [sA1] Choose from these vast options to match your personality on the go.
That's not it; you can get the labels in six different sizes, as well. Plus, nine preset templates are also there to push your creativity even further.
When you're dealing with files and docs that are subject to date and time, this label printer is going to be pretty handy in that case. You can print date and time on the label just like you type any words on it. It's pretty useful when you need to separate test results of different dates and sessions.
You can print on labels that measure around 9 mm to 12 mm. Find the one that suits your needs and simply print on it and get going!
Pros
8-ounce device comes as almost weightless
QWERTY keyboard for easy typing
Allows two-line printing on it
Includes printing date and time
Prints on up to 12 mm label paper
Cons
Battery backup is a bit disappointing.

4. DYMO LetraTag LT-100T Plus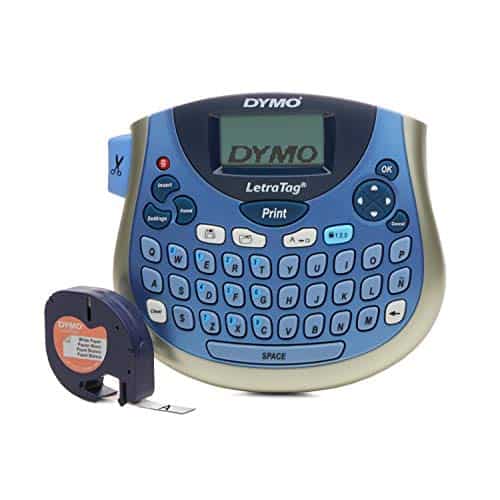 If you think that DYMO LT-100H felt like just the right device you would love to have, then the LT-100T plus may appear to you even better.
Why? Well, apart from the fact that the LT-100T plus has all the features LT-100H had, this one is better in handling. If you're looking for the best label maker for teachers , this one is surely going to impress you.
It comes with a curved oval shape that makes it a perfect gadget to hold with both of your hands. Just take it in your hands, type in the tag, and print with a click of a button. It's that simple and easy.
Having a QWERTY pad makes it a simple and easy device to use. We all are pretty much comfortable with our PC and laptop keyboard (even smartphone keyboard, as well). That's why it will be of great comfort to use the same keyboard layout on this device.
Its wide and clear LCD screen lets you type accurately and design according to your choice. The display makes room for 2-line printing and other designing for your labels. Choose from a variety of 195 symbols and numerous font styles to make your signature labels on the go!
That's not it. If you don't want to repeat what you've done earlier, simply rely on the device's memory. It can hold up to 9 label designs and formats in its memory. Just press a few buttons to recollect it and get a fresh new print.
Apart from simply typing the names of the label, you get to enclose the date and time on the labels. It's an excellent addition for you if you need to track dates on your folders.
Pros
Comes with a functional QWERTY keypad
Additional time and date printing option
Memory can store 9 labels
Runs on both AC and DC power
Includes numerous default symbols and fonts
Cons
There's no punctuation in the keypad

5. DYMO Mobile Labeler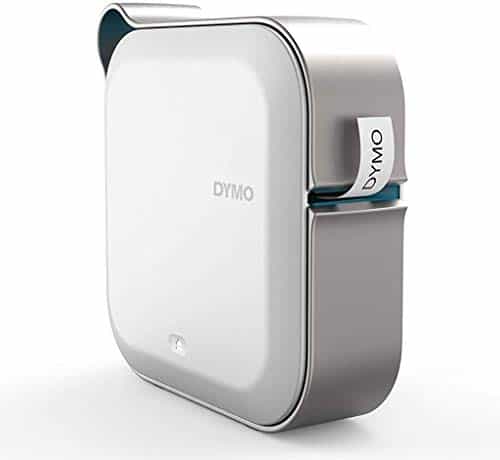 Want to go fully digital in label printing? If that's what you're aiming to do, own the Dymo labeler Bluetooth version.
This one is a hi-tech device that can be connected to your phone via Bluetooth. Whether you use an iOS device or an android - you can use this one easily. Simply sync the gadget using the recommended Dymo app, and you're good to go.
So what can you do with the app? Well, plenty of things, actually. The app allows you to check to spell while you type and also allows you to use its speech to text option if you want to skip the typing part.
The best part is, you can print colorful tags from it. You can use as many colors as you want and that too, with a 300 dpi rate. That's only possible by exploring the app to its fullest capacity.
Use hundreds of templates and designs from google and iOS app font and design library to unleash your creativity. As for the size options, the printer works great with labels measuring 1/4, 3/8, ½, 3/4, and 1-inch D1 labels.
Interestingly the device uses a thermal transfer printing technique that doesn't require any use of ink or toner. So, you get to save a lot in this case.
Pros
Totally app-based printer for easy use
Can print colorful tags and labels
Hundreds of fonts and designs to choose from
High-resolution printing up to 300 dpi
Uses thermal transfer printing to save on ink and toner
Cons
App has a tendency to crash frequently

6. Brother Printer RPTD400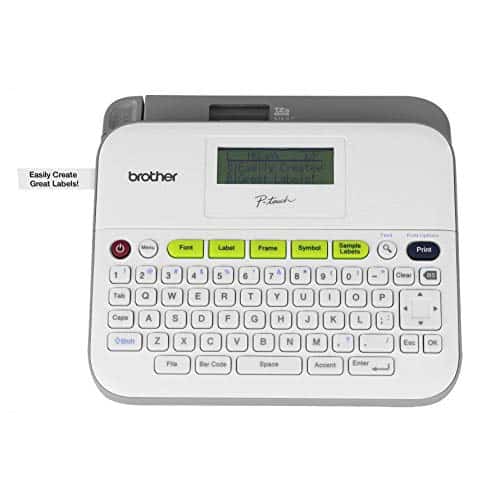 So, here's another Brother tag printer on our list. This one is a bit special. The RPTD400 is quite a simple but effective device as far as tag printing is concerned.
The first thing you will notice about the device is that it can be placed on a table or a solid surface like a big-size calculator. That's pretty useful when you don't have the option to hold it into your hands and type. Simply put it on the desk and use it like a typewriter or a PC keyboard!
It comes with some excellent-quality labels that are easy to peel off and durable. Thanks to the lamination on the tapes, these are some of the toughest labels you can find on the market.
The machine can handle and print at best 18 mm of labels. That's enough for anyone to get going with his/her regular label printing tasks.
You just can't ignore the large display it comes with. This allows you to read all the texts you are about to print in a crystal clear way. It supports large character printing, as well - something that very few devices can afford.
That's not all; the gadget can hold 5 lines of text at a time in a label. So if you need to label your files with a few words more, switch to the Brother RPTD400 now!
It's easy for such a device to store memories of past activities. All you need to do is just find the previous templates and formats. Once done, it's just a few clicks away to repeat the template.
Pros
Suitable device to be placed on the desk
Display supports large texts
Can print on at best 18mm labels
Able to recall from previous designs
Comes with durable and easy to peel off labels
Cons
Bit on the heavier side to handle

7. Brother VC-500W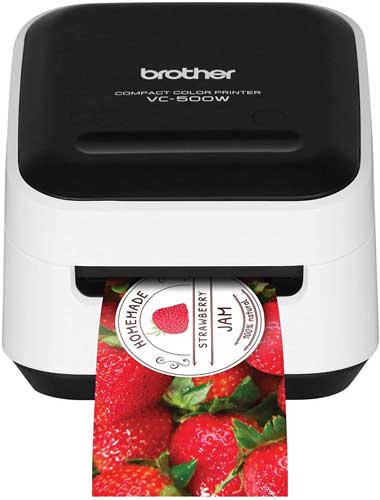 When it comes to innovation, Brother is the only name that comes first in our mind. Take, for example, the VC-500W from their production house. It's a wireless tag printer that requires no wired connections to sync with your phone! Is it the best label maker for teachers ? Well, let's find out!
Yes, it uses Wi-Fi and Wireless direct to connect to your phone or tablet. Now simply use the pics you have edited on your phone and saved in the gallery to print through the gadget. That's not all you have got; it comes with a free label editor app, as well.
Just use it on your phone to edit the labels you've just created. A few taps on the tablet or phone screen, and you get the printouts.
What's so exciting about the VC-500W is that it works with Zink Zero ink technology. You get all the vivid and vibrant colors on the labels, but with no ink used. That works on the thermal printing technique to save more ink and money.
Use labels that measure up to 2-inch wide and 17-inch long. No matter what kind of document you want to tag with it, the larger and smaller tag option on it works for every file type.
One thing that the device stands out for is the CZ paper label it uses. These papers are perfectly water, tear, and smudge resistant. No matter how many times you spill water on the document's label, it won't fade the text or soften the tag either.
Pros
Complete digital device can be connected to phones and tablets
Comes with a free label editor app
Support vivid and vibrant color
Packed with water and tear-resistant CZ tag paper
Works with zink zero ink technology
Cons
Desktop integration of the printer is not so easy.

8. Brother P-touchPTD210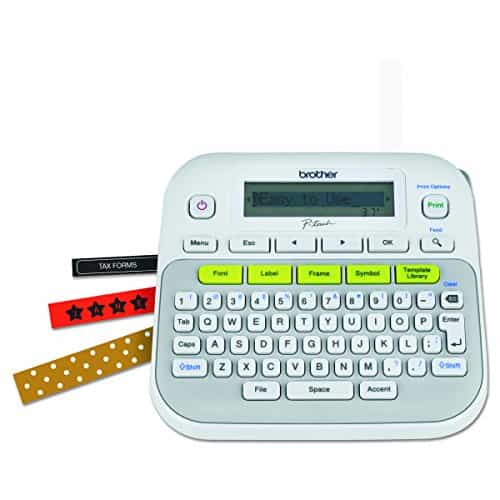 This one-pound portable tag composer is one of the simplest devices Brother came with to date. It has a simple QWERTY keyboard for easy typing of whatever you want on a label and houses a few buttons to quick access fonts and designs.
The gadget has a large LCD screen that lets you see what you are typing in. It's quite useful that you can see the texts clearly on it even though it is not a colorful one. Even if you are working under daylight, it still is visible as a regular calculator device.
Having such a large LCD screen comes with a few perks, too. It's easy to use 2-line labels on the device, given that the label you're using is wide enough. The printer can handle at best a 12 mm wide label.
Choose from 14 different fonts, 97 exciting frames, and unleash your potential creativity using 600 symbols from the preset options of the device.
Running the machine with both AC and DC power is a great addition to its features. If you are traveling with this gadget, just use 6 AAA batteries inside, and it will support you wirelessly. In case you're residing at your school or home, an AC adapter can help you in running it smoothly.
Pros
Functional LCD Screen accommodates large texts
Available for 2-line text printing
Runs on both AC and DC power
Numerous present fonts and styles option
Comes with a cool carrying pack for traveling
Cons
While running on DC power, the backup is not quite long enough.

9. DYMO Label Maker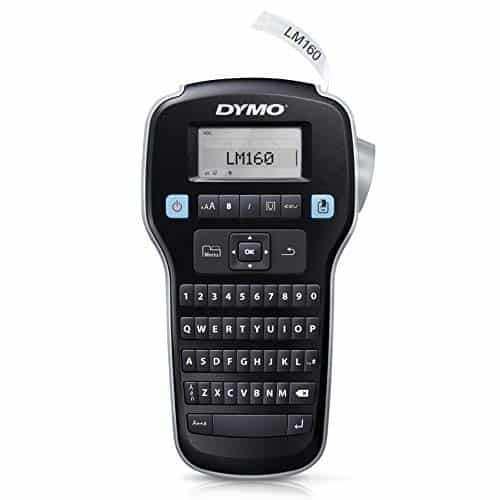 As we've already reviewed other devices from Dymo, you can tell how dedicated they are to producing quality material. The Dymo Label Maker 160 is yet another example of their excellence. It's a promising device to be labeled as the best label printer for teachers if light-weight is considered!
This 0.77-ounce device is pretty lightweight. You can't tell if you are holding anything in your hands or when you get to hold it. The best part is, it comes in a compact shape, as well. If your hands are large enough, you may even be able to use it on the one hand!
It comes with a relatively large display on the top. The clarity of the display is really admirable and fantastic. It works just the same day and night and works great under daylight.
Take a reading of what you've been typing for your label and correct it if there's any mistake or not. The large display helps typing larger texts for big-sized labels.
The Label Maker 160 has more than 20 different ways to format a text for labeling.
That's not all; the device holds up to 200 symbols that you can use to design a label. With six different font sizes, you can play with your creative mind with it!
Having water-resistant tag-paper is a great feature to have on such a device. The text doesn't disappear or fade away if you accidentally spill water over it. To save more on battery life, the printer comes with an automatic switch-off option. The label composer will turn itself off as soon as it detects idleness. So, hats off to the designer to come up with such an idea to save more power!
Pros
Very lightweight device with 0.77 ounces of weight
Large and clean display
Automatic turn off the system to save more on batteries
Comes with water-resistant printing tag
Choose from hundreds of preset designs and formats
Cons
No access to special characters on the keyboard

10. DYMO Embossing Label Maker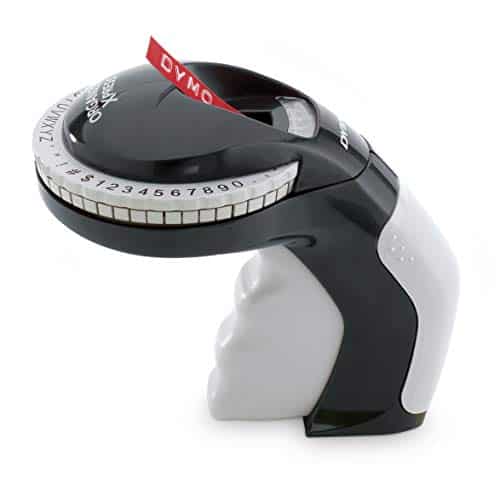 So we wrap up our label maker for teachers review with another Dymo product - the embossing label maker. This one is a vintage and classic device that may not be the prime choice for many out there. It works on a rotation basis, and the device is pretty simple.
Although it doesn't have any keyboard on it, it does have some rotating text and symbols. All you need to do is just rotate the dial and press the trigger to put the desired text on the label. It takes a lot of time, but it's fun, as well.
You get to use around 49 texts, symbols, and numbers in this gadget. It's pretty lightweight, and you can hold it like a gun in your hand - this tells a lot how comfortable it is while you have it in the palm of your hands.
The best part of this label maker is that you need no battery to run it. You don't need neither AC nor DC power. [sA1] It works simply on the basis of the physical rotation powered by human effort. So, it's basically a manual label maker and works fine, as well.
So if you're into simple devices and trying to keep things simple, you can try this one without a doubt. Although it may take some time to have fluency in using, it won't be a boring learning curve!
Pros
Lightweight rotating device can be easily used
Needs no battery or other power to operate
Can come with different color-labels in it
Built with top-quality plastic material
Comfortable grip for faster typing
Cons
Comes with no display or keyboard

What to Look for Before Buying a Label Maker?
Although we have pinpointed the best options you have in our label maker for teachers review , it's up to you which one you want to go after. But before you make up your mind on one printer, here are some quick guidelines you need to follow.
What Type of Label Maker You Want
Before even going into specs, try figuring out the type of machine you want. There are generally three types of label printers - manual, keyboarded, and app-based. The manual one may be suitable for lighter and simpler labeling that may take a while to prepare.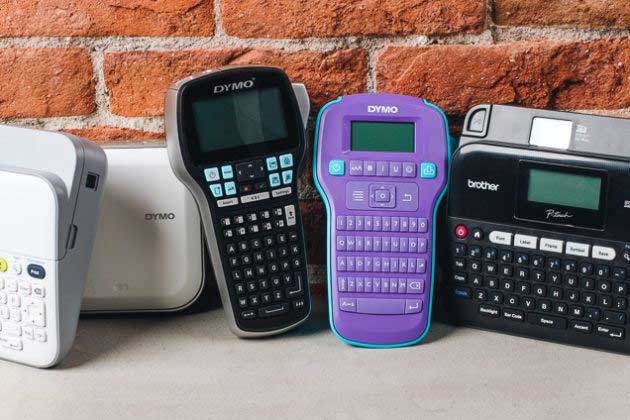 The keyboarded ones are the most widely used models. These devices come with a keyboard and a large display. You can type as you want and can see what you've written on the display before you press the print button.
As for the wireless app-based ones, these are dependent on PC or mobile apps to run. You need to sync the devices with your phone or tablet to write and design labels.
Large and Clear Display
If you can manage, go for the device that comes with a large display. It will allow you to clearly see what you are typing in, and the label text will be more accurate and clear. Plus, a large display can home more lines of text and gives room for better label texts.
Useful Keyboards
For most users, a QWERTY keyboard is the most suitable one for such a device. That's because we are all pretty much familiar with the layout as we use it on our PC and mobile phones. So it's better if we do not switch to any other typing layout to confuse our instincts.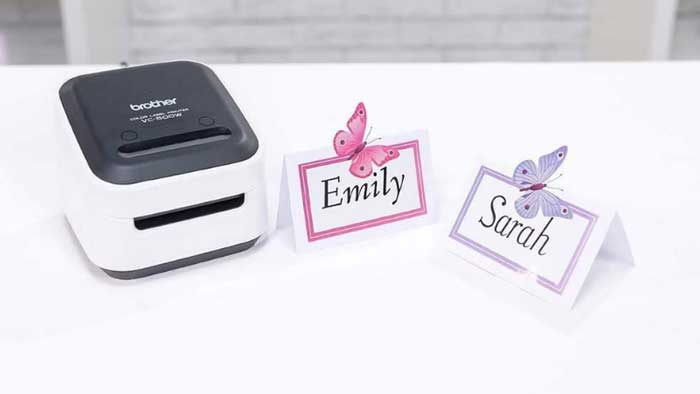 Besides, using a QWERTY layout will make it much easier to type and save time. Apart from getting a QWERTY keyboard, make sure the buttons are well-risen for a soft and smooth touch. It will ensure better and accurate typing.
Font and Style Options
Being a teacher, you need to be more creative and fun-loving every single day. That's what your labels on the docs should reflect, as well. So try to be as creative as possible with the label design and text.
Try to locate the device that has the maximum option of choosing from different fonts, formats, symbols, boxes, and all. It will open the door to your creative mind more than ever. You can always resort to the options we discussed in our label maker for teachers review .
Power Source
As an electronic device, the tag printer needs to be connected to a power source. Most devices come with both AC and DC connection availability, but it's possible that some would have no provision for any AC power source, too.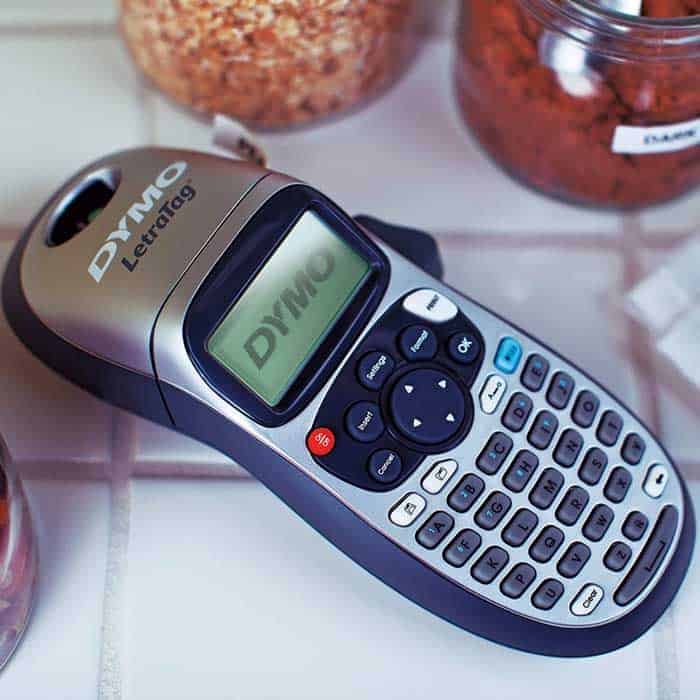 It's always better to keep a second power option alive when you're using an electronic device. Try to find a printing machine that can run on both AC and DC power so that you don't have to worry when one of the power sources is not available or fails to support.
Portability
It's not that you will be coming back from your school and start printing labels at home so that you can get back to your school tomorrow to paste the labels. That means you need the device with you on the go whenever you need labeling to be done.
So the device should definitely be lightweight and portable. Try the models that come within the range of below 1 pound to around 1.5 pounds. You can easily carry those devices in your carrying bag.
Frequently Asked Questions
1. Is a label maker worth it?
Label makers are definitely worth it. You can skip the huge mess of printing two or three words of labels on a large computer paper and cut it again with scissors and all. A label maker does its job within seconds.
2. Do label printers come with batteries?
Yes, most commercial label printers do come with a battery-power option, but you may need to buy the batteries separately. Some models come with both battery and power-cord connection format.
3. How do I make my own labels?
If you are using a keyboard-type label maker, it's easy. Just type in the label text you want. On the other hand, for digital devices, you may use apps to do the same on the PC or phone.
4. Are labels water-resistant?
Not all labels are water-resistant. You definitely need to check it before you buy a set. There are a few label-papers in the market that come with water-resistance capacity.
5. Can I use special characters on the labels?
Yes, you can, only if the keyboard layout allows it. Although there are some big brands that do not come with such options, if you can look further into the options, you may find some.
Final Words
While there are many brands claiming to be the best label maker for teachers , it's only a teacher who can decide on it, obviously. We tried to walk in the shoes of an educator today and tried to list down the devices we found to be useful to a tutor.
You can try out one of these 10 gadgets that we have reviewed here. If you're planning to explore more, try sticking to our buying guide here to make the best move possible.
Happy printing!
Buy now at Etsy, Walmart, eBay (limited quantity)
Brother P-touch Label Maker, PC-Connectable Labeler, PTD600, Color Display, - Walmart, Etsy, eBay
Brother - ColAura Color Photo and Label Printer (Packaging May Vary) - Walmart, Etsy, eBay
DYMO Label Printer LabelWriter 450 Direct Thermal Label Printer with 2 Address Label - Walmart, Etsy, eBay
DYMO COLORPOP Color Label Maker, Handheld, Purple - Walmart, Etsy, eBay
DYMO Label Maker, LetraTag 100H Handheld Label Maker, Easy-to-Use, 13 Character LCD - Walmart, Etsy, Ebay