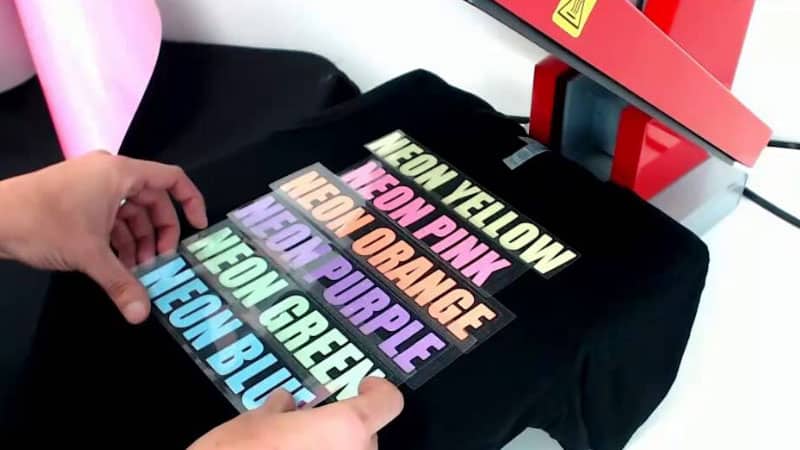 Best Heat Transfer Vinyl Reviews 2020 – Buying Guide
Looking for good-quality, easy to use (weed), and wallet-friendly heat transfer vinyl for your upcoming t-shirt customization project?
If yes, you just found the right page.
We understand that it can be quite daunting trying to pick the best heat transfer vinyl for your customization project, especially if it's your first time.
There are just too many options out there and many considerations to make to ensure you chose the perfect product for the job.
In this comprehensive guide, you'll learn all the vital information you need to know before buying a HTV, the lemons to avoid, and our picks for some of the hottest HTVs on the market today.
Let's get into the details…
What Is a Heat Transfer Vinyl?
Before we get into more details about our top picks, let's have an idea of what the heat transfer vinyl (HTV) really is.
Heat transfer vinyl (HTV), also known as iron-on vinyl, refers to a special type of vinyl that enables you to transfer your preferred artwork or designs to various substrates such as t-shirts, hats, mugs, etc.
The HTV usually comes in the form of a sheet or a roll—typically measuring 12 inches wide. On a typical HTV sheet or roll, you'll find a clear plastic carrier covering the top area…and on the other side, you'll get the heat-sensitive adhesive part of the vinyl (note that this adhesive isn't tacky or sticky to the touch).
The heat transfer vinyl comes in various styles and color options to ensure you get the perfect one for your specific project. You can find a standard, glitter, metallic, glow-in-the-dark, flocked, or holographic heat transfer vinyls. You can get all of these styles of HTV in single colors, full-color patterns, and even in printable version that you'll need to use with solvent ink and solvent printer.
To use a HTV, you simply cut out your design from the vinyl, weed it, and then place it on your target surface for heat application. You cut your design on the adhesive side while the clear backing sheet helps hold your design in place until you transfer it to the target surface, say a t-shirt or any other suitable substrate.
For the best results, it's always advisable to cut your design with the help of a vinyl cutting machine.
With the high popularity and demand for HTV, more and more brands have come up to produce this material. It's no wonder the market is filled with all types of HTVs, in varying qualities, prices, ease of use, etc.
In the next section, we take a closer look at some of the top HTVs that scored the highest in our selection criteria based on the durability, ease of weeding, and affordability.
10 Best Heat Transfer Vinyl Reviews:
1. EZ Craft USA Permanent Adhesive Backed Vinyl Sheets
If you're looking for the best quality heat transfer vinyl at a reasonable price, you just found this EZ Craft USA permanent adhesive-backed vinyl sheet. The complete package comes with up to 40 sheets of varying colors—including matte, glossy, and metallic colors.
One of the coolest things about this vinyl is the great quality it comes with. It features a top-quality adhesive backing plus liner that help protect the adhesive until it's ready for use. This separates it from those low-quality backings which tend to ruin and separate from vinyl cutting before you can even use it.
Another fantastic thing about this vinyl is that it features an easy to peel liner. This makes the weeding process easier and less challenging, giving you an easy vinyl transfer experience. We also love the fact that this vinyl is shipped flat and ready to use…no more bent corners which frustrate you, especially when using a vinyl cutting machine.
Note that this high-quality vinyl will last for an incredibly long period of time. it's guaranteed to last for up to 5 years indoors and 3 years outdoors. Quite impressive, right?
You can use this vinyl for nearly all your craft projects including making decal, stickers, banners, signs, scrapbooking, window backing, to name but a few.
Highlighted Features:
2. UnuaST Heat Transfer Vinyl for T-Shirts
UnuaST HTV is another best vinyl for shirts. It comes in a pack of 12 vinyl sheets, with varying colors, including extra white and black, to ensure you've got the right vinyl for every crafting project.
The reasonably priced heat transfer vinyl bundle is also pretty easy to use. The vinyl cuts quite easily and transferring it to your t-shirt is as easy as a breeze. During cutting, you'll notice that the small cutouts that stick to the plastic to deliver unmatched precision.
When it comes to the weeding part, the process also feels easy and smooth. Keep in mind that this vinyl is an updated version that doesn't feature any protective film—eliminating the need to spend some time peeling off the film during transfer.
Regarding the quality, this vinyl is also designed to last. this is because it's made using PU (polyethylene), unlike the cheaper vinyl made using PVC material. You can trust the vinyl design you transfer on your tee to last for a really long time without fading, peeling or cracking.
And oh! Don't forget that this vinyl is also 100% machine wash friendly. This simply means you can wash your t-shirts and other garments customized with this vinyl in a washer without worrying about the design fading or cracking. Even after 50 wash cycles, your designs will maintain the same original color!
Highlighted Features:
3. Firefly Craft Heat Transfer Vinyl Bundle
Looking for even larger size heat transfer vinyl? If yes, you can't go wrong with this Firefly Craft HTV bundle. Unlike most manufacturers who produce HTV in sizes 12 x 12-in or 12 x 15-in, these sheets come in full size of 12 x 20 inches. The way we see it, the extra 5-8 inches means you'll enjoy more designs for free.
Given the increased size of these vinyl sheets, you might be wondering if it'll work with your cutting machine. The truth is, the vinyl maintains a width f 12 inches which is the ideal size for loading onto most cutting machines—including Cricut air explore, Graphtec, silhouette cameo, US Cutter, and so on.
Each roll/sheet included in this package comes ready to cut and excellently adheres to your fabrics, whether you apply it with a heat press machine or your household iron.
This iron-on vinyl comes engineered to give you an easy weeding experience. You'll be amazed at how easily your designs separate, eliminating time wastage and frustration associated with the weeding part.
You'll also appreciate the fact that this is a premium HTV designed to last longer than most of its competition. If you do a proper application of this vinyl to your garments, you'll be surprised at how the vinyl designs will hold up their original, brand new looks, even after your garments fade.
As you'd expect, this top-rated HTV bundle comes in a variety of colors to give you full freedom on how you can customize your t-shirts, pillowcases, hats, mugs, leather bags, and more.
Highlighted Features:
4. Blulu 1 12 Inch by 5 Feet Roll Heat Transfer Vinyl
This particular HTV comes in a single roll of your preferred color at an attractive price tag. But one roll doesn't make this vinyl insufficient for your project…the roll measures 12 inches wide and up to 5 ft. long, so it'll let you successfully complete a number of projects.
With a width of up to 12 inches, it's one of the best heat transfer vinyl for Cricut and other similar cutting machines.
One of the reasons this vinyl won a spot on our list if its ease of use and transfer. The designs you make using the vinyl doesn't easily come off during weeding. Even better, they don't easily pull apart or stick to the carrier sheet during the transfer.
The cut lines are highly visible and you can trust your Cricut or any other vinyl cutter to do a clean job cutting out your designs from this vinyl.
This iron-on vinyl is also designed for the ultimate durability and flexibility. When you put your hands on the vinyl, you'll notice it looks thin yet strong. These two characteristics enable it to flex easily without fading, cracking, peeling, etc. as long you apply this vinyl correctly, it'll withstand rugged plays and multiple washes.
Just like all the other HTVs we've featured on this list, this roll also enjoys wide applications—from hats, t-shirts, sweatshirts, pillowcases, mugs, and more.
Highlighted Features:
5. Siser EasyWeed HTV 11.8" x 3ft Roll - Iron on Heat Transfer Vinyl
You can't think about the best-quality, easy to use HTV without thinking about Siser. The brand has made a name for itself by consistently producing top-notch HTVs that are easy to use and long-lasting. Not to forget their products come with fair price tags.
This particular Siser EasyWeed HTV is no exception. it comes in the form of a roll measuring 11.8 inches by 3 feet long. This is doubtlessly a huge roll of HTV that you can use to do a wide range of customization projects.
Since the vinyl has a width of 11.8 inches, it means that it can work with virtually any vinyl cutting machine including silhouette, Cricut Explore Air 2, Cricut Maker, Roland, Graphtec, Brother ScanNCut, among others.
As all the previous users agree, this is one of the easiest to use iron-on vinyls. It boasts of a pressure-sensitive backing which enables you to line up intricate designs pretty easily. It peels hot or cold, with zero cool down temperature required. And doesn't lift during peeling.
Still at it, the vinyl is easily layerable with other EasyWeed produces. This enables you to hassle-freely mix and match various colors of your choice for endless possibilities. you can also use this vinyl as a base layer for holographic, glitter, and others.
The vinyl is extremely durable and will not easily fade wash after wash.
For the application part, you can use this vinyl to decorate t-shirts, pants, bags, hoodies, pillows, and more. It comes CPSIA certified, meaning it's 100% safe for decorating your young ones' clothes and accessories.
Highlighted Features:
6. GIO-FLEX PU 10" x 12" Heat Transfer Vinyl
If your craft projects involve detailed artworks, GIO-FLEX PU is the best iron on vinyl for you. This vinyl is made using a soft and thin polyurethane heat transfer film that's light and stretchable, enabling you to easily work on detailed artworks and enjoy fun, struggle-free weeding for your logo and other intricate designs.
If you're in t-shirt customization business, this heat transfer vinyl will enable you to produces professional results that awe your customers. this is made possible by the film's excellent adhesiveness that's sure to stick to your tees if properly applied.
The complete package comprises up to 33 sheets, each measuring 10" x 12". Each shit comes in a different color, so the complete package has an assortment of colors to meet your delicate color expressions and art projects' needs.
Unlike most of the brands out there, this vinyl is incredibly easy to cut for beginners as well as seasoned crafters. The thin nature of this material enables you to easily cut through it using most of the cutting machines out there.
For the crafters who are concerned with the environment, you'll also be happy to know that this vinyl is made of eco-friendly material…a sure way to save the earth?
Durability gets a new meaning with this vinyl. When properly applied, these heavy-duty vinyl sheets will stretch with your garment's natural movement to enable your designs to last for years. the vinyl is machine wash safe and will withstand multiple washing cycles without fading.
Highlighted Features:
7. HTVRONT HTV Heat Transfer Vinyl Bundle
If you want value for money, consider getting this HTVRONT HTV Heat Transfer Vinyl Bundle. The bundles include a total of 13 heat strafes vinyls, each measuring 12 by 10 inches, plus BONUS Teflon sheet and 2-in-1 tweezers—all at a pocket-friendly cost.
The 13 sheets come in up to10 vibrant colors to ensure you have the right vinyl for all your design projects.
Using this vinyl is probably the easiest part. It excellently integrates with Silhouette, Cricut, and Cameo machines. The sheets boast of excellent stickiness, which enables them to easily adhere and stay in the fabrics you transfer it to. It's also a pretty versatile vinyl that works with a wide variety of materials including cotton, polyester, cotton blend, leather, textiles, lycra/spandex, and athletic mesh.
Just like most of the other iron on vinyls we have featured on this list, this HTV is also machine wash safe. So, you can toss your t-shirts containing the HTV design in your washer without fear of the design fading, cracking or peeling.
Again, this is the perfect package for any crafters who want value for money. In addition to the vinyl sheets bundle, you'll get some extra goodies such as 2-in-1 tweezers for easy weeding, Teflon sheet, and an easy to follow user manual for absolute beginners.
Highlighted Features:
8. Guangyintong Heat Transfer Vinyl Roll for T-Shirts
If you're in the t-shirt printing business and want to get professional designs that set you above the competition, this is the best heat transfer vinyl for shirts you can get on the market today.
Unlike most of the heat transfer vinyls you'll find out there, this particular vinyl features no adhesive backing and is matte textured (not smooth). Many professionals prefer this style of vinyl because it's quite easier to clean as the unwanted part doesn't stick back. It's also easy to clean since dust won't stick on its surface. and the general look and feel of this vinyl is noble!
Each complete roll measures 12 inch x12 feet and comes in a single color. The manufacturer produces these rolls in up to 20 color options to ensure you get the perfect color for every project.
As with all the other vinyls featured on this post, this one is also easy to cut and weed. you can easily cut your preferred piece or size from the roll with a pair of scissors or craft cutter.
Storing this vinyl is also easy as pie; remember, it features no adhesive back, so you can stick multiple patterns together without fear of them sticking together.
You can use this vinyl on all textile fabrics such as leather products, non-woven cloth, luggage products, and oxford cloth. however, it might not work on clothes with a waterproof coating such as ceramics, metal products, plastic, wooden products, etc.
Highlighted Features:
9. JANDJPACKAGING Glitter Heat Transfer Vinyl
This is glitter style HTV that you can also use to decorate your garments. The bundle comprises of up to 15 sheets of vinyl, with a standard size of 12"x 10". Like in most of the bundles we've seen above, these sheets are packed in vibrant colors to meet your unique decoration needs.
Because this vinyl is made from PU material, it's incredibly durable and won't show signs of fade, crack, or peel after a few washes. The fact that it has a thinner design allows for extra stretch and flexibility, without comprising the durability of the vinyl material.
The glitter vinyl comes ready to cut. its thin nature enables you to easily cut it with a pair of scissors or your craft knife. likewise, cutting it with most vinyl cutter machines, like Cricut and silhouette us a breeze.
You can use this vinyl on a wide range of fabrics such as polyester, cotton, and cotton/poly blends. what's more, glitter HTV makes the perfect choice for detailed, superior quality designs, numbering, lettering, and logos, and more.
Inside the box, you'll also find a FREE Teflon sheet to make the vinyl easier to cut and an instruction guide for starters.
Highlighted Features:
10. Quick Craft USA Heat Transfer Vinyl
The last spot on our list of top-rated heat transfer vinyl reviews goes to the Quick Craft USA Heat Transfer Vinyl. This is another incredibly popular iron on vinyl bundle that lets you decorate your t-shirts and many other items without breaking the bank.
This particular bundle contains up to 20 heat transfer vinyl sheets, which is slightly higher than what you'll get from most of the bundles above. All the sheets have the same measurement of 12" x 10", so they'll work with just any cutting machine. All the sheets come in vibrant colors to ensure you've got all the colors you need for various projects.
In addition to the HTV sheets, the bundle also contains a BONUS Teflon sheet and a high-quality envelope packaging for your own convenience. Not to forget, you'll also find a set of easy to follow instructions (helpful for beginners).
Crafters also rate this bundle highly due to how easy it is to weed compared to other HTVs out there. This is largely made possible by the lightweight and thin nature of the sheets which make cutting and weeding your designs in high detail easier than ever before.
Note that this is one of the top iron-on vinyls that are designed to last for years. The sheets are incredibly durable and flexible. This enables them to easily respond to the natural movement of your t-shirts and other garments. You can even wash your garments in the washer, and it'll still hold its vibrancy 50plus washes later.
Because this vinyl comes with CPSIA and SGS certifications, it means that it's safe for use on kids' garments and it's environmentally friendly.
Highlighted Features:
What Makes The Right Heat Transfer Vinyl
Using the right vinyl is the secret to getting your desired results in your design projects.
If you have never shopped for HTV before, below are some key considerations to help you pick the best HTV vinyl for your craft projects.
Vinyl quality
One of the most important things to look for in a heat transfer vinyl is the quality of the vinyl.
Vinyls from different manufacturers have varying levels of quality. If you go for a low-quality HTV, you shouldn't expect your designs to hold up for long. They will start fading, cracking, or even peeling faster than you can imagine.
Quality vinyl, on the other hand, is durable and long-lasting. It doesn't easily fade, crack or peel, even with multiple washes or due to rugged play. Quality vinyl is usually thin to enable it to stretch and flex as per the natural movement of your garments, preventing cracking or feeling.
If you want to ensure you get the best quality HTV, you'll have to trust the previous users on what they have to say about the longevity of the vinyl.
Color diversity
Another important thing you should consider when purchasing a roll of heat transfer vinyl is the color diversity.
Designs or artwork with a single color can be quite boring. But if you play with different colors in your designs, you're likely to enjoy more sales.
Make sure you go for a package that contains vinyl sheets with a wide spectrum of colors as opposed to those with a single color.
Ensure the sheets feature trendy, vibrant colors that will set your customized garments and other products from the rest.
Ease of use
You should also take your time to check what the previous users have to say regarding the ease of use of different vinyls.
You don't want to invest your money in a hard to use, weed, or transfer vinyl, as this can make the whole transfer process complicated and uninteresting.
In addition to user reviews, some features that will lead you to an easy to use iron on vinyl include lightweight design, thinness, sensitivity to low temperature and heat.
For absolute beginners, getting a bundle that comes with a user guide is a wise decision.
Cost
It's also important that you keep in mind the cost of the vinyl you plan to buy.
The best way to go about it is coming up with a budget of how much you plan to spend. Your budget will help you narrow down your options to those products within your purchasing power—making the buying process even easier.
Nearly all the products we have featured in our heat transfer vinyl reviews above come with reasonable prices and buying them will not make you feel like you wasted your money.
How To Apply Heat Transfer Vinyl With Iron?
If you don't have the money to invest in a heat press machine, you can rely on your household iron to help you apply HTV designs onto your garments.
When done correctly, the iron method produces quality, long-lasting results, just like the heat press machine itself.
This is how you use an iron to apply HTV:
Step 1: Cut the design you wish to transfer to apply on your garment with the help of a vinyl cutter and then weed it to remove any undesired parts from the design.
Step 2: Next, iron the area where you want to apply the design on your garment to remove any wrinkles or moisture that might affect the stickiness of the vinyl or produce undesired results. Consider ironing the back side of the garment as well for the best results.
Step 3: Now place the design on the t-shirt, making sure that the vinyl's clear backing side stays up onto the side of the garment where you'll be printing the design. Ensure you align the design correctly on the t-shirt.
Step 4: Set your iron to HIGH or COTTON heat setting and give it 1-2 seconds to heat up. Place it on your design and exert firm pressure for approx. 10 seconds.
If you have a design that's bigger than your iron, consider applying the pressure on one section of the design at a time.
You should also avoid moving your iron around the design as this can cause the HTV to move around and get transferred on the wrong places.
Just place the iron on your design and firmly press it down to apply pressure. don't move it around!
Step 5: When you're done transferring the design, now you'll need to peel off the clear backing paper to complete the transfer process. Check the user instructions on whether the vinyl you're using should be peeled hot or cold to ensure you remove it the right way.
Step 6: Congrats! You have successfully applied a heat transfer vinyl design onto your garment! You'll need to give your design a few seconds to cool down before you can use it.
Frequently Asked Questions
1. What is the best heat transfer vinyl?
The perfect HTV is one that's durable and easy to use, weed, and transfer. HTVs that are lightweight and thin are usually easy to handle. The thin vinyls are also stretchy and are able to adapt to the natural movements of your garments, enabling them to last for long.
the best HTV should also come in an assortment of vibrant, trendy colors to help expand your creativity scope and help you produce more colorful designs that your customers love.
Check our reviews above for some of the top-rated heat transfer vinyl bundles you can get on the market today.
2. What's the difference between heat transfer vinyl and regular vinyl?
The main difference between the two vinyls is the method of application
Heat transfer vinyl (HTV) requires pressure and heat to adhere to s substrate.
As for the regular/adhesive vinyl, it comes with a sticky backing (like a sticker) and doesn't require heat to be transferred to the target surface.
Adhesive vinyl can be available in a super-stick style which is ideal for outdoor applications or the less sticky version which is usually used indoors.
3. What materials can I use HTV on?
The most suitable fabrics for applying heat transfer vinyl include cotton, polyester, poly/cotton blends, and even leather products.
we recommend you to always check the manufacturer's instructions on the types of fabrics you can use with their vinyl to avoid frustrations.
4. Do I need transfer tape for heat transfer vinyl?
A transfer tape plays a crucial role in moving the vinyl from the paper backing to the target surface.
however, this vinyl is usually used with adhesive vinyl and not the HTVs.
remember, the HTV vinyl already comes with a clear backing sheet which helps protect it during the cutting process. You only peel off this clear sheet from the vinyl after you apply it to your garment.
5. Can I wash iron-on vinyl?
Yes, you can wash iron-on vinyl. But before you do that, you'll need to check if the manufacturer of the vinyl provides any instructions on how to take care of your garments.
If no instructions are providing, consider handwashing your garment using cold or lukewarm water.
If you want to machine wash a garment with HTV design, make sure the manufacturer of the vinyl allows it. In most cases, the manufacturers will tell you to machine wash in cold or warm water as hot water can end up affecting the vinyl material.
And when done washing with a machine, dry the garment on low heat. Or consider hanging the garment on the hanging line to air dry.
Final Verdict
Find the best heat transfer vinyl doesn't have to be challenging and confusing. In the above guide, we have just covered the important info you need to know before you set out to buy your first bundle of HTV for your first craft project.
We have also outlined our picks for some of the most popular iron-on vinyls on the market today. These products have high scores in terms of durability, color diversity, ease of use, and are fairly priced. Not to forget, they have amassed loads of positive feedback from previous users.