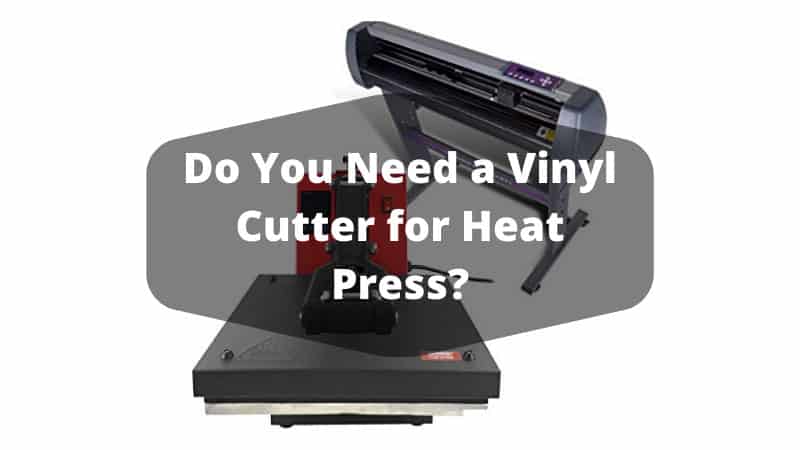 Do You Need a Vinyl Cutter for Heat Press?
If your business revolves around making custom tees with a heat press machine, then you'll definitely need a vinyl cutter by your side.
A great cutter will help you accurately cut your heat transfer vinyl into your desired artwork or designs that look professional on your client's tees.
In the following post, we'll discuss more details on the use of vinyl cutting machine for heat press, and other helpful info you need to know.
Why you need a vinyl cutter for heat press
As you already know, a vinyl cutting machine enables you to professional cut your desired artwork and designs from vinyl materials.
And in the heat press t-shirt printing process, one of the materials used to transfer your design to tees is the heat transfer vinyl (aka HTV).
For starters, HTV is a type of vinyl material used to customize t-shirts by applying heat. Unlike the "normal" vinyl materials which easily stick straight onto most surfaces, a heat transfer vinyl will need to be pressed (heat-pressed) to adhere to the t-shirt fabric.
Now…the first step in crafting with this vinyl material involves preparing the design to be used by cutting it out of the vinyl material.
This is where the cutting machine comes in…it features a computer controlled blade that precisely cuts the outline of your design on the heat transfer vinyl, leaving you with a design that you can then heat press on your t-shirt.
An alternative to using cutting machine involves cutting your HTV by hand. But as you can easily imagine, this might not produce excellent results, especially if you're dealing with a complex design.
You never know where your hand will trip along the cutting process or when it might shake and ruin your final design.
Because a vinyl cutting machine's blade fully relies on the computer to show it where to cut, you can always rest assured that it won't make any cutting mistakes. It'll produce just the professional results you want to give your clients!
Get that vinyl cutter for heat press—use vinyl cutter reviews to help you easily pick the perfect model— and let's show you how to use it in your heat press business in our next section...
How To Use Vinyl Cutting Machine for Heat Press
In this section, we'll walk you through the key steps on how to use the cutting machine in your heat transfer business.
Steps to follow:
Step one: prepare your design.
The first step involves coming up with the design you want to cut from the heat transfer vinyl and apply on your t-shirt.
If you already have a design saved on your computer, this step will be easy.
Otherwise, you'll need to create your own design from scratch or select from the cutting software library of pre-made designs.
Step two: Mirror the image.
With your design ready on your computer, connect your vinyl cutter to the computer. Open the cutting software you're using and click on the import file option. This will allow you to import the design you prepared in the previous step onto the cutting software work area.
Next, flip your design horizontally (i.e., mirror it). This is pretty simple as your cutting software has a Mirror option for your designs.
Why should you mirror your design? To help ensure it gets correctly cut on the heat transfer vinyl. Or to ensure it faces the right way when you finally apply it on your t-shirt.
While still at it, you might consider adding a bounding box around your design to make the weeding part (where you remove excess vinyl material off your design) easier.
Step three: Cut your design
Turn on your vinyl cutting machine and load the heat transfer vinyl material into it to begin the cutting process.
One question most folks keep asking is whether you should place the HTV on cutting mat before loading it into the cutting machine.
The answer is, yes. You can directly place your HTV to your cutter without using a mat.
If you go the cutting mat way, however, you'll need to keep this in mind…
Regardless of the cutting mat you use, place the HTV paper such that its glossy side (the part with the clear plastic backing) faces downs onto your mat (such that the blade will cut on the matte side).
Remember, we're dealing with a heat transfer vinyl material here, and we're cutting on its backside where the heat-sensitive adhesive is.
Lastly, adjust the cut settings to ready your machine for the specific type of material you're using and hit the CUT button to initiate the cutting process.
NOTE: There are different types of heat transfer vinyls, and you need to ensure you input the right settings for the type of HTV you're using. This process can slightly vary depending on the machine you're using.
To be sure, consider running a small cut test on the material you're working with to ensure you've got the right cut settings in place.
Step Four: weed out the excess vinyl
With the help of weeding tools, e.g., hooked tweezers, hooked weeding pick, Exacto knife, etc., lift and remove the border around the design you just cut above. As you do this, ensure you leave your design (texts and symbols) attached to the backing paper.
Next, remove all the other excess vinyl materials from your design. for instance, remove the excess vinyl material in letter O or 0
Do one more visual inspection of the full design before heading to the next step to ensure you're left with a clean design for transferring onto your t-shirt.
Step Five: Heat press your design on T-shirt
The last step involves transferring your well-weeded design onto your target surface, which is the t-shirt.
Lay your t-shirt flat on your heat press platform with the side you wish to apply the design on facing up (do you prefer the front or back side of the tee?) and then smoothen it out.
Place your design on the fabric such that the clear plastic backing faces up so that it appears as your original design (NOT the mirrored image).
Align it correctly on your t-shirt fabric, key in the right heat and time settings, and heat-press your t-shirt!
That's it! You have just used your vinyl cutting machine and a heat press to print on your first t-shirt!
Final Thoughts
A vinyl cutting is part and parcel of your heat press t-shirt printing business. It helps you to accurately cut your artwork and designs from heat transfer vinyl (HTV) so that you produce professionally customized tees that your clients really like.
If you don't know how to use a vinyl cutter in your heat press business, follow our quick, easy guide above on how to do it like a pro.