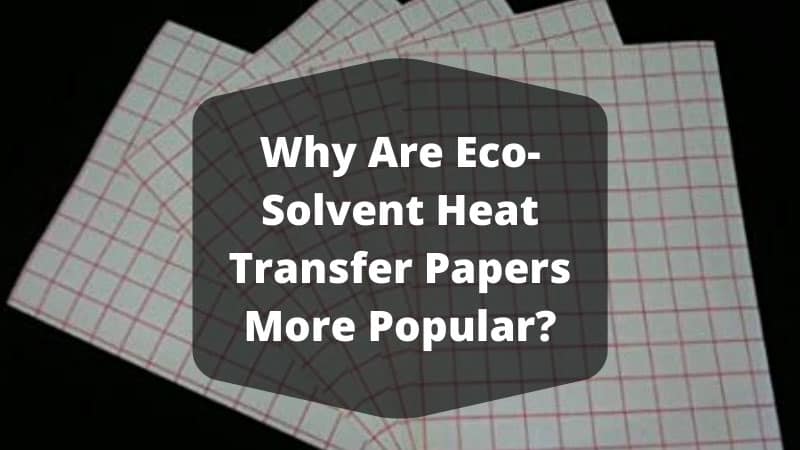 Why Are Eco-Solvent Heat Transfer Papers More Popular?
-shirt making business requires dealing with either heat transfer papers or vinyl papers. Both can imprint quality designs on the fabric. But, when it's about choosing one, most people prefer eco-solvent heat transfer papers, and more people are using it than before.
The quality of prints largely depends on the transfer paper. Even if you have an expensive and high configured heat press machine, the prints will not be of high quality until you use top-grade transfer papers.
This article will give you some in detail ideas about eco-solvent heat transfer paper.
What Is Transfer Paper?
Let's talk about the transfer paper first. It's an actual paper that allows printing full-color design with only one layer. You don't need to put multiple layers, unlike vinyl.
Some of the benefits of transfer paper are –
Eco-Solvent Heat Transfer Paper
The reason why eco-solvent heat transfer papers are popular is because of its high-quality outcome in the thermal transferring process. It makes the design on a printable surface more clear, rich in layers, with bright colors.
Eco-solvent thermal transfer paper maintains a pretty high washing fastness compared to other thermal transfer papers. The designs look very bright and clear on cotton, polyester, and canvas fabrics.
Unlike typical heat transfer paper, eco-solvent requires a special ink to print designs. The paper is placed in between the design and fabric, and when the press machine puts temperature and pressure on the paper, it transfers the design to the surface of the fabric.
Vinyl transfer papers can ruin the fabric in some cases. But, this is something that will not happen if you use eco-solvent papers. It maintains the beauty of the pattern and successfully transfers it to the t-shirts.
If you compare two t-shirts with the same design that is printed using vinyl and eco-solvent thermal paper, you will see a noticeable difference. The quality of eco-solvent material is far better.
Using eco-solvent thermal paper is highly recommended for professional printing business, t-shirt business, and more to achieve upper hands over the competitors, and ensure an even better aesthetic look on your products.
If you are to improve the quality of printing and achieve outstanding benefits against your competitors, you know which one to go with. The quality of printing this paper provides is warmly accepted by the customers. They will surely praise of your products.
Characteristics of Eco-Solvent Heat Transfer Paper
The characteristics that differentiate eco-solvent transfer paper from others are as follows –
Heat Press Transfer Processing
Step 1: Heat the press machine until it reaches to 400oF. Set the timer for 25 seconds with mild pressure.
Step 2: You need to make sure the fabric is warm as well to make it smooth while printing. To do that, heat it for about 5 seconds.
Step 3: Cut the motif. Make sure you don't cut the margin around the edges.
Step 4: Peel the thermal paper of its polyester film.
Step 5: Place the thermal paper onto the t-shirt. The printed design needs to face upwards.
Step 6: Put a thin cloth, and press the fabric with mentioned settings in step 1.
Step 7: When you are done, remove the polyester film; start from the corner. You should have your newly designed t-shirt right way.
Washing Instructions
As I mentioned before, t-shirts printed with eco-solvent heat transfer paper have high washability compared to other transfer papers, including vinyl. However, you need to follow some basic instructions when you wash the cloth. Wash inside out at 40oC. Don't use bleach to wash the fabric.
Eco-Solvent Printing Inks
If you decide to go with eco-solvent heat transfer papers, you must use eco-solvent printing inks to get the desired results. The ink is used for piezoelectric photo printers and inkjet printers. You can also use it for the flatbed printer, as well. Basically, all printers with oily print heads are able to use this ink corrosive.
The ink offers you some benefits that you cannot find in other inks. It's more enhanced than typical solvent inks in various aspects. The drying time of the ink is even faster, and it makes chemical and scratch-resistant printed design.
Compared to other printing inks, this one works at a higher speed. With its wide range of compatibility, it allows the printer to function smoothly and providing you better quality output.
Eco-solvent ink is a cost-efficient option as the cassette provides an even better bulk quality compared to regular ones that you find in the market. The ink also contributes to increasing the lifespan of the printer as it causes less wear on print heads.
As the name tells you, the ink is eco-friendly. It doesn't have any harmful chemical fumes. Thus, no ventilation system is required.
Differences between Eco-Solvent Printing and Sublimation Printing
In the print industry, both eco-solvent and sublimation printing have very high demand. They dictate when it comes to their own territory. When you decide to work with eco-solvent heat transfer paper and ink, instead of vinyl and regular ink, you are giving preference it over sublimation printing.
Is it worth it? Let's find out.
Comparison
Eco-solvent ink is an eco-friendly biodegradable ink, also known as mild or light-solvent. Dye sublimation ink, on the other hand, is water-based ink that is used for the thermal transferring process from paper to garments.
There is zero to little odor in eco-solvent ink. It contains relatively low VOC. Sublimation ink has no odor and VOC emission. The durability of eco-solvent is decent. It can last up to 1-year outdoor durability. Sublimation ink has low outdoor durability. Both require different print-head.
Tips to Avoid Mistakes When Using Heat Transfer Paper
Here are top ways of how not to ruin your heat transfer paper and get quality print out of it–
Final Words
Considering the quality of printing, washability, super-fast drying, the longevity of designs, and cost-efficiency; eco-solvent heat transfer paper can be an effective alternative to vinyl or other thermal transfer papers. If you don't want to compromise with the quality of your work, use eco-solvent paper.