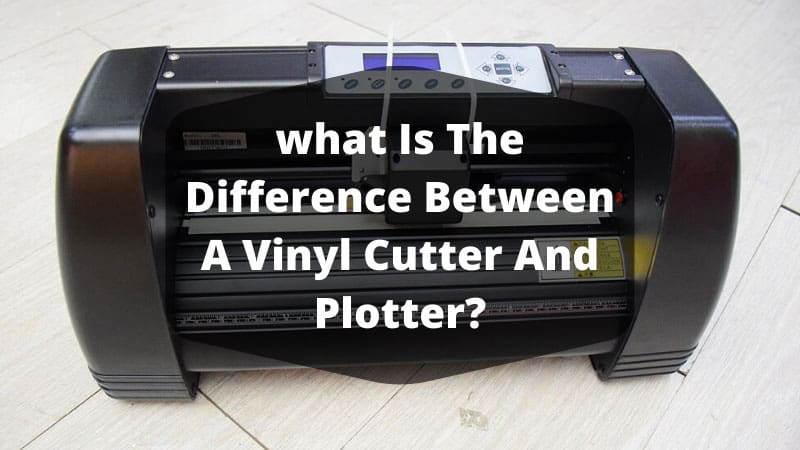 What Is The Difference Between a Vinyl Cutter And Plotter?
A vinyl cutting machine lets you cut your desired designs from vinyl materials using a computer-controlled blade while a plotter enables you to draw pictures on a paper with a pen.
The two machines are basically the same, and this can make you feel confused about the usage or application of either of them.
In the following post, we'll delve into more details on how the two machines differ in terms of operation, application, and more.
Vinyl cutter
As we have just mentioned above, a vinyl cutter uses a computer controlled blade to cut your desired shapes and letters out of vinyl material. In other words, the machine trims vinyl into your preferred designs.
A typical vinyl cutting machine receives the instructions from a computer or cartridge to enable it to cut unique designs from vinyl and other similar materials.
It works just like the desktop printer in the sense that you'll see w slider running over the vinyl material…but instead of printing on the paper, it makes cuts out of it.
When the cutting process is complete, you can then remove the material form the cutter, peel the design off the sheet, and use it for your project, whether it's scrapbooking, sewing, card making, sign making, etc.
As you might have discovered in the vinyl cutting machines reviews, some vinyl cutters come as a complete set (including various design cartridges plus the cutter itself). Some models can complete with everything and can work as standalone models, while others require you to connect them to a computer.
You'll need to plug in your cutting machine as well as the cartridge for it to start cutting your design from your preferred material. The types of designs you work on using a cutting machine is restricted by the cartridge or the card used to send instructions into the machine.
How much does a vinyl cutter cost?
These machines are quite affordable. Whether you're looking for vinyl cutting machine for home use or your small sign-making business, you'll find a model within your budget.
You can find an excellent cutter for home use for around $100 to $200. A commercial model for your small business will cost you a bit more, from $250 to $500 or more.
Needless to mention, the more advanced features a cutter comes with (e.g., built-in scanner), the more it'll cost you.
Uses of vinyl cutters:
Because vinyl cutters are capable of cutting a wide range of materials, including vellum, trimming paper, card stock, and vinyl, the number of projects you can successfully accomplish with them only gets bigger.
You can use them to create signs/letters, stickers, banners, car decals, scrapbooks, card making, and more.
You can even use your vinyl cutter to customize your t-shirts with your desired artwork, graphics, quotes, etc. for this job, however, you'll also need to use the best heat press to transfer the design to the garment.
Simply put, a vinyl cutting machine will help you accomplish all your home or small business art and craft projects.
Vinyl plotter
A vinyl plotter, also referred to as a vinyl cutter or vinyl printer cutter combo, refers to a piece of computer gear that uses a pen to draw your design or artwork on a paper. It enables you to turn your product prototype into a workable template or pattern.
You can rely on them to cut out vinyl sign lettering as well as other images—enabling you to make a wide range of things, including billboards, bumper stickers, and others.
It's important to note that these machines come in various sizes, from big to small models.
Some more streamlined vinyl plotter models let you connect them to the computer. Such models are usually affordable and are ideal for making displays, signs, posters, wall lettering, etc., in various institutions such as schools, churches, clubs, homes, and even small businesses.
You can also easily find commercial grade vinyl cutter plotters. As you can easily guess, these models are pretty BIG and can be used to cut lettering soo big that it letters the entire wall of a big building or a huge billboard. Commercial plotters usually cut immediately (and accurately) and let you make simple adjustments to improve spacing.
How much does a vinyl cutter plotter cost?
The cost of these machines varies from model to model, depending on the size as well as the features it comes with. A low-end 24-inch plotter will cost you around $1000 to $2000, while a 36-inch plotter will cost you about $2,500 to $10,000.
Just as we said in the case of cutters, a plotter with more advanced features such as an integrated scanner will cost you more.
Uses of vinyl plotters:
These machines are the surest bet for printing larger signs, banners, posters, floor plans, blueprints, and other similar projects.
They find extensive usage in engineering projects and the apparel industry.
With their wide-format production, they also make the perfect solution for window tinting and car wrapping.
Final Verdict
A vinyl cutter is a computer controlled machine that cuts letters and shapes out of vinyl material. This is unlike the vinyl plotter, which prints on the surface of a material instead of cutting it.
The varying working principles is the biggest difference between these two. And this is the reason why they have different uses and applications.
Both machines also vary in terms of cost, with the plotters staying high up on the price ladder.
If you're looking for a machine for an affordable machine for handling your or small business crafting needs, go for a vinyl cutter.