Let's be honest; we all have a couple of t-shirts we want to customize to make them look unique. And screen printing is one popular method of adding your desired design to your t-shirt.
That said, most people tend to believe that screen printing is a field best left to the professionals. But the truth is that this is an incredibly easy process, and you can do it at home just like any other DIY project you've taken on before.
Discover below our complete beginner guide on how to screen print T-shirts at home.
How To Screen Print T-shirts At Home? Beginners Guide



How To Screen Print T-shirts At Home? Beginners Guide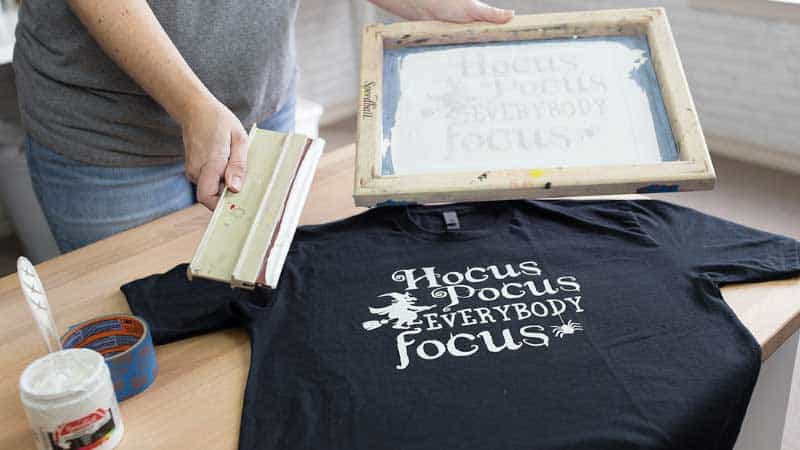 Step 1: Gather your supplies
You should start by gathering all the necessary supplies for t-shirt screen printing. Here's a list of all the times you'll need:
A squeegee
Emulsion paper
250 Watt bulb
Frame and screen
Screen printing fabric ink
Once you have all the above supplies at hand, move on to the next step to learn how to customize your shirts with your preferred design.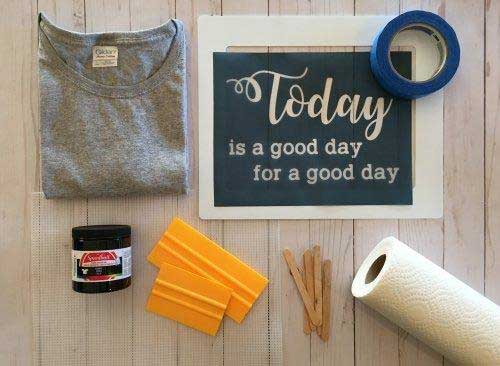 Step 2: Create your artwork
The fun part about home screen printing is coming up with the design you wish to add to your t-shirt. For this step, the sky is the limit as you can use any type of design you desire.
However, for beginners, we suggest you start with something simple without many thin lines to make your work easy. Something as simple as a standard silhouette made using Photoshop will work.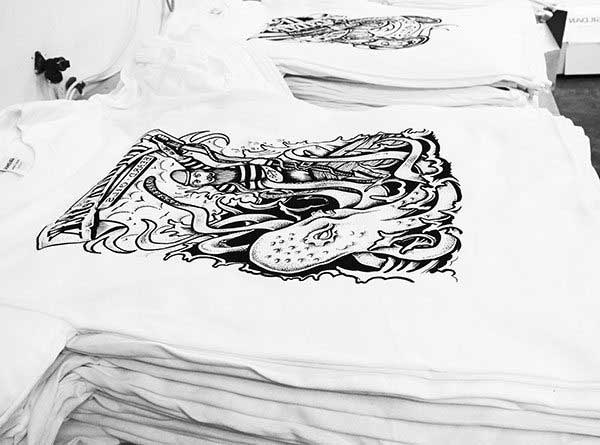 You might consider something with one color for your first design. You might also consider using a solid black image so that it excellently blocks out light for the best printing results.
Once you have decided on the perfect design to use, go ahead and print it out using a laser printer. Though some people recommend printing your design on a transfer paper, it's not always necessary unless you're dealing with a detailed image.
Step 3: Get your frame ready
You can buy a screen and frame for a couple of bucks at your nearest arts and craft store. But if you're the handy type, you can easily come up with your own set.
You simply staple a 110-inch polyester mesh to a square wood frame as outlined in a few quick steps below:
Screw together 2x2s to create a square wooden frame. It doesn't need to be perfect, but make sure it's solid and flat.
Use a regular staple gun to staple a 110-inch polyester mesh into the frame.
Trim the edges of the mesh
Use painter's tape to tape the outside of the mesh onto the frame, and you're done!
Step 4: Coat the screen in the photo emulsion
The photo emulsion comprises two parts-the sensitizer and the emulsion. To use it correctly, you'll first need to mix the two together as per the instructions indicated on the bottle.
Now lay down your screen on a garbage bag and pour a little mixture of the emulsion mixture you just made on it. Use a squeegee to help you properly spread the screen. The emulsion ought to cover a slightly larger area than the image you're printing. Repeat the coating for the other side of the screen.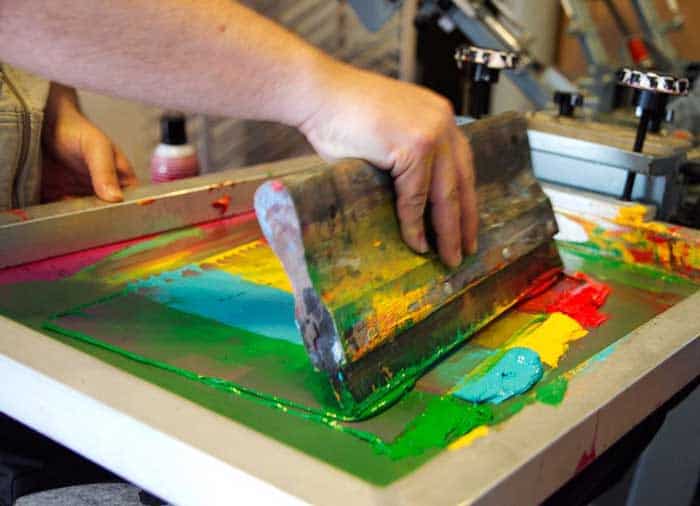 If necessary, repeat the above process until your screen appears fully coated, and you can see through it. The idea is to get a thin, even layer across your entire screen.
When done coating the screen, leave it in a completely dark room for approx. 1-3 hours to allow it to dry completely.
Step 5: Expose the screen to light
After the drying period is over, you'll now need to expose your screen to light. You'll be conducting this step in the same dark room where you kept the screen (don't turn the lights on at this point).
Lay down a black surface, e.g., a board or cloth, and lay down the screen and frame on the surface, with the screen side facing down on the black surface. Lay the transparency paper carrying your image/design on the screen where your photo emulsion is. Tape down the transparency with scotch tape or simply lay a piece of glass over it.
Now move your lamp with the 250Watts bulb to stand approx. 2 ft. above the screen. Adjust the lamp so that the bulb faces the transparency carrying the image and leaves the room without turning on any lights.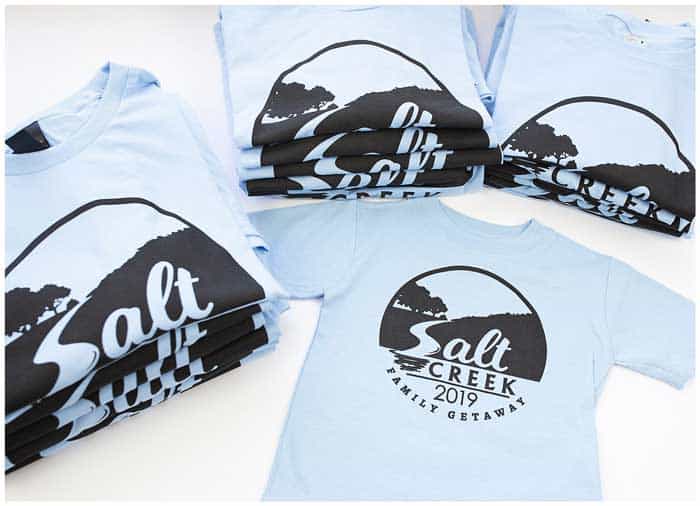 Make your way back to the room after 10-25 minutes and carefully peel the transparency. Doing this will expose faint blue lines where your design has been burned into the screen.
If you're satisfied with the graphic, move on to the next step below. Else, give it a few more minutes to see if it improves. But beware of overexposing the image as it will make it breed.
TIP: The desk lamp works best for this step. If you don't have one within reach, you can simply make a reflector out of tin foil and place it above the lamp so that it reflects most of the light down to the transparency.
Step 6: Clean up your screen
Clean your screen by spraying it down with cold water from a hose, shower head, or sink; whatever works for you. As you continue cleaning, you'll notice sections where your image lays starting to flake off. Continue spraying until you can clearly see through the image.
When done, hold up the screen to the light to see if it looks exactly like your transparency. Allow the screen to dry completely, and then cover all the exposed parts (where there's no photo emulsion or the design) with tape.
Step 7: Print the design onto the shirt
Finally, it's time to screen print that design onto your t-shirt. Lay the shirt to be printed on a flat surface and smoothen it out. You might also consider stuffing a square piece of cardboard inside the shirt, underneath the side you're printing on.
Lay the dry screen over the t-shirt with the design sitting where you want to print it.
Pour a small amount of the fabric ink horizontally across the top of your screen. Grab that squeegee and use it to make a single smooth movement across down the screen as you exert strong pressure.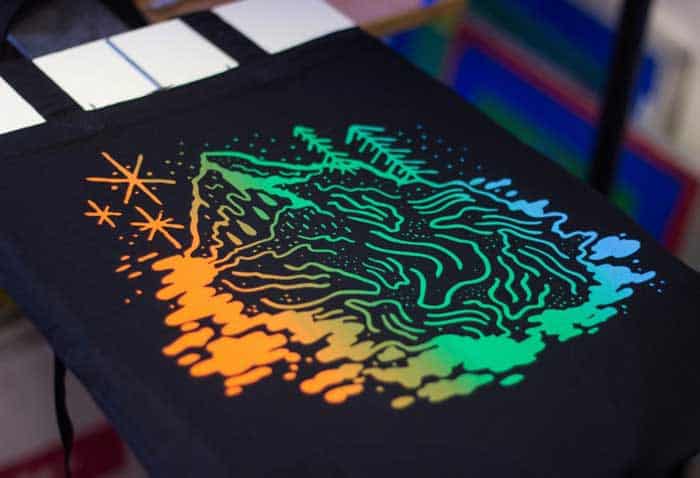 Repeat the squeegee movement in different directions (left, right, up, and down) a couple of times to help push the ink through your tee for excellent results.
When done, lift the screen and carefully pull out the cardboard you stuffed underneath your shirt.
TIP: If you want to make the image stick on your t-shirt for an extended period of time, throw your shirt in an oven at 400 degrees for approx. 30 seconds.
Additional Beginner Screen Printing Tips:
You ought to clean your screen immediately after you're done printing if you plan to use it again in the future. This is because the screen printing ink tends to dry up pretty fast, and the longer you wait, the harder it becomes to clean it. In case you want to use the screen to print a different image, use an emulsion remover to wipe your screen clean.
If you don't want to go through the process of making your own screens at home, you can get pre-made ones at the crafts and art stores…though they might be a bit pricey.
For starters, always consider doing a test print before you start the actual printing on your t-shirt to ensure you achieve the desired results.
You'll need to discard the paper stencils after washing the screen. This means if you make a couple of the same print, you should make sure you make several stencils at once to cater to all your printing sessions.
If your final print looks faded, simply add more pressure to the squeegee during the next printing session
If yore working on more detailed images, you'll need to screenprint on transparency paper (they're readily available on Amazon and craft stores). When using this paper, ensure the image you print is 100% opaque to block all the light from passing through it.
When comparing screen printer vs heat press, you'll notice that screen printing takes longer than heat press machine method, which involves using extremely high temperatures and heavy pressure to embed your design on your tee. Also, the heat press method has a high startup cost, which makes screen printing the best option for beginners and budget-minded folks.
Final Verdict
There you have it! A complete, step-by-step guide on how to screen print t-shirts at home. From this guide, you can see that this is quite simple, and any DIYer can do it with just the right set of instructions.
The supplies needed are also readily available and won't cost you much money.
With time, you might even plan to set up a home-based screen printing business, where you customize t-shirts for other people. If you do professional work and your business goes on well, you should start raking in some significant profit in a year. Good luck!