T-shirts are the most casual and common outfit for us. Customizing your t-shirts with unique designs can make them look more unique and eye-appealing.
Luckily, there are different printing methods available to help you transfer your designs to your shirts. Without much knowledge about these printing methods, however, you might find yourself at crossroads on which one to use to customize your t-shirts.
In this post, we shall cover the 5 most popular printing methods and lost their highlights and lowlights to help you decide which one will meet your specific printing needs.
Different Types of T-shirts Printing Methods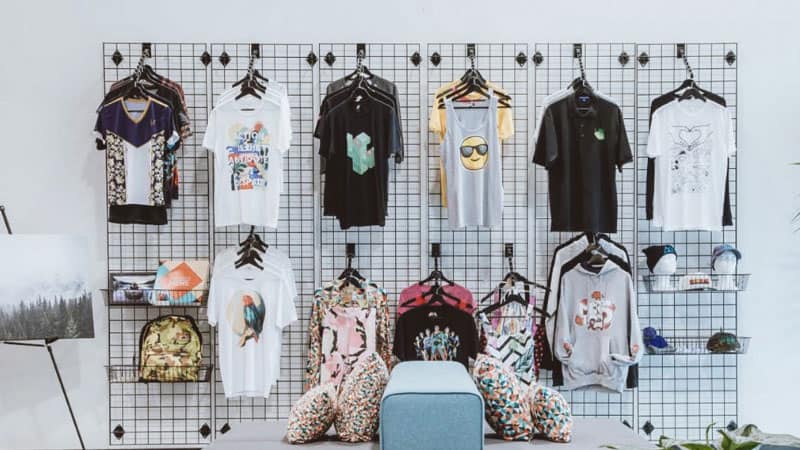 Let's get into the details…
1. Screen Printing
Screen printing, also referred to as silkscreen printing, is one of the ancient methods for shirt printing. And, though invented in early times, it's still one of the most popular methods due to the fact that it helps create smooth, vibrant, and soft designs that last long. It has advanced over the decades due to improved technologies.
This method guarantees you 100% on the mass production of one-color t-shirts. It's also effective in placing text and graphic designs.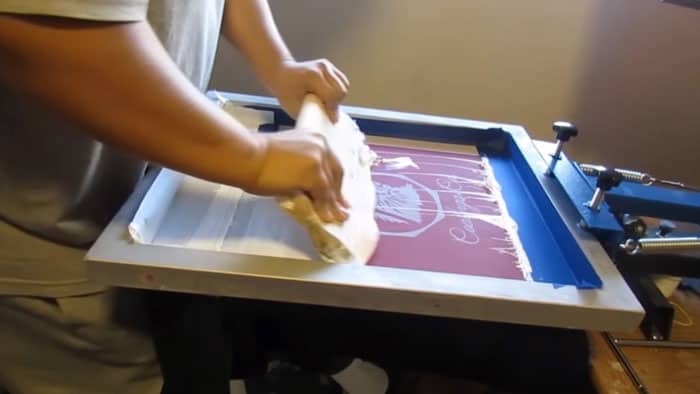 To effectively use screen-printing method, you need a stencil and nylon mesh (acts as the screen). In the method, the nylon mesh clasps the template in place, and an impermeable material blocks the negative space you're planning to design.
For the best results, you ought to smear the ink all over the screen evenly using a scraper and the ink penetrable negative space allows your design to be produced. Then, remove the screen and allow your design to dry to get the desired results.
Cost-effective for mass production.
Durable designs
Compatible with most fabrics
Delivers superior quality
Every screen need different colors
It can be messy because of the ink
Not ideal for small production
Takes up huge space
2. Dye Sublimation
Dye sublimation is great for printing graphics with huge and complex designs. This method can only be used on light fabric such as polyester. Never use this method on a cotton T-shirt because the outcome is disastrous.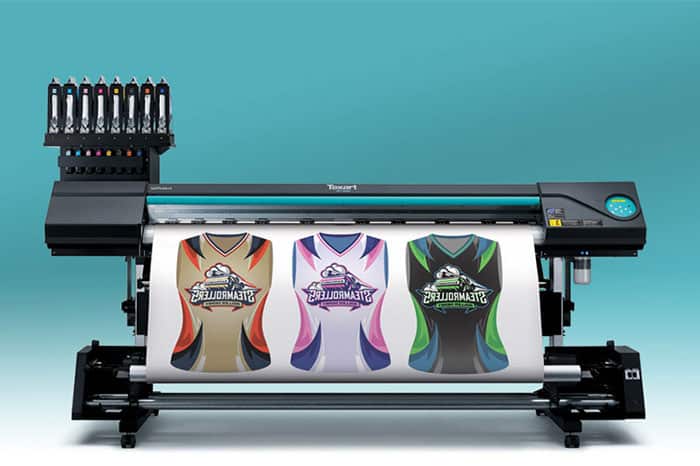 This is a costly method, but it produces high-quality products that are crisp and sharp.
For you to print garments using this method, you'll require a special liquid type of dye. Smear the dye on the transfer paper first. Once it dries fully, you can use pressure and heat for the sublimation.
The key difference between screen printing and this method is you're dying the fabric directly, not just printing on top of it. As a result, the colors of the design are well distinguished, but you can't feel it under your hand.
Great for large designs
Produces long-lasting prints
Suitable for multiple patterns and colors
Works with light materials only
Quite expensive for small production
Doesn't cover white patches, e.g. side seams and armpits
3. Direct to Garment (DTG) Printing Method
Another highly popular method for transferring designs to garments is the direct to garment (DTG). As its name suggest, it involves printing your designs directly to the fabric.
To effectively use this method, you need a textile printer and inks.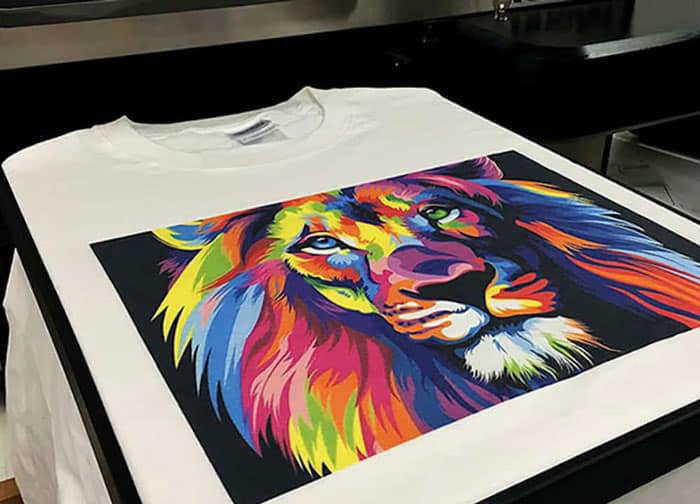 You create your own design according to your taste and preference, feed them to your printer which sets your programmed designs to the fabric.
In this era of technology and great fine arts, DTG can be a great option for producing complex designs that suit the young generation's taste.
If you go with this method, we suggest that you get a high-quality printing machine as you can end up with low design resolution if you use a cheap quality printer.
Suitable for printing complex designs
Requires a small workspace
Produces smooth and soft prints
Easy to switch designs
High initial investment costs involved
Takes time for mass production
Low durability of prints
Works with cotton garments only
4. Heat Press Printing
Looking for an economical and time-saving method for startup production? if yes, heat press printing is the perfect technique for you.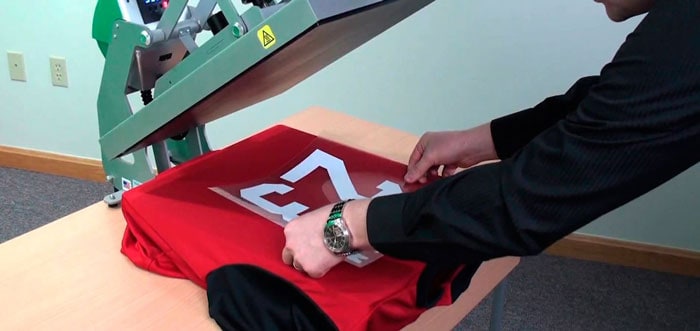 The method involves applying heat plus pressure to set the design on your garment. A key component of this method is the transfer paper. You need to print your design on this paper, and then use a heat press machine or home iron to transfer it to your shirt.
Once you are done transferring the image, remove the transfer paper.
We suggest this printing method for beginners as it's pretty simple and involves straightforward steps for you to transfer a design to a shirt. Moreover, it's highly flexible as it allows you to transfer designs to a wide range of surfaces, other than garments.
Simple to use
Excellent quality prints
An economical method for printing small quantities
Slow in production
Not ideal for heat-sensitive materials
5. Heat Transfer Vinyl
This method uses a specific soft cloth that you need to cut into different shapes before transferring them to the fabric using a heat press. This heat can be either an iron box or a machine. For better shape, you need a Cricut machine.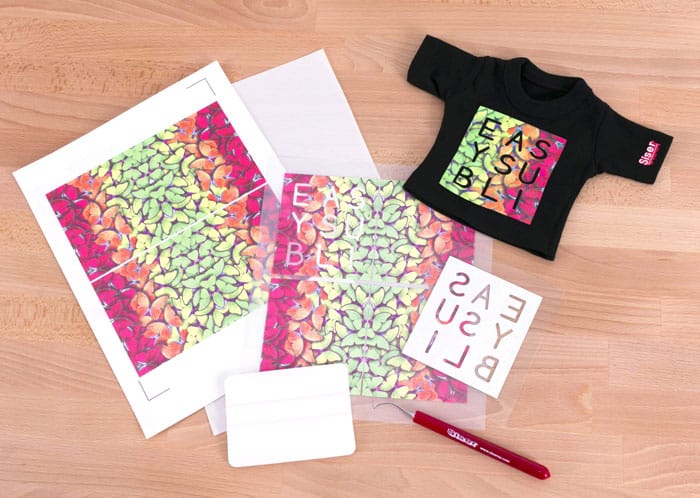 In simple words, you're essentially taking one image and transferring it to a different surface.
If your business is about printing small slogans or graphics, then heat transfer vinyl is a great method for you.
Easy to Use
Long-lasting Results
Works with a wide range of designs and colors
Requires a specific CAD cutter
Appropriate for small designs only
Decreases the flexibility of the shirt
How To Choose The Perfect Printing Method?
Now that we have discussed the various methods for t-shirt printing, you might be asking yourself which of these you should use to customize your t-shirts.
In this section, we'll outline a quick criterion to help you easily choose the perfect method for you.
Fabric compatibility
Each of these methods has certain fabrics it works with. Using a method for a non-compatible material will lead to nothing short of frustrations.
For instance, if you have a thick cotton shirt, then use the dye sublimation method will ruin it. Each method has an ideal type of fabric and it is important to check them in advance.
Speed of production
If you want a huge number of shirts printed in a short period, say for your clients, you need to choose a quicker method.
Cost
The initial investment you need to make for different printing methods can differ significantly. For those with a tight/small budget, you'll be better off with the economic options.
Other Frequently Asked Questions: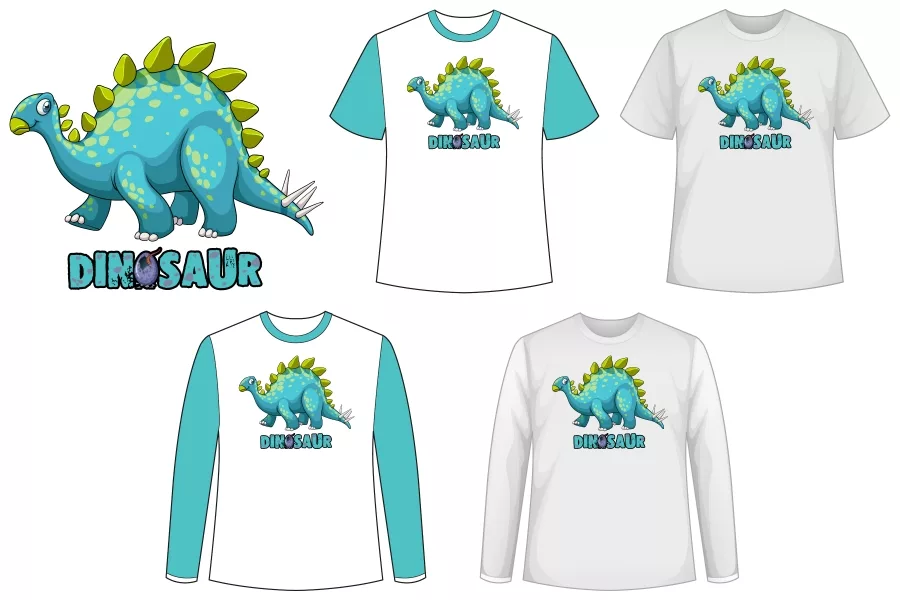 What is the most popular T-Shirt color?
As a majority of people desire to buy "safe" colors which they can wear on both informal and formal occasions, you'll find that the most popular T-shirt colors are white, black and blue! The added benefit of these shades is that they suit any person - irrespective of their size, skin color, or personality.
Screen printing vs heat press: which is more durable?
While both methods produce designs that stay in place for long, the heat press tends to produce longer lasting results. This is because the method involves using heat to bake the ink onto your fabric, reducing its chances of cracking or fading.
What kind of paper is used in transferring designs to t-Shirts?
This paper used is referred to as a heat transfer paper. You simply print on this design and then use a heat press to transfer the design from it to your garment. Keep in mind that there are different types of heat transfer papers for different types of garments and printing methods.
Why do printed designs on shirts cracks?
Washing of a printed shirt in hot water is the main culprit for cracked designs. If you want to keep your shirt's graphic looking good for longer, consider washing it in cold water.
Final Verdict
As you have just discovered from this post, there exists a variety of t-shirt printing methods for you to choose from. Most of these techniques will offer you very high-quality duplicate of your design or artwork.
Having offered you the upsides and downsides of these methods, we're hopeful that you'll have an easy time deciding which one to use for your upcoming t-shirt printing project.