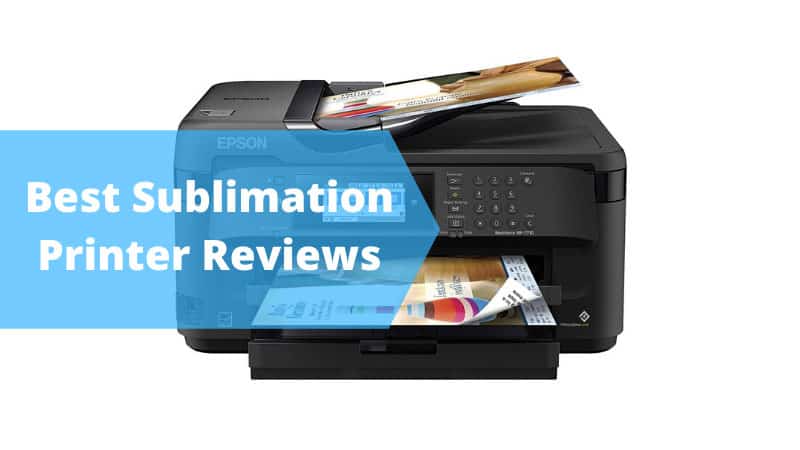 Best Sublimation Printer Reviews 2020 – Ultimate Buyer's Guide
Sublimation printing has become one of the most preferred methods of embedding graphics and images onto garments and other items.
This is mainly because this method is affordable and the image you sublimate to your garments and other items NEVER fades or peels with time. It becomes part of the substrate.
If you're just getting started into the sublimation printer, you'll need the best sublimation printer to help you sublimate high-quality images and achieve incredible results.
Luckily, the market has a wide selection of sublimation printers for everyone—including absolute beginners, budget-minded crafters, businesspeople and more.
The following list outlines our selection of the most popular sublimation printers on the market today, from some of the most reputable brands.
What's a Sublimation Printer?
A sublimation printer refers to a special printer dedicated to printing sublimation ink onto the sublimation transfer paper for application on various substrates.
Unlike the traditional inkjet printer, a sublimation printer uses a special type of ink—commonly known as disperse dyes or dye-sub ink. This ink is capable of converting directly from solid to gaseous state when exposed to high temperatures.
Once you print on your sublimation transfer paper with a sublimation printer, you place the paper on the target surface and heat press it at high temperatures. This will cause the solid ink to convert into a gas (sublimation process) and bonds with your substrate, leaving a permanent impression that doesn't fade over time.
KEY advantages of sublimation printing include:
With the increased popularity of dye sublimation, more and more sublimation printers are entering the market. These printers are designed with varying printing capabilities and different functionalities, so getting a unit that fits your unique needs should be easy.
Let's take a closer look at some of the best sublimation printers you can find on the market today…
Our Best Sublimation Printer Reviews:
1. Epson Workforce WF-7710 Wireless Wide-Format Color Inkjet Printer
If you're looking for an Epson printer for sublimation, this Epson Workforce WF-7710 should be one of your top choices. the printer boasts of multi-functional capabilities in that it supports sublimation printing but also supports the printing of standard pages.
You can trust this top-rated printer to help you handle all your professional sublimation projects. It beautifully prints your arts and designs which you can then transfer to your clients' garments, pillowcases, mousepads, etc., with a heat press machine.
When it comes to printing, this Epson offers you some of the most impressive capabilities you'll hardly find on printers out there. Firstly, it lets you print shop-quality, borderless prints as large as 13 x 19 inches. Plus, it comes with automated double-sided printing capabilities, making a helpful investment for your office.
If you're handling larger projects, you'll appreciate the unit's 250-sheet tray that lets you feed the printer with more paper for the large tasks. Moreover, it has a dedicated rear feed for the specialty paper and output tray with the ability to hold as many as 125 sheets at a go.
Other than printing, this multi-functional Epson also works as a scanner and fax machine. The printer features a highly intuitive 4.3-inches color screen with easy navigation and controls—making it straightforward to use for beginners and expert crafters.
Highlighted Features:
2. Canon SELPHY CP1300 Wireless Compact Photo Printer
Next up, we have another reliable sublimation printer from a reputable brand. This is the perfect printer for crafters looking for a more compact printer with a moderate price tag.
Because this is a dye-sublimation printer, it utilizes a completely different technology than your traditional inkjet printer. It comes integrated with Dye-Sublimation Print Technology which involves using heat to transfer colored dyes to the heat transfer paper for application onto various substrates.
Even better, this Canon focuses on delivering high-quality photo prints with a heat transfer setup. You can rest assured that the photos you transfer with this printer will become fully dry instantly after application, remain waterproof and retain their vibrancy forever!
You'll also appreciate the diverse connectivity that comes with this printer. You can easily connect your smartphone or tablet to it via the Canon Print App. Or you can directly print from USB or from your camera's memory card.
Like all the Canons, this model also has a user-friendly design to make it easy for you to operate. This is evident from the titling 2.3-inch LCD screen that lets you easily pick, edit, and print your preferred photos and designs.
Overall, if you're looking for a compact, portable sublimation printer, this Canon is a great deal. It even comes with an optional battery pack to enable you to easily take the printer with you to any place and print right from your smartphone or memory card.
Highlighted Features:
3. Brother MFC-J491DW Wireless All-in-One Inkjet Printer
Brother is also a highly respected name in the printing industry due to its top-quality, A+ performance products. This particular model from the company is a fairly priced wireless all-in-one inkjet printer that lets you use sublimation ink to decorate your garments and other items.
The printer offers you versatile connection options. You can choose the built-in wireless connection or connect to a single Mac or PC via USB. It allows you to print wirelessly from your mobile devices using Air Print, Wi-Fi Direct, Google Cloud Print, etc.
It also supports cloud connectivity, where you can easily connect to popular Cloud services directly from your printer.
Another amazing thing about this printer is its great paper handling capabilities. The input tray can hold up to 100 sheets of paper. And it can hold different types of paper including the sublimation transfer paper, cardstock, photo paper, envelopes, and more.
Overall, this Brother printer is incredibly compact, easy to connect, and comes loaded with features and functionality that makes it suitable for your home office or small business. Like all the other machines featured on this list, it delivers high-quality print results.
Highlighted Features:
4. Sawgrass SG400 Virtuoso Sublimation Printer
If you're looking for a High-resolution sublimation printer for t-shirt, consider this Sawgrass Virtuoso Sublimation Printer as one of your top options. It's capable of printing your image and graphics with a high resolution of up to 1200 x 1200 dpi! With such an incredible resolution, it goes without saying that this printer produces dazzling, photo-quality prints that will carry you away!
Moreover, the sublimation printer is capable of printing on a wide range of items including cotton t-shirts, polyester fabrics, acrylics, glass, tiles, plaques, and more. it presents you with a self-cleaning feature that prevents jamming and clogging of inks—further ensuring a smooth and faster printing performance.
Keep in mind that this printer comes with a total of 100 sublimating paper sheets, flash drive (for installing the printer driver), USB cable, a set of ink cartridges, and a user manual to get you started ASAP!
Despite the powerful performance, this printer doesn't take up much space in your home, office, or your small business. It has a small footprint, measures 22 x 14 x 22 inches. as for the weight, the printer is 30 pounds…a bit heavy. nonetheless, it'll easily fit in the small spaces.
Highlighted Features:
5. Epson Stylus C88+ Inkjet Printer
If you're looking for the best Epson printer for sublimation for a small business or home use, consider getting this Stylus C88+ printer. It comes at an incredibly affordable cost without compromising its overall performance and print quality.
Similar to the other sublimation printers we have discussed above, this unit prints on your sublimation heat transfer paper. It boasts of a paper tray with the ability to hold as many as 120 sheets at a go.
It also boasts of fast printing performance. Yes, it can print up to 14 color pages in 60 seconds! Moreover, it outputs impressive high-resolution printing results—up to 5760×1440 dpi.
Since this is an older, less advanced printer from Epson, it lacks wireless connectivity. This means you'll need to hook it to your computer via a USB connection
As for the physical size, the printer is pretty compact, meaning it won't occupy a lot of space in your small craft room. It also feels pretty light (weighs less than 13 pounds), making it easy to take from one place to another.
If you need a simple printer for handling basic sublimation printing work, consider getting this Epson machine today. Remember, it comes with an attractive price tag and a small footprint, just like your inkjet printer.
Highlighted Features:
6. Canon Pixma MG3620 Wireless All-In-One Color Inkjet Printer
Here's another best printer for sublimation from Canon. Unlike the other Canons we discussed earlier, this model comes at an incredibly affordable cost. It also features an extremely compact and lightweight design, making it suitable for printing your projects on the go.
The printer produces breath-taking results for your craft projects. It delivers crisp, smudge-resistant, high-quality prints that will look good when you finally apply them on your t-shirts with a heat press. With a FAST print speed of up to 9.9 images per minute (for black) or 5.7 images per minute for color, this printer will let you work on a large pile of projects in a shorter period of time.
It comes integrated with great timesaving features such as auto-duplex printing and mobile device printing. It offers you multiple ways to print wirelessly...you can print directly from your smartphone, iPad, iPhone, and even iPod touch
Overall, this wireless all-in-one inkjet printer offers you simplicity and convenience when it comes to all your printing needs. It allows you to work on your projects from almost anywhere around your house, thanks to its wireless capability. Since it's a highly portable printer, you can easily take it with you to any place.
Highlighted Features:
7. Multi-brand Bundled Epson Workforce C88+ printer
This Epson printer for sublimation enjoys wide popularity as the best regular size (i.e. 8.4 inches wide) printer in the heat transfer industry. It comes bundled with the Hotzone360 Empty Ciss, enabling you to use it with sublimation or pigment ink for your garments personalization projects.
It's worth noting that the Hotzone Empty Ciss that comes with this printer is made from high-quality material for maximum durability and longevity. The Ciss works with any ink for heat transfers, meaning you can rely on this printer to conveniently handle all your heat transfer crafts.
Unlike other systems you'll find out there, this system was designed excellent fluidity to make it suitable for C88+ printer. It delivers a clog-free experience for all types of transfer inks. The printer features the same printing quality as the Epson Workforce 30, but it printers at up to 30% faster rate than the Workforce 30.
If you're new to sublimation printing, you'll find this printer quite easy to work with. The instructional manual presents you with a step by step guide on how to set up everything and even has a YouTube tutorial to further help you with the setup.
Unfortunately, this is not a wireless printer, so printing from your mobile devices isn't possible. you must hook up the printer with your computer via USB cable to do the print work.
Overall, the printer measures 20 x 12 x 10 inches and weighs about 15 pounds, meaning it feels light. It has a compact design and won't occupy much space in your home crafting room.
Highlighted Features:
8. Kodak Dock & Wi-Fi Portable 4x6" Instant Photo Printer
This is probably the most compact sublimation printer on our list. Despite the compactness, this is a great printer with wireless capability and supports sublimation printing. It also comes at an affordable cost, making it a great option for starters or hobbyist crafters.
Because of its small size, this Kodak will restrict the size of products you can print. Nonetheless, this portable printer lets you print your images the easiest way. you can directly print from your smartphone (both iOS and Android supported), iPad, digital camera, and USB memory stick.
Just like we've seen in the other printers on this list, this model produces high-quality standard (4" x 6") prints, with brilliant color and stunning detail. It utilizes the D2T2 Thermal Transfer Technology that ensures your printed images and graphics NEVER bleeds or fades with time.
For your own convenience, this printer allows you to simultaneously power up to 2 smart devices for FAST Charge. When you purchase this printer, you'll also access Kodak's Photo Printer App for unlimited filters, card templates, stickers, video and SNS print, Collage Maker, and more.
Highlighted Features:
9. PC Universal Sublimation Printer
If you're just getting started in the fun world of t-shirt printing, this is the best sublimation printer for t-shirts you can find on the market today. It comes with everything you need to get started making personified t-shirt gifts for your family members or friends.
To give you an easy start producing your personalized t-shirts, this printer comes with a universal sublimation cartridge and up to 100 sheets of sublimation papers. With these items at hand, you only need to feed the printer with your sublimation ink and get started printing quality images fir application to your t-shirts.
As with all the other printers we have featured on this post, this model also delivers high-quality prints that look really good once you apply them on your garments. Note that this unit is capable of producing prints as large as size A4 to meet specific printing needs.
since it has wireless capability, you can easily connect it to your mobile devices. Or you can choose to connect it to your computer the traditional way (i.e., via USB cable). The sublimation printer is 100% compatible with Windows, OS, Android, and iOS.
The complete package presents you with an all-in-one inkjet printer, a set of extra-large (XL) sublimation ink cartridges, sublimation transfer paper starter pack (up to 100 A4 size sheets), a roll of heat-resistant transfer tape, and detailed user guider and manual, all at the same attractive pricetag.
Highlighted Features:
What Makes a Great Sublimation Printer?
Picking a sublimation printer blindly is a sure way to invest your money in the wrong type of printer that doesn't meet your unique printing needs, leading to frustrations.
To avoid that, you need to know the key factors that should influence your final decision.
These factors include:
Print media handling capabilities
The first thing you need to look for in a new sublimation printer is the size of print media it can handle. This helps ensure you get a printer that matches your specific printing needs.
We can group the sublimation printers' printing field size into the following categories:
The TRICK here is to get a sublimation printer that comes with a small footprint while enabling you to produce the largest image you need for your craft projects.
Printing resolution
Another important thing to keep in mind when hunting for the perfect sublimation printer is its printing resolution.
The resolution for printers is usually expressed in dpi (dots per inch) which simply refers to the dots per inch of the printed physical image. Needless to say, the higher the dpi for a given image, the sharper the image becomes.
How much resolution should you go for?
300dpi is regarded as the standard resolution you'll find in most consumer and high-end models, and will perfectly meet the needs of most users.
If you need more detail in your images, then you should go for a higher dpi count…600dpi will be a great choice.
A printer rated 1200dpi translates to the highest resolution in the printing world currently. Before getting this highest resolution, think about what you intend to print and the type of media to print on.
Diverse connectivity
All the sublimation printers typically connect to a PC or Mac via a USB cable.
However, the latest units present you with even more connectivity options in terms of wireless connection.
As you might have noted in our reviews of top printers above, some models let you print directly (and wirelessly) from your mobile devices. Others let you print directly from your digital camera, USB flash disk, and some even support cloud concavity.
The more diverse connectivity options a sublimation printer, the more convenient it becomes for you to print your images.
Printer cost
It's also important to come up with a reasonable budget for how much you'll be spending on the new printer.
If you're looking for a sublimation printer for business use, that means it'll undergo regular use. As such, you'll need to set your budget higher to enable you to get a higher-end model that excellently withstand daily use while producing quality prints. You should expect to spend anywhere from a few hundred bucks to over a thousand US dollars.
A printer for a hobbyist or home use will be used occasionally, so you don't need to spend a lot in the printer. A budget of anything below $100 will get you a reliable printer. if you don't have a tight budget, you can extend your budget to around $200.
Frequently Asked Questions
1. How much does a brand new sublimation printer cost?
The cost of printers varies from unit to unit depending on the printing capabilities and functionalities they come with.
That said, an inkjet printer that supports sublimation printing of transfer papers as big as 8.5 x 14 inches will cost around $300 to $600. Units that produce larger images, measuring 13 x 19 inches, will cost you a bit higher, over a thousand bucks.
For the high-end, industrial-grade sublimation printers, you'll need to spend a higher amount of money, usually over $1500.
2. Can I use any printer for sublimation?
Not really. You'll need a printer specially designed for this job. Such printers usually come with sublimation printing heads to enable you to successfully do sublimation printing.
Unfortunately, these printers come with a hefty price tag and may not be affordable for hobbyists, small business owners, etc.
The good news is that you can easily find reliable color inkjet printers that support sublimation printing. These units usually require you to get a refillable ink cartridge and separate sublimation ink for them to do the job. Since these units are more affordable, they offer you a cheaper solution for your sublimation printing needs.
3. What other equipment do I need for sublimation printing?
To start applying your images onto t-shirts and other items, you'll need additional equipment apart from a sublimation printer.
The extra equipment includes sublimation ink, sublimation transfer paper, transfer tape, image editing software, and heat press machine.
TIP: We noted that some of the top-rated printers we reviewed above come with a starter pack that included transfer papers, heat transfer tape, and other extras, to help you get started immediately.
If you're just starting out, we suggest that you go for such printers to help you save money on the extra equipment.
4. Does sublimation ink go bad?
Absolutely, sublimation ink comes in liquid form, and just like other liquid inks, it has an expiry date on your printer cartridge. The shelf life for this specialty ink is around 6 months.
That said, the ink doesn't stop working immediately it goes bad. Instead, it starts degrading slowly…and with time, the sublimation dye separates out, leaving the particles clumping together.
The end result is clogging at your unit's print head and lines, which can render your printer non-functional.
Final Verdict
Knowing exactly what to look for in a sublimation printer will help ensure you get the best sublimation printer for your unique crafts projects.
In this post, we have just outlined the key factors that should influence your decision on what sublimation printer to purchase. These considerations will help you get the right printer and avoid the frustration that comes with the wrong choice of printer.
We have also outlined some of the top-rated sublimation printers currently available at the market. All these models produce high-resolution prints with stunning detail for great-looking results. They have varying sets of features and functions to meet the needs of different crafters—from newbies to professionals, hobbyists to businesspeople.
Grab one of these printers today for easy, smooth, and affordable sublimation printing experience.