Have you had to deal with a cluster of wiring, where most of the wires are the same color? If this is a situation you go through regularly, then your facing one of the most common electricians problems. It's a simple problem, one that can cause you to lose hours of work, as you try to figure out which wire goes where.
However, there is a solution; labeling the wires should allow you to get the wiring set-up organized. Although doing the labels by hand is a waste of time, instead, invest in the best label maker for electricians. This machine will not only help you get less clustered but will also save you the tiring process of hand-made labels.
Editors' Picks for Top Label Maker for Electricians
10 Best Label Maker for Electricians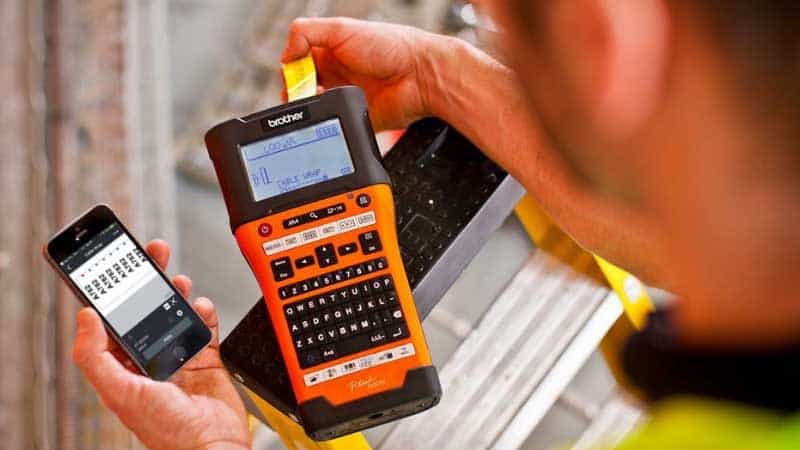 Figuring out which label maker fits in best for you is also an issue that needs resolving, and we're there to solve it. We've looked into many label makers, and these are the top 10 we've selected.
Each label maker in this article fits in with different needs; we wanted to make sure there's one for everyone.
1. Brother P-touch Label Maker PTD400AD
On the affordable end of the scale, Brother is a company that has been performing extremely well. The company's entire line of electronic products includes highly functional and well-designed machines, available at very affordable price tags.
With the P-touch, the PTD400AD Brother seems to be following the same concept, making it your money's worth.
Built with a qwerty keyboard, the P-touch label maker is the perfect device for an electrician on a job. The large buttons on the keyboard allow for easier typing and also lower the chances of you making mistakes.
Added to the large keyboard is an array of one-touch keys, these allow you to quickly select between the type of font, symbol, and frame you want.
These one-touch keys thus enable personal label customization. The label maker comes included with around 14 fonts, 99 frames, and over 600 symbols to serve almost all situations.
Additionally, you can also print out larger characters; the label maker supports around six different font sizes; thus, giving you the easy to read labels.
Brother provides you with an AC adapter; this is a great addition for those looking to put on labels onto your equipment. However, if you need the machine on a job, then the device can be easily turned mobile using only 6AA batteries.
The mobility allows you the flexibility to use the device anywhere, a necessary addition for field electricians.
Pros
Error-free typing using the large qwerty keyboard
Supports multiple tapers ranging from 18mm-3.5mm
One-touch functions for quick personalization of labels
Wide variety of fonts, frames, and symbols available
Supports both battery power and AC adapters
Cons
Difficult to carry around due to large size
Flimsicle plastic build

2. DYMO LetraTag LT-100H
DYMO is another big name you'll find in the label maker industry, building some of the most exceptionally designed label makers you've ever seen.
The company has a wide variety of models in their product line, with a few getting into our top 10 positions. One such product is the LT-100H, its handheld abilities setting a mark in the label maker market.
What people love about the product is its portability, its small size paired with the lightweight is the perfect addition for an electricians toolbox. The small size, however, has no interference with the abilities of the device either.
With dual-line printing, 5 font sizes, 7 print styles, and 8 frames, you're getting the ability to personalize each label.
The personalization aspect is a great addition for an electrician, as it allows easy categorization and much simpler organization of wire and other components.
Additionally, the company provides an entire line of label tapes. These tapes are made of various materials to choose according to need, such as paper, plastic, metallic, magnetic, etc.
With the device's large 13 character LCD screen, the device gives you enough space to preview your label tag before printing. The device runs on 4 AA batteries and should give you enough power to utilize the machine for some time.
To make sure the batteries last, the device comes with an automatic turn-off option and other power-saving abilities for lasting usage.
Pros
A large variety of fonts, styles, frames, and language options available
Comes with a memory system supporting 9 labels
Long runtime achieved with 4AA batteries and power-saving mode
Large LCD for easy previewing
Prints on paper and other material as well
Cons
A small keypad increases chances for errors
Battery replacement necessary every time they die

3. Brother P-touch Label Maker PT70BM
The PT70BM is the answer Brothers gave to the market for portable label makers, which left the market in awe.
This unique ergonomically designed label maker, with its top-grade functionality, ease of use, and versatility is what makes the PT70BM one of the best label printer for electricians. It's a machine that can go hand in hand with an electrician's daily work.
One of the most crucial selling aspects of this label maker comes from the amount of personalization that has been allotted to it. The label maker holds around 54 font variations, with 6 text sizes, 9 type styles, and framing options. These factors come in as essential to an electrician to categorize their equipment for better organization.
Now talking about the design, the game controller type shape of the product gives a much more comfortable hold. With a large qwerty keypad installed on the design, typing becomes much quicker and error-free.
The machines compact size and lightweight also make the label-maker the perfect tool for carrying onto jobs, as it'll into almost any bag.
Not only does the large keyboard feature comfortable typing, but you're also getting a large LCD screen with the device. Thus, allowing you to preview the label and make sure all the personalized aspects have been done right.
The machine uses 4 AAA batteries to power itself; these will run the machine for some time; however, it will require regular replacement.
Pros
Great ease of use through ergonomically design
Quick and accurate typing using Qwerty keyboard
Multiple fonts, sizes, styles, and framing options
Can be used with a variety of label type styles
Device supports Brother P touch M tapes from a 9mm-12mm range
Cons
Batteries will be going out now and then, creating a hassle
Genuine refill tapes are relatively expensive

4. DYMO LetraTag LT-100T Plus Compact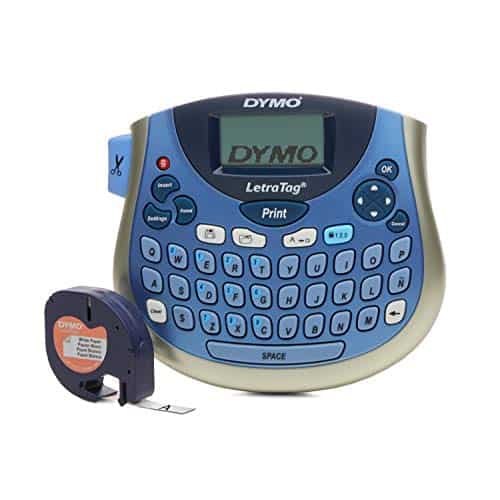 As we mentioned before, you'd be seeing quite many DYMO products in this label maker for electricians review.
The company's brand Letra tag has many great models, and the LT-100T shares this proud title, boasting a beautifully designed machine with great functionality. But what tips the scales of this device to be on the top 10 is its compactness.
The label printer is sized into the shape of a regular calculator, with dimensions of 8.68 x 3.268 x 9 inches and a weight of only 1.41 pounds. Thus, creating a device small enough and light enough for you to stick into your toolbox and carry around.
Unlike the previous model, this one has a much wider keyboard, making typing comfortable and accurate.
However, the machine still has some features similar to the previous device. The LT-100T comes with a plethora of fonts, print styles, frame styles, and date stamps, keeping the personalization aspect of the machine alive.
You also get a set 9 label memory system that allows you to save your favorite labels and have them readily available during printing.
If you're still looking for further personalization, you have other options available. DYMO comes with an entire line of label tapes made of different materials; these tapes range from paper, plastic, metallic, magnetic, iron, and many more.
You choose the material according to the surface you want the label to be on, making sure it's a perfect fit.
Pros
You get a large variety of label tape to choose from
Wider qwerty keyboard for quick and accurate typing
A range of font, style, frame, and language personalization options available
Full label preview possible with 13 character LCD
Nine label saves are available for future usage
Cons
Bit more expensive
Battery operated will require continuous replacements

5. DYMO MobileLabeler Label Maker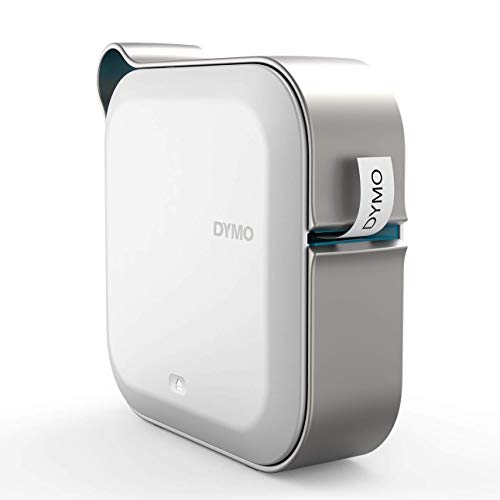 Traditional label makers are excellent and reliable little devices that provide good quality functions; however, your ability to personalize with them is still limited. To fix that and bring you up to date with the latest tech, the DYMO launched a mobile labeler.
This device is unlike any other label maker; it provides you the ability of limitless personalization, with added efficiency.
You no longer have to rely on the dainty little LCD screens you used to get on label makers. Now by simply connecting Dymo's mobile labeler to your phone, through its strong Bluetooth connectivity, you'll be able to preview the exact look of your labels.
Furthermore, since the machine uses laser printing tech, it will always ensure you print what you see.
To build your label, all you have to do is download an application on your phone or PC, compatible with IOS, Android, Windows, and Mac. This application will allow you to access an entire library of fonts, styles, frames, and languages.
Thus, giving you the ability to print out any label you find fit, giving you the ultimate opportunity to use your creativity.
Another big advantage that comes in lined up with this product is its rechargeability. You no longer need to rely on AAA or AA batteries to power your device. Instead, you can save money by recharging its lithium-ion battery using a regular USB cable.
Then there's the bonus of how small this device is, something you can fit into your pocket and carry to jobs.
Pros
Machine provides limitless opportunities to personalize labels
Printing range of labels is from ¼" to 1" size tapes
Ease of use and highly accurate due to spell check available
Compact size for easier carry ability
Rechargeable batteries used
Cons
A bit more expensive
Dependency on the availability of a computer or smartphone to print

6. Brother Printer RPTD400 Versatile Compact Label Maker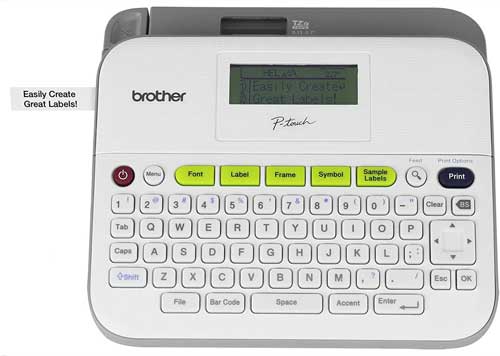 If you're looking for a more affordable version to Brothers label maker, then they've got just the model in store for you. The RPTD400 is one of Brother's most versatile yet functional devices that they've put up at quite a lucrative price.
However, the lower price does not mean the model lacks quality; Brother has made sure to give you the same staggering experience.
The machine's design has been made similar to their other label makers, so you'll be getting the same amount of comfort while using this. Its qwerty keyboard is spaced widely; this should give you enough space to type out your labels quickly and accurately.
Additionally, you're also getting the quick access tabs on the top for easy format changes.
With the quick access tab on the device, you'll be able to change between fonts, labels, frames, symbols, and sample label types very quickly. Thus allowing you to adjust each format individually, thus allowing you to utilize your creativity to a much greater extent.
This machine will also give you control over the font sizes and the number of text lines you can put in. The tapes for this machine are widely available in the market, and the machine also supports quite a few material types, with sizes ranging in from 3.5mm to 18mm.
For power input, the machine supports both AC power and can also be run on batteries for improved mobility. However, with this model, you'll have to purchase the AC adapter separately.
Pros
Easy to access buttons for simpler personalization
Supports multiple label tapes from sizes 3.5mm-8mm
Quick and accurate typing with widely spaced qwerty keyboard
Available at much more affordable price
Font, font size, label type, frames, and symbols are changeable
Cons
Does not include an AC adapter
Batteries need frequent replacement

7. Brother VC-500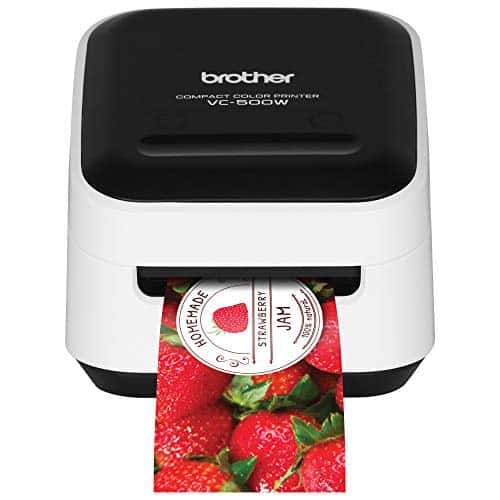 If you're looking for a more tech-based device that can print out more than just labels, the Brother's VC-500 is a product that you should definitely check out. It's a color printer that prints without ink, thanks to the zero ink technology that goes into it.
This zero ink or Zink technology is responsible for the machines' ever-so-detailed and rich color prints without ink.
And the printing doesn't just stop with label making; this printer can do so much more, making it one of the most versatile products in the market. Some even call this device the best label maker for electricians, a name it earned with respect to the personalization it allows.
Once connected with the free color label app, the machine allows you to print out almost anything.
With the app installed, all you need to do is connect the machine to your home's wifi or wifi direct. This connection will be strong enough for you to use the device from almost anywhere at home, a great feature for on job duties.
Additionally, the device is usable from most operating systems without issues, so you don't need a particular device to run the printer.
To further personalize your projects, Brother provides an entire range of different CZ and CK rolls, made of varying materials and colors. Your label maker will further support rolls that start at only 3/8" wide to about 2" wide, enough to cover most of your jobs.
Moreover, you can print each label to about 17" long; thus, that should be long enough to cover most works.
Pros
Zink tech for revolutionary ink-less color printing
Small compact design will fit into any space
Allows you to use your creativities full extent with application support
Wireless and wifi direct allows smartphone and pc connectivity
Wide range of printing tapes available in many colors and materials
Cons
Relatively more expensive than a standard label maker
Requires a smartphone or computer to be useable

8. Brother P-touch, PTD210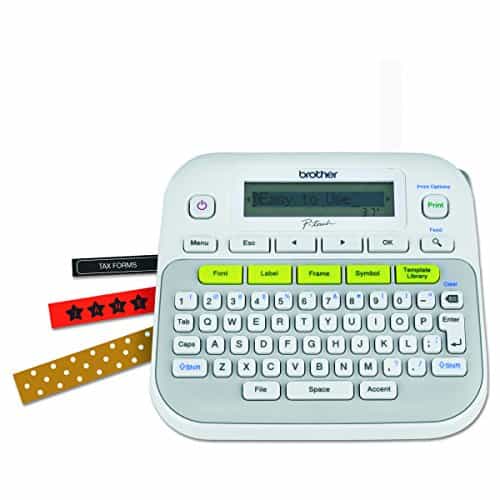 The PTD 210 is one of the oldest models you'll find in this label maker for electricians review; however, the machine in no way is less functional.
For those looking for a label maker at a bargain that just gets the job done, the PTD210 from Brother fits in perfectly. The device shares a bunch of similarities to newer models, so you know its good.
This desktop type label maker is smaller than the other machines from the p-touch series. However, it still carries a good-sized qwerty keyboard with enough space for you to use the device with great comfort and accuracy.
On the top end of the keyboard, you'll also find a dedicated section of quick access keys, allowing you to switch between formats quickly.
Moreover, you're not only limited to changing the formats on this machine. The immense wide range of personalization aspects that Brother provides should allow you to get the label that perfectly fits the situation.
You have the option to change between 14 fonts, 97 frame styles, and 600 symbols; you also have a library of 27 ready templates to use from.
All you'll need to run this machine are six AAA batteries; this battery-run feature pairs great with the already lightweight and compact size of the product. Thus, allotting you a label maker machine that you can take with you to any job.
Although if you want to use the machine as an on desk item, you can purchase the additional AC adapter.
Pros
Compact size and lightweight, paired with battery run abilities
Wide personalization options available to font, frame, and styles
Large qwerty keyboard with comfortable typing space
Brother provides a wide range of label tapes to choose from
Low price and high functionality provide great value
Cons
Batteries will require frequent replacement
Not as portable as most other devices

9. DYMO Label Maker | LabelManager 160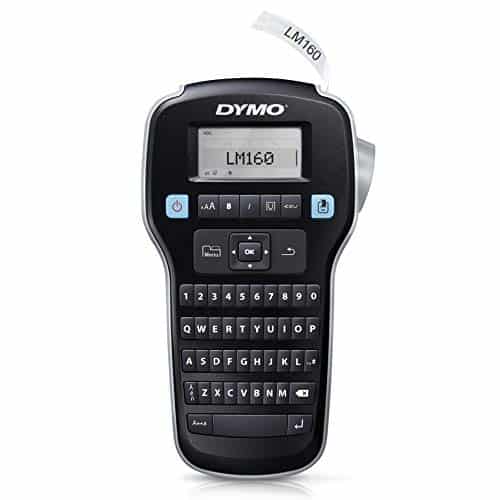 We're bringing in another product from one of the top label maker companies we know, DYMO. The label manager 160 is an entirely different model than the ones we've talked about, and we'll get into why it is the best label printer for electrician.
But before that, we need to ask you, as an electrician, what do you consider most important when buying a label maker?
A survey showed that a large percentage of electricians took portability as one of the most important aspects. And with that DYMO has created their top contender in the label making market, the label manager 160.
This is one product whose portability, ease of usage, and efficiency is something no other device in its market has been able to match,
Starting with its unique dual handed typing system, a system most people are used to due to constant phone usage. Thus, it's quite easy to get used to the device and relatively quick to use.
However, this usage pattern can easily become quicker through the devices easy to reach quick access keys; for a quick way to personalize up your label according to you.
The quickness of the device is matched accordingly with its capabilities. With the machine coming ready with multiple fonts, styles, frames, and languages, you're already set to liven up your workspace.
Additionally, you also get a built-in library with 200 sample labels and a memory system that stores older labels, so you never have to waste time.
Pros
Handles huge workloads efficiently and effectively
Immensely portable with an easy to hold design
Loaded with an array of personalization tools and content
Memory system can store labels for future use
Long battery life with power saving option
Cons
Battery power is unreliable
Model is a bit more expensive

10. DYMO Embossing Label Maker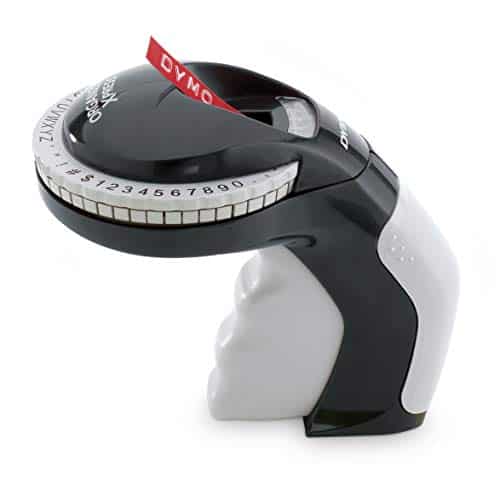 If you don't want yourself relying on a bunch of batteries and circuits to make your labels, you could take the old fashioned root.
In this label maker for electricians review, the Embossing label maker by DYMO is the oldest yet the most reliable labeling device there is. Plus, there's the added benefit of the device being extremely cheap.
For those who have very irregular use of a label maker, the embossing device isn't a bad choice. This machine is one of the lightest devices the company has to offer, weighing in at only 0.52lbs, something you wouldn't even notice in your toolbox.
Plus, with the labelers ergonomically built clicker, you don't have to worry about sore arms.
The machine comes with all the necessary letters, numbers, and symbols all placed on the clicker. All you have to do is turn the clicker and press hard on each character, a fun exercise for you to get into. Plus, even though there's only a limited amount of scope for personalization, the colorful tapes from DYMO set things apart.
One of the biggest advantages that come your way by using this older tech is the freedom associated with it. The device is not dependent on any form of electricity or a smartphone to run; it can operate anywhere and anytime. Plus, the machine comes preloaded with a 12ft 3/8 inch embossing tape so you'll be covered for some time.
Pros
Lightweight and portable device
Does not depend on any form of electrical energy to function
Very easy-to-use turn and click labeling system
Comes with all the necessary characters necessary
Ergonomic design for easy and quick working
Cons
Not much scope when it comes to personalization
Mistakes made here are permanent

Features to Look for Before Buying
If this is your first time purchasing a label maker and you have little or no idea about what to get, this section is for you. The buying guide we've provided looks into the necessary features and aspects you should look into before purchasing.
Type of Label Maker
When buying a label maker, you'll find an entire sea of models and varieties you could purchase, each with its own set of pros and cons. To determine which model would be the best label maker for electricians, you have to look deep into the type of job they're considering the label maker for.
Desk Type
If most of the tasks are limited to labeling electrical components near the desk, then the desk type fits perfectly. This type of machine should allow you to connect the label maker to an AC outlet, not having to rely on battery power to use the machine.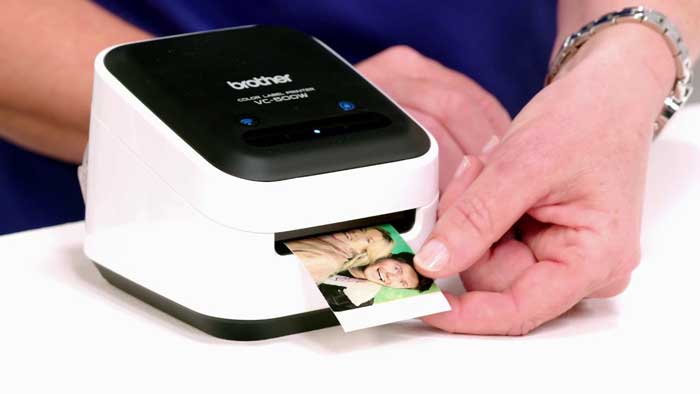 They're also designed much more conveniently with larger keypads for relaxed typing.
Handheld Types
For on-the - go jobs that require the user to move around quite a lot, a handheld label maker fits in perfectly. These label makers will conveniently support you at any given location, given that battery is functional.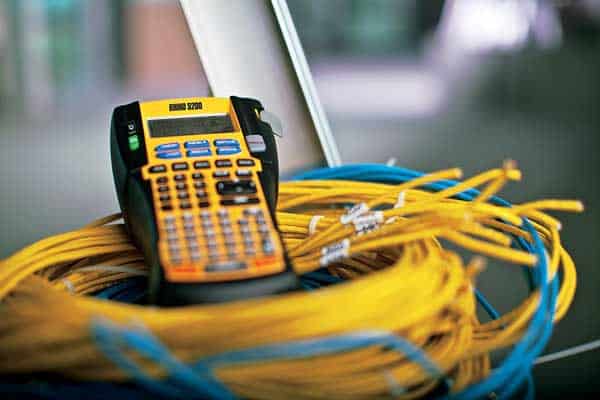 You'll also find that these label makers are much more compact in size with smaller keyboards and lighter weight; for easy carry ability.
Battery Life
A big concern with almost all label makers is the amount of battery life you can get from them. Most label makers use a set of AAA or AA batteries to run; however, in most cases, these deplete very quickly due to the high power demands of the machine.
These batteries then must be replaced quite frequently as well to make sure the device stays running.
If you don't want to get into this expensive mess of having to buy a new set of batteries now-and-then, purchase a machine with a rechargeable battery. Or, as an alternative, you can also invest in a set of rechargeable batteries.
Another factor that must be considered when talking about batteries is the amount of time these batteries last.
If the machine can't last on a large project, then the label maker becomes relatively redundant. To make sure your machine has a battery that lasts, purchase a machine with multiple power-saving options.
These functions will keep your batteries alive for much longer and will give you some assurance that you'll get through an entire day of work.
Customization
When it comes to organizing yourself, using the same type of font and format is something that will confuse you soon enough. If you don't want to find yourself clustered, and want to improve your organizational abilities, personalization is key.
To make sure your machine gives you the best value, try to find the amount of personalization you can get out of it.
Look for the machine that provides the widest range of fonts, frames, styles, sizes, and languages. You can also try and look for machines with pre-designed label styles available.
These will provide you with the creative spark to create labels that you find the best fit. Additionally, some companies also offer an entire range of label tapes made of a wide variety of colors and materials. These also come in very handy when you're looking to customize your labels according to your preferences.
Portability and Ease-of-Use
These two factors set apart a good product from a great product, so make sure you're making the right choices. For an electrician working out on the field, portability is one of the most important factors to consider.
For this reason, make sure the machine you're considering is light enough and compact enough to fit into the bag you usually carry.
Another factor in getting the best product is to make sure the machine you're getting is also easy to use. Some machines require to be connected to smartphones to work; this can be a very time consuming and tricky process. Try and stay away from such a machine if efficiency is something you hold high on your list of importance.
Instead, we would recommend that you go for a label maker with a simple, functional process. A process that can be mastered quickly would help make your work go by faster.
Frequently Asked Questions
1. Do label makers need ink to work?
The answer to this largely depends on the brand and type of machine you're getting. However, it is highly likely your label maker will not require any ink to work, thanks to a process called thermal heating.
2. Will the label maker labels be waterproof?
Waterproofing will ultimately depend on the label maker and the tapes that they're using. For example, for labels made out of paper, there's only a slight chance of you getting a waterproof paper.
However, companies have plastic made tapes available for use, which will provide the needed waterproofing.
Yes, the label making process won't be as convenient as on a label maker, but it is doable. All you have to do is design your labels on a document and then print those out a piece of paper. The paper will then have to be cut into the pieces according to the size of the label.
4. How long will a label maker last?
This answer largely depends on the brand from which you've purchased the device and your usage patterns. However, most label makers can make, on average, 500,000 labels. Considering average usage trends, this means the label maker can last you around 60 years if used right.
5. Can label makers print in color?
Yes, label makers surely can. However, it will depend on the machine that you're using. If the machine you're using supports an ink, laser, or thermal printing system, there's a high chance you can print colorful labels.
Final Words
Label makers are tools that have been around for generations, and their importance to us is everlasting. The best label maker for electricians can help make their lives uncluttered and more organized. Thus, making them much more efficient and effective at their job, with little chances of errors.
Buy now at Etsy, Walmart, eBay (quality guaranteed)
Brother P-touch Label Maker, PC-Connectable Labeler, PTD600, Color Display, - Walmart, Etsy, Ebay
Sanford Brands 1756589 RHINO 5200 Label Printer Kit - Walmart, Etsy, Ebay
Brother P-touch, PTD210, Easy-to-Use Label Maker, One-Touch Keys, Multiple Font Styles, - Walmart, Etsy, Ebay
DYMO Label Maker LabelManager 160 Portable Label Maker, Easy-to-Use, One-Touch Smart - Walmart, Etsy, Ebay
Brady BMP21-PLUS Handheld Label Printer with Rubber Bumpers, Multi-Line Print, 6 to 40 - Walmart, Etsy, Ebay
DYMO Rhino 4200 Label Maker (1801611) - Walmart, Etsy, eBay
DYMO Label Maker, LetraTag 100H Handheld Label Maker, Easy-to-Use, 13 Character LCD - Walmart, Etsy, Ebay