Truth be told, we all own a bunch of t-shirts, whether we got them as presents with customized graphics, for participating in charity walks, from playing sports, etc.
Over time, these t-shirts get old, torn out, tattered. Some will even start falling apart at the seams. And in some cases, your body will outgrow them.
At that point, your favorite shirt becomes less helpful, and your option is to throw it away.
But PAUSE!
Before you can think of throwing your old tees away, think of ways you can repurpose them so that you can preserve the cherished memories they carry.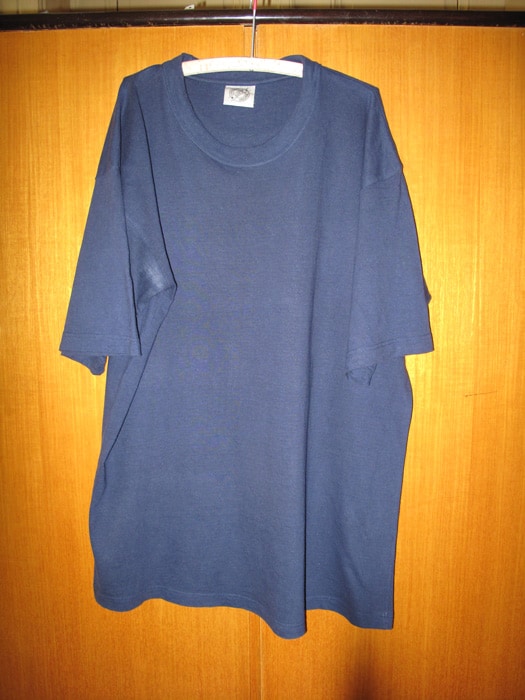 To help you out, we have gathered up to some proven ways you can turn your old cotton t-shirts into useful items.
We'll group these items into fashion accessories, baby/kids items, pet accessories, sleepwear, household items, and decorative items.
How To Reuse a Bunch of Torn up Cotton T-shirts?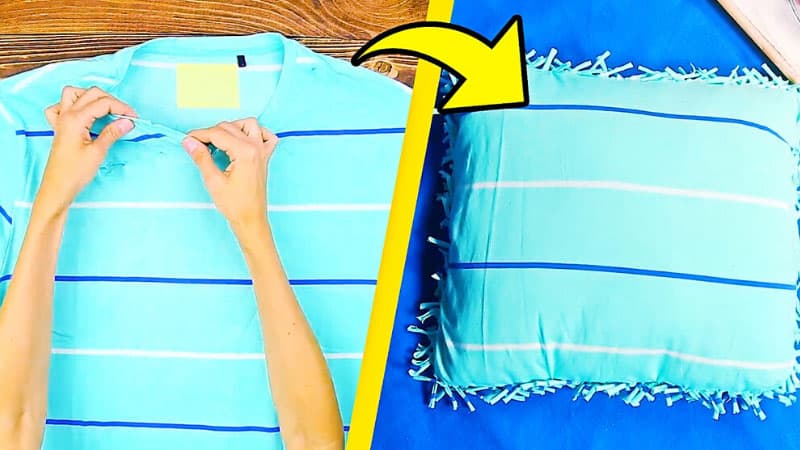 1. Fashion Accessories and Items

Braided t-shirt belt
One clever way to repurpose your old cotton t-shirt is to come up with a braided belt. You just need to master the four-strand braiding technique for you to be able to work on this DIY project.
Here's a complete tutorial for braided t-shirt belt: https://www.deliacreates.com/braided-belt-tutorial/?ref=pcrorganicgglunkwn&prid=pcseogglunkwn
Braided bracelets
Can't figure out the perfect handmade gift you can get for your best friend or someone close to you? How about making them custom bands or bracelets from your old t-shirts?
This project will take you approx. half an hour, and you can use the finger knitting or Josephine knot to make the bracelets.
Raglan t-shirt
If you have an old cotton crewneck t-shirt, you can add a colorful pattern to it to transform into a fashionable item.
This project is quite easy and fast, and inexpensive.
Here's the full tutorial for this project: https://blog.spoonflower.com/2017/04/raglan-t-shirt-refashion-diy-raglan-tee/
Apron t-shirt
Instead of throwing away a stained, torn t-shirt, you can simply cut and transform it into an apron. A t-shirt apron is soft and movable, unlike the stiff aprons, which might make you feel uncomfortable.
See more details on making a t-shirt apron here: https://sawdustgirl.com/no-sew-t-shirt-apron/
Shoe laces
Did you misplace your shoelaces? Or you want new laces with a specific color? If yes, your cotton t-shirts would be a good source of shoelaces.
How exactly do you make shoelaces form old tees, though?
Again, this is a pretty simple project for you. No special skills needed. You just need a few items and your old t-shirts.
For more details, check out this page: https://tidymom.net/2014/make-shoelaces-out-out-tee-shirts/
T-shirt skirt
Ladies…how about turning that oversized XXXL cotton t-shirt into a soft, flowy skirt?
You can already imagine how comfortable and girly you'll feel in such a skirt.
Get the full step by step guide for this project here: http://gwyl.io/transform-old-t-shirt-fashionable-skirt/
T-shirt wrap dress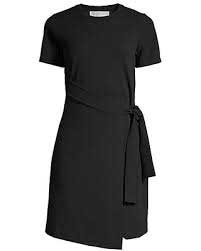 If you have an old oversized t-shirt, then you can turn it into a nice looking wrap dress.
Get more details about this project here: https://www.pinterest.com/pin/392094711280373072/
T-shirt scarf
You can also come up with a beautiful t-shirt scarf from your t-shirts for yourself or gift them to your loved ones.
The best thing about t-shirt scarves is that you're not limited to the type of scar you can make.
There are numerous styles of these accessories-ranging from the braided to a two-toned, fringes, and more.
Check out this page ( https://myblessedlife.net/2011/10/t-shirt-scarf-tutorial.html) for some of the coolest scarf styles you can make from your old tees.
2. Baby and Kids' Items
Headbands
Good news! You don't have to spend tens of bucks to get your baby that nice looking headband you saw in the store the other day.
If you have old cotton t-shirts, grab them and try making the headbands on your own and learn a new thing in the process.
As you'll discover, making these headbands will take you approx. 2 minutes. And the final product looks soo cute that nobody will believe you made it on your own.
Head over to this website for the DIY tutorial: http://www.iammommahearmeroar.net/2012/04/no-sew-headbands.html?ref=pcrorganicgglunkwn&prid=pcseogglunkwn
Baby pants
You can easily turn your old cotton shirts or sweatshirts into cute pants for your little one.
The best thing about making your kids pants on your own, is that you'll come up with pants that fit them perfectly and feel comfortable on them, unlike the store-bought ones.
Not to forget, you'll save some cash in the process.
Toddler dress
If you're having a hard time finding cool dresses for your little angle, you can turn an old adult size t-shirt into a cute-looking dress that will instantly become your daughter's favorite.
Check this step by step guide on how to do it: https://www.instructables.com/id/Make-a-toddler-dress-from-a-t-shirt/
Alternatively, you can turn your old t-shirts into beautiful nightgowns for your daughter as explained in this tutorial: https://www.itsalwaysautumn.com/easy-upcycled-pajames-from-t-shirt-to-nightgown-in-15-minute.html
Bibs
Any experienced parent will tell you that the more bibs you have, the easier your parenting life will become.
The good news is that you don't always have to spend money on bibs.
You can gather a bunch of your old cotton tees and churn a good amount of bibs out of them.
This project is quite easily, and you can make a ton of bibs in no time.
Here's an excellent tutorial for this project: https://www.agirlandagluegun.com/2015/08/baby-bibs-from-old-ts-gust-posting.html
Beanbags
Bean bags are a classic fun toy that has been in use for a pretty long time. They not only help your young ones develop gross motor skills but also promote hand-eye coordination skills.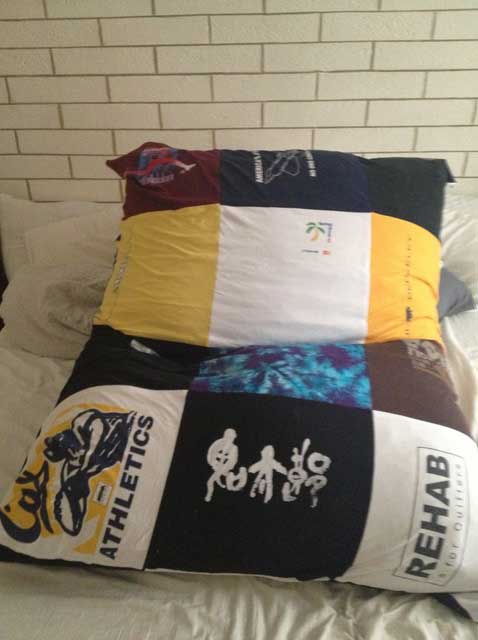 Even better, making one from your old tees is quite easy and doesn't require you to have any prior sewing experience.
Follow this tutorial to make a mini beanbag for your kids: https://www.kidspot.com.au/things-to-do/activity-articles/homemade-bean-bags-and-3-games-to-play-with-them/news-story/eaec9af9f02c00993915b61ac98a891b
Baby romper
Turning that old mommy's or daddy's t-shirt into a baby romper for your little angel is another way to repurpose your old cotton tees.
This method is relatively easy too, and you can make customizations to your designs as you deem suitable.
Check the tutorial here: https://sugarbeecrafts.com/t-shirt-into-baby-romper
Doll clothes
Do you have a young sewer in your home? If yes, this is the perfect project to help them grow their sewing skills.
It involves making various pieces of clothes for their dolls from your old t-shirts.
Tutorial: https://creativeworldofvarya.com/doll-clothes-from-old-t-shirts/
3. Sleepwear
T-shirt blanket
Imagine saving your cherished memories (t-shirts) in the form of a quilt?
Well, this is one of the coolest ways of turning your t-shirts into useful items, and it involves coming up with a t-shirt comforter.
If you have a bunch of t-shirts enough to make a full blanket, and some basic quilting skills, then this is a cool DIY project for you.
If your teenage son or daughter has a load of t-shirts that they don't wear anymore, you can help them preserve the memories of t-shirts by making them this quilt.
Find more details about this DIY project here: http://www.starsforstreetlights.com/diy-t-shirt-quilt/
T-shirt pillow
If your favorite tee is getting worn out and doesn't know how to preserve the memories it holds, simply turn it into a throw pillow for your futon, bed, chair, or couch.
The following video will show you how to come up with truly adorable pillows form minimal materials, with no sewing involved.
If you've got some basic sewing skills, then you can follow this tutorial to come up with a cute looking throw pillow: https://www.allfreecrafts.com/sewing/pillows/tshirt-pillow/
4. Pet Accessories
Pet toys
If you have a pet at home, let it benefit from your old t-shirts too by making them some toys to make their playtime more fun.
You can come up with a braided, colorful chew toy that requires no sewing or gluing as shown in this tutorial: https://barkpost.com/answers/how-to-make-a-t-shirt-dog-toy/
Dog bedding
Still, on your dog, you can also make her fluffy, comfortable bedding by sewing together up to 4 t-shirts (depending on the size of your dog).
Unlike the commercial dog beds, your handmade will be harder for your furry friend to destroy and will be way cheaper.
Wanna make c comfortable bedding for your dog? Check out this tutorial: https://dogcare.dailypuppy.com/diy-old-tshirt-dog-bed-4373.html
5. Household Items
T-shirt produce bag
How about turning your worn-out tees into mesh cut produce bag that you can use to easily carry fruits and veggies from the farmers' market?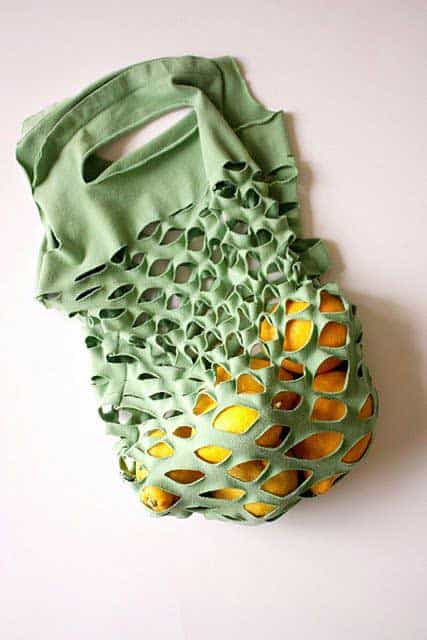 Just like most of the other projects we have featured in this guide, this one is quite easy and require quite little sewing.
Tutorial: https://www.deliacreates.com/greeneasy-knit-produce-bag/?ref=pcrorganicgglunkwn&prid=pcseogglunkwn
Dust rags
You don't need to spend your cash on those pricey dust rags while you can easily create your own using old tees.
The cotton rags you might be thinking of throwing away are a good source of great rags that will help you clean spills, leaks, etc. around your house.
How to make dusters from old tees: https://kalynbrooke.com/house-and-home/old-t-shirts-into-dust-rags/
Placemats
You can also come up with t-shirt placemats from old tees for protecting your dinner table from food stains, water marks, heat damage, all while decorating the dining table.
For this project, you'd want to choose good looking tees to ensure you get a nice looking final product that makes your table look good as well.
Here's the tutorial to follow: https://www.crafterslovecrafts.com/tshirt-placemats.html
Dinner napkins
Don't you think cloth napkins would be a better option than the paper napkins?
You can make yourself a ton of them using your old tees. You simply cut out your tees, and stitch around to give the edges a more finished and refined look.
Your guests would totally love these!
See the tutorial for t-shirt napkins here: http://www.greenworld365.com/how-to-make-your-own-napkins-using-old-fabric/
6. Decorative Stuff
wall art
another great way to continue appreciating your favorite t-shirt after it becomes worn-out or small is turning it into wall art.
This is one of the simplest projects for repurposing your old tees. You only need a piece of canvas (12 by 12 inches), a pair of scissors, and the staple glue to get the job done.
This tutorial from Instructables will show you how to do it: https://www.instructables.com/id/T-Shirt-Wall-Art/
Repurpose your old tees today!
When your favorite t-shirts become old, you don't have to part with them. You can easily repurpose them into something useful and continue preserving the memories you associate with them.
In the above guide, we have just shared with you some of the coolest items you can make from your old, torn-out t-shirts from the comfort of your home.
Which of these items would you like to try with your bunch of old t-shirts? Let us know in the comment section below.