Have you run out of ideas on things you can make with your Cricut cutting machine? Or you just bought a new Cricut and can't figure out what Cricut vinyl projects to start creating with it?
If yes, you'll find this guide helpful.
The Cricut cutting machines feature great functions and cutting capabilities that grant you incredible versatility on the type of vinyl projects you can make with them.
In the following post, we'll share with you some of the coolest and fun home vinyl projects you can make with your Cricut machine today.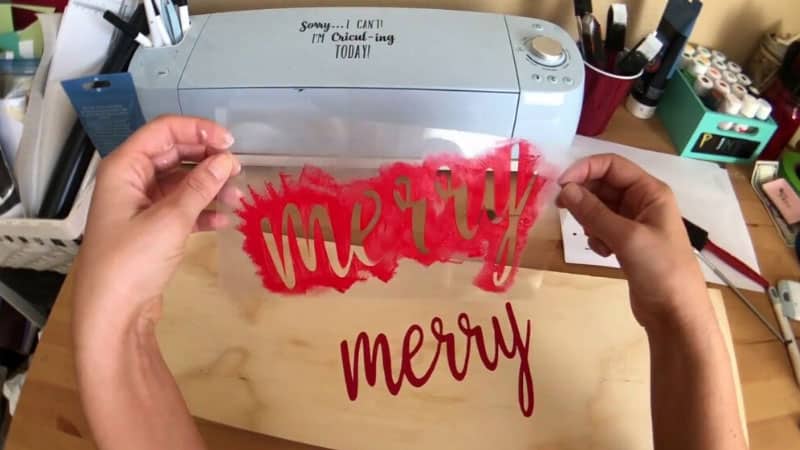 13 Amazing Cricut Vinyl Project Ideas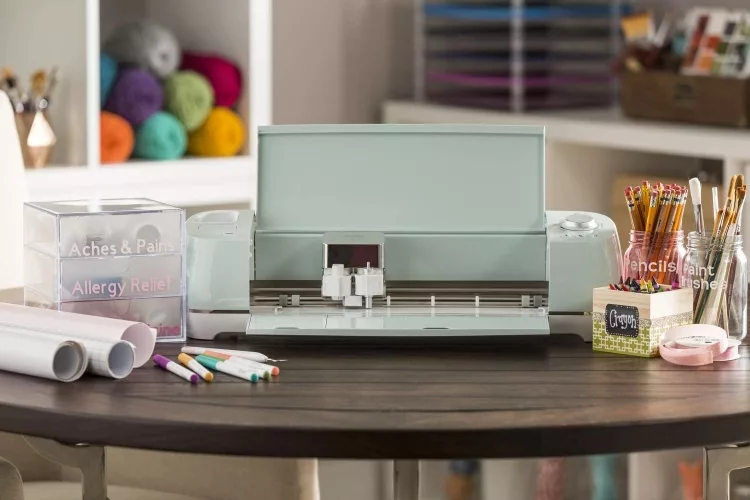 1. Labels
One of the coolest things you can do you with a Cricut vinyl cutting machine involves making labels for various items around your home.
For instance, you can make labels for your pantry for easy organization, physical number stickers for the order of photographs you take during a tutorial, supplies, materials, experiments, and so on.
You can also create labels display safety warnings around the house or glow-in-the-dark safety labels in the garage, which reveal themselves when you flip off the lights.
You'll be using adhesive vinyl for making both indoor and outdoor stickers. But for outdoor stickers, you might consider laminating them to keep them protected from weather elements for maximum longevity.
2. Car decals
"Pimp my ride" just got easier and better with a vinyl cutter. You can use your cutting machine to cut out your desired decals from adhesive vinyl.
These decals can be anything from decorative shapes and designs for spicing up the look of your car to simple messages like "Keep your distance," and so on.
Not just decals, you can also use your cutter to creatively cut designs that get to be highlighted by the different layers of your window tine.
3. Decoration laptop/smartphone covers
You can also use your vinyl cutting machine to create decorative covers for laptops or smartphones. This one is going to be FUN!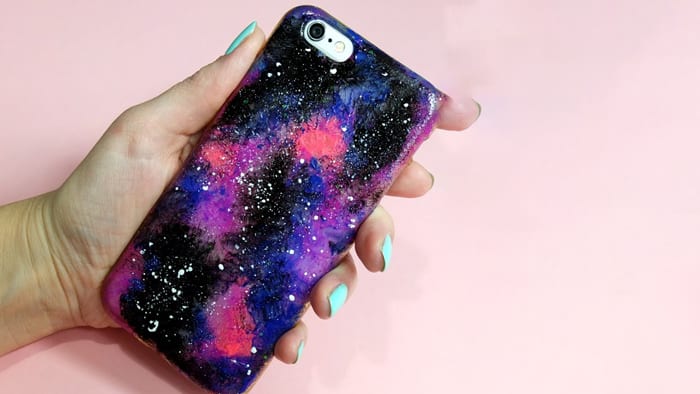 The covers can display anything you prefer, from your favorite artwork to the latest game, quote, action figure. They feature an adhesive backside to let them easily stick to any item of your choice.
Regardless of what image or design you pick, you can trust your cutting machine to help you easily cut it into your desired shapes for decoration purposes.
Some people even make a good living selling these covers, so you might consider this is as an extra stream of income.
4. House/apartment number
You can use vinyl to display your house or apartment number. The various levels of durability and colors associated with these materials male them a suitable option for this project.
You just need to create your house number in your preferred design (using a cutting software), choose your preferred font, and then send it to your cutter for cutting.
Be sure to use permanent vinyl for this project and consider laminating it if you want it to last a lifetime.
5. Woodwork and painting
If you know how to apply vinyl on wood correctly, then you can also come up with cute woodwork designs or even decorate items around your house with the wooden surface.
Examples of wooden items you can decorate include the guitar body, your kid's pencil box to make it unique, etc.
When working on this project, you'd want to first prepare the wood surface by sanding it to make it feel smooth and even and then treating it with a base coat. This will ensure your vinyl design sticks on the surface and doesn't come off easily.
6. Custom T-shirts
This is probably one of the most popular projects folks do with vinyl cutting machines.
It involves customizing your t-shirt with your preferred designs, favorite quote, artwork, and so on.
You can use your vinyl cutter to make personalized family t-shirts, siblings t-shirts
For this type of project, you'll need to use the iron-on or heat transfer vinyl (HTV) to help you customize your tees. Once you have cut out your preferred design using the cutting machine, you'll then transfer it to your t-shirt using a heat press machine or regular iron.
This method produces durable t-shirt prints that stay for longer than the fabric printed designs.
7. Custom pillows
How about customizing your pillows or those of your little one? Sounds like a great craft idea, right?
This project is no different from the t-shirt method above…you'll use the same type of vinyl (HTV), use your Cricut machine to cut out your design from this vinyl, and then transfer it to the pillow with a heat press machine or household iron.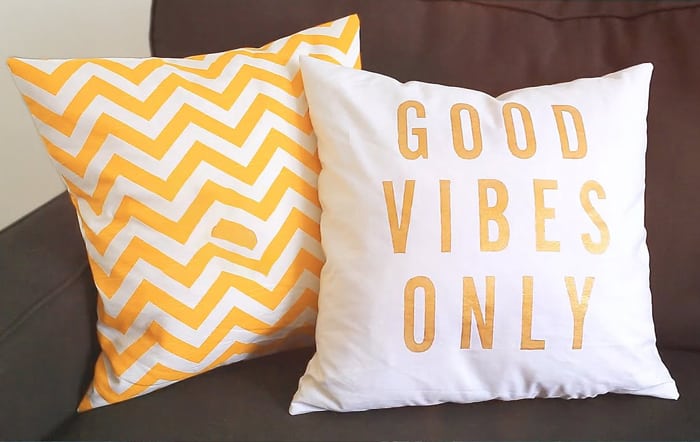 The only difference between the two projects is that you'll be applying the design on a pillowcase in this case and not the t-shirt.
8. Fun kids' charts
If you have kids around, then you just found another craft idea you can make with your cutting machine.
This simply involves designing fun (as well as informative/educational) charts that you can use to teach the kids or give instruction in a class.
Examples of charts you can create include alphabetical, shape, counting charts, etc. you might also consider creating charts that carry slogans and quite from popular action figures, bible verses, and so on.
The fact that vinyl is available in a wide range of colors makes it a suitable for material for helping you create these fun, educations charts for kids.
9. Signboard
Signboards are also pretty common in our everyday lives.
You can always find them in public places like schools, hospitals, hotels, etc., displaying directions, instructions, or hazards.
And you'd be pleased to know that you can come up with a nice signboard with the help of your Cricut vinyl cutter.
For this particular project, you'll need to use the type of vinyl that offers heat resistance and has permanent adhesives.
You'd also want to ensure the vinyl you use for this project can withstand outdoor use.
10. School decorations
You can also use your vinyl cutting machine to make various decorations for your school.
You can create poems, formulas, letters, biography, etc., out of vinyl material with the help of your vinyl cutter.
With the vinyl with magnetic backing, you can also create labels for various areas of your school, like IN and OUT notifications for washrooms, instructions, hazards, and more.
Other school craft ideas include labels for supply storage, locker decorations, clasp part décor, read corner décor, college dorm décor, re-useable calendars, alphabet signs, icons, and images for classroom decoration, reading and homework charts, cute reading kits, and on.
There's just so much more you can do with your vinyl cuter when it comes to decorating various areas and sections of your school.
Get more school vinyl crafting projects here: https://www.100directions.com/school-projects-make-cricut/
11. Motifs
If you're looking for home decoration ideas, then consider making motifs.
Using your Cricut vinyl cutting machine, you can easily create big fonts or designs on thick vinyl material. These will make colorful motifs that will truly enhance your home interior décor.
These designs can be used to enhance the looks of a y part of your home, including the living room, bedroom, and even kitchen.
Coming up with motifs is super-easy. You just create the design you to wish to cut out, scale in with cutting software, select the right type of vinyl for the job, and then cut it. Afterward, you can transfer it to your preferred area or surface.
Remember, you can hand the motif on a colorful frame or even it to attach to the wall or any other fixture in your wish—the choice is yours!
12. Custom coffee mugs
Another cool crafting project you can make using your cutting machine is decorating your favorite coffee mug.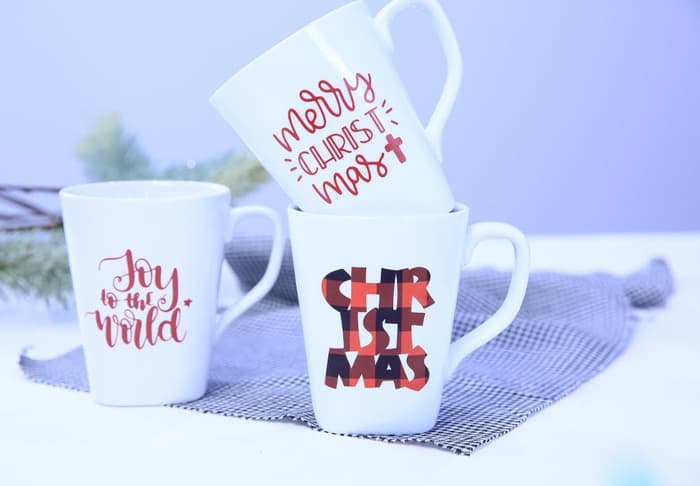 This particular project is suitable when you want to mark a special occasion such as your birthday, family reunion, etc.
A customized mug can also make a nice gift for your bestie or someone special to you.
Do you have an upcoming kids' party?
If yes, you might consider customizing kids' party cups, such that each cup features the name of each kid attending. You can also customize them with their favorite action figures.
13. Customized tote bags
One thing we can all agree on is that tote bags find use in our everyday lives—you can use them as stoppings bags, work bags, diaper bags, book bags gym bag, overnight bag, beach bag, or even gift bags!
What if you customize your tote bags with vinyl lettering?
Customized tote bags will doubtlessly stand from the rest! They can make an excellent channel for promoting your business or upcoming event as you walk with them on the streets.
You can also customize it with a design or artwork that expresses your personality.
Verdict
Cricut makes some of the best vinyl cutter models you can find on the market today. If you just bought your new Cricut machine but don't know what types of vinyl projects you can create with it, our list above will provide you some cool ideas that are truly fun to work on.
Note that this list outlines only a few ideas, and there are many, many more craft projects you can make using your Cricut vinyl cutter.
Which of the above projects would you like to start with?